Schools are being offered guidance suggesting having sex at the age of 13 is normal behaviour, it has been claimed.
Sarah Carter, of the Family Education Trust, said she believed some of what is taught in school sex and relationship (SRE) lessons is not lawful.
Giving evidence to the Commons education select committee, Ms Carter highlighted recently published guidance on SRE, which included a link to a Traffic Light Tool from sexual health and advice service Brook.
The supplementary guidance, which contained links to a number of resources that could be used by schools, was developed and published by the PSHE Association with Brook and the Sex Education Forum.
Sex education is usually covered in personal, social, health and economic (PHSE) lessons in primary and secondary schools.
The Traffic Light Tool uses a green, amber and red system for behaviours within different age groups. Green behaviours are described as reflecting "safe and healthy sexual development". 
Brook says the Traffic Light Tool is not designed specifically for sex and relationships education and should instead be used for professionals to understand more about sexual development and behaviours of young people.
Ms Carter's concerns centred on the 13 to 17-year-old section, which lists having sexual or non-sexual relationships as a green behaviour.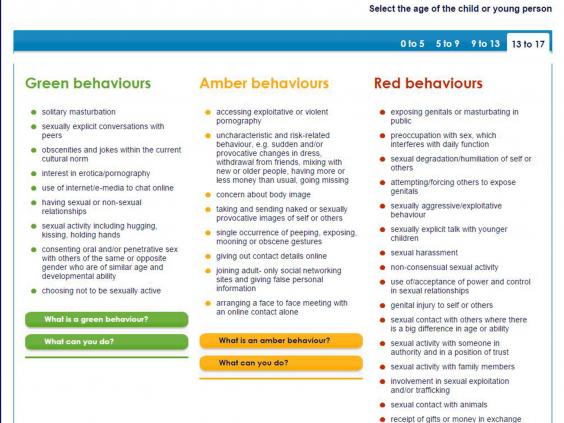 Other green behaviours for 13 to 17 year-olds in the Tool include "interest in erotica/pornography" and "sexual activity including hugging, kissing, holding hands".
She said Brook's tool "states that young people who are consensually sexually active from the age of 13, this is normal behaviour and development".
She told the cross-party group of MPs: "Actually, the law states that a young person should wait until they are 16 at least, never mind if they are ready or not. That's awfully unlawful behaviour, and so quite often what's taught in SRE isn't always lawful."
However, Brook said the legal age of consent is regularly discussed in classrooms and stressed the 13 to 17 year-old guidelines are to help teachers understand whether behaviours are a safeguarding issue.
Graham Stuart, the chairman of the Commons Education Select Committee, claimed critics of the guide could argue that "not to send out a message that it's [having sex at 13] wrong, that it's harmful, it's dangerous, is in fact to almost to collude with something which we know is damaging to young people".
Video: Should sex education be compulsory in schools
But Joe Hayman, chief executive of the PSHE Association, said schools have to be prepared to deal with children's realities.
He said: "It's really, really important that a dictatorial, from-the-front lesson on what one should and shouldn't do is less likely to have an impact and I think we've got to start from where children are; their reality.
"There's no one in our community who feels we should be trying to sexualise children, or any of those kinds of things.
"What we want is children to develop healthy and safe relationships and it's really important that teachers are provided with the necessary training in order to do that."
Brook said its Traffic Light Tool is for professionals working with young people to understand the spectrum of sexual behaviour and respond to them appropriately.
The spokesperson said: "The tool, along with the guidance and training package makes it clear this is a safeguarding tool for use by professionals to understand more about the sexual behaviour and development of young people and respond appropriately to different behaviours.
"It is not a diagnostic tool and each category has supporting information to help understand whether the behaviour is a safeguarding issue.
"It does not condone or encourage particular behaviours, nor is it about the law relating to sexual behaviour. It is clear professionals must use the tool 'within the context of their own policies, legal frameworks and competencies'. The training and guidance contains a full section on the law. "
Reuse content