It was the summer of 2012, and Jared Kushner was headed downtown. His family's real estate firm, the Kushner Companies, would spend about $190m during the next few months on dozens of apartment buildings in Lower Manhattan neighbourhoods including the East Village, the West Village and SoHo.
For much of the roughly $50m in down payments, Kushner turned to an undisclosed overseas partner. Public records and shell companies shield the investor's identity. But, it turns out, the money came from a member of Israel's Steinmetz family, which built a fortune as one of the world's leading diamond traders.
A Kushner Companies spokeswoman and several Steinmetz representatives say Raz Steinmetz, 53, was behind the deals. His uncle, and the family's most prominent figure, is the billionaire Beny Steinmetz, who is under scrutiny by law enforcers in four countries.
In the United States, federal prosecutors are investigating whether representatives of his firm bribed government officials in Guinea to secure a multibillion-dollar mining concession. In Israel, Steinmetz was detained in December and questioned in a bribery and money laundering investigation. In Switzerland and Guinea, prosecutors have conducted similar inquiries.
The Steinmetz partnership with Kushner underscores the mystery behind his family's multibillion-dollar business and its potential for conflicts with his role as perhaps the second-most powerful man in the White House, behind only his father-in-law, President Donald Trump.
Although Kushner resigned in January from his chief executive role at Kushner Companies, he remains the beneficiary of trusts that own the sprawling real estate business. The firm has taken part in roughly $7bn in acquisitions during the last decade, many of them backed by foreign partners whose identities he will not reveal.
Last month, his company announced that it had ended talks with Anbang Insurance Group, a Chinese financial firm linked to leading members of the ruling Communist Party. The potential agreement, first disclosed by The New York Times, had raised questions because of its favourable terms for the Kushners.
Dealings with the Steinmetz family could create complications for Kushner. The US Justice Department, led by Trump appointees, oversees the investigation into Beny Steinmetz. Even as Kushner's company maintains extensive business ties to Israel, as a top White House adviser, he has been charged with leading US efforts to broker peace in the Middle East as part of his broad global portfolio.
"Mr Kushner continues to work with the office of the White House Counsel and personal counsel to ensure he recuses from any particular matter involving specific parties in which he has a business relationship with a party to the matter," says Hope Hicks, a White House spokeswoman.
Representatives for Kushner and the Steinmetzes put distance between Raz Steinmetz and his uncle, Beny. Risa Heller, a spokeswoman for Kushner Companies, called Raz "a terrific partner", and added: "He is the only Steinmetz that we have done business with."
In a statement provided by his lawyer, Raz Steinmetz says: "None of my investment entities has invested in any transactions with Beny Steinmetz or any of his interests." Louis Solomon, a lawyer at Greenberg Traurig, who represents one of Beny Steinmetz's companies, says any business relationships between Raz and Beny are two decades old, and says the two men had not had contact since 2013.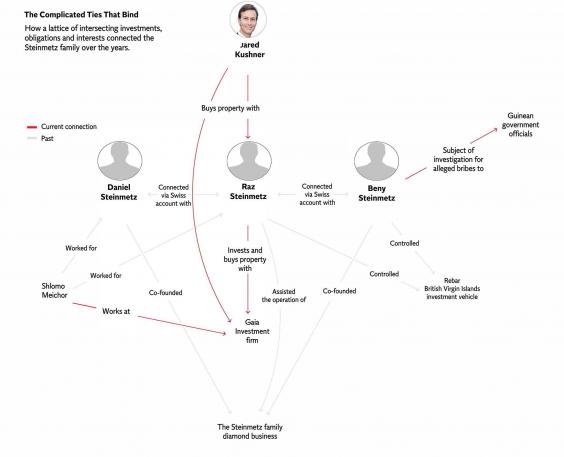 The two men, as well as Daniel Steinmetz, who is Beny's brother and Raz's father, have controlled their own companies. But some of their financial interests – ranging from diamonds to real estate – have been entwined over the years. Records reviewed by The New York Times show that they have shared offshore investment vehicles, employed the same company director and were once connected to the same Swiss bank accounts.
Alan M Dershowitz, a criminal defence lawyer for Beny Steinmetz in the United States, also says his client was not involved in the Kushner properties. He predicts that the businessman would be vindicated overseas and says he believes the federal investigation of Steinmetz and his companies is no longer active.
The US Justice Department would not comment on the inquiry. But more information about the bribery investigation may be disclosed by federal prosecutors at a trial that began on Monday in New York.
Mahmoud Thiam, Guinea's former minister of mines, is facing corruption charges involving a Chinese company. An affidavit from an FBI agent made public in the case last month said that the minister bribed a fellow government official "on behalf of" one of Steinmetz's companies in 2009. The FBI is also examining an alleged bribery episode involving a prominent Guinean – the late President's wife – and a Steinmetz company a year earlier.
Until a few months ago, when he was arrested in Israel, Beny Steinmetz, 61, was a globe-trotting billionaire. One of the country's richest men, he split his time between France, Geneva, Antwerp and his enormous house outside Tel Aviv, on a cliff overlooking the Mediterranean.
He teamed up with his brother Daniel, now 79, to create the Steinmetz Diamond Group in the 1990s. The business, which sells under the brand Diacore, has become one of the world's biggest buyers of diamonds from De Beers. In April, a 59.6 carat pink diamond cut by Diacore was sold by Sotheby's for $71.2m, an auction record for a gem.
Beny Steinmetz expanded his business interests into steel, gold, nickel, oil and iron ore, and built a global real estate empire, with properties in cities including London, New York and St Petersburg. Two decades ago, he made a move into Russia, becoming an early investor in newly privatised state enterprises as a cofounder of the Hermitage Capital hedge fund.
He rarely grants interviews and often incorporates his multiple companies in tax havens like Guernsey, Cyprus and the British Virgin Islands that offer secrecy. Although he is the public face of his firms, he holds no executive position. Instead, they are typically owned by a Liechtenstein foundation – similar to a trust in the United States – that names him and his wife as beneficiaries. Officially, he is an "adviser" to his firms.
Steinmetz's legal problems stem from a huge deposit of iron ore in Guinea, in West Africa. In 1997, the Australian mining firm Rio Tinto was awarded exploration rights. But by 2008, the Guinean government was complaining that the project had taken too long, and it awarded half the rights to a Steinmetz firm, BSG Resources. In 2010, BSG sold half of that share, cutting a $2.5bn deal with the Brazilian mining giant Vale.
In 2014, the Guinean government alleged that Steinmetz's company had obtained the rights through corrupt practices, paying more than $8m in cash through a representative to Mamadie Toure, then the wife of the dictator Lansana Conte. The US Department of Justice had already opened an investigation the year before into Steinmetz's firms for potential violations of the Foreign Corrupt Practices Act, claiming jurisdiction because some of the alleged payments were transmitted through US banks.
This month, lawyers acting on behalf of two of Steinmetz's firms sued the billionaire financier George Soros in New York, asserting that he had directed a smear campaign against the companies. Soros has funded a portion of the Guinean government's investigation, as well as work by the nonprofit Global Witness.
In 2012, Jared Kushner's company went on a buying spree, snapping up about 11,000 apartments around the country, roughly doubling its inventory. The firm, founded by his father, Charles, also made its first Steinmetz deal that summer.
The younger Kushner has travelled repeatedly to Israel, where he has gotten funding to fulfil his ambitions. Kushner Companies has taken out at least four loans from Israel's largest bank, Bank Hapoalim. It joined with Harel, one of Israel's largest insurance companies, on one deal. Kushner's firm was introduced to the Raz Steinmetz team "by a third-party broker in the United States", says Kenneth Henderson, a New York lawyer for Raz Steinmetz.
In August of 2012, the Kushner business made a significant move into downtown Manhattan's residential market, spending about $60m on eight apartment buildings in the East Village and the West Village. The low-rise buildings are undistinguished but offer steady income streams.
The deal was arranged by Gaia Investments Corp, headquartered outside of Tel Aviv. No Steinmetz names appear in Gaia's public filings. Instead, the shareholders and officers include some Steinmetz lieutenants. One of them, Shlomo Meichor, was a former vice president for finance at an investment firm once run by Raz and Daniel Steinmetz, and is a director for at least three Gaia Delaware entities created for the Kushner deals, records show. (Gaia is an ancient Greek word for earth goddess.)
Gaia's representatives have told prospective partners that the firm invests money for Daniel Steinmetz as well, according to two people familiar with those conversations. Henderson, the lawyer, says Daniel Steinmetz was not involved in the Kushner investments.
The deals came amid an unprecedented flow of overseas cash into US properties, much of it through opaque corporations and limited liability companies that make the funds difficult to trace.
Beny Steinmetz's legal problems began to surface a few weeks after the first investment with the Kushner company. In November 2012, the Financial Times reported on the Guinea bribery investigation, setting off coverage around the world.
The Kushner Companies made an even bigger deal with the Raz Steinmetz team a few months later, in January 2013, spending about $130m on a portfolio of 17 apartment buildings across Lower Manhattan.
A few weeks later, a BSG Resources representative named Frederic Cilins – meeting in a diner at the Jacksonville International airport in Florida – urged Toure, by then the widow of the Guinean president, to destroy paperwork documenting the alleged bribes. She was cooperating with the FBI, though, and wearing a wire. Cilins pleaded guilty to obstructing a federal criminal investigation and was sentenced to two years in prison.
Beny Steinmetz has said he had no knowledge of Cilins' activities.
In October 2013, a few days after Guinea moved to revoke its iron ore contracts with Steinmetz's firms, his company's representatives wrote to their lawyers to say that he had transferred his diamond company stakes to his brother Daniel's foundation in Liechtenstein. That disclosure is in the so-called Panama Papers, the trove of documents obtained by the German newspaper Sueddeutsche Zeitung and reviewed by a collaboration of publications organised by the International Consortium of Investigative Journalists.
Corporate and bank records point to interlocking financial relationships among the Steinmetz family members in the past. Raz Steinmetz once managed the family's real estate investments and participated in the family diamond business. As part of the bribery investigation involving Beny Steinmetz, Swiss prosecutors searched the offices of a company used by Daniel Steinmetz. The three men were once connected to at least two Swiss bank accounts at HSBC, according to bank records obtained by the French newspaper Le Monde and shared by the journalist consortium.
Solomon, the lawyer for Beny Steinmetz's firm, says that there is no current connection to Raz through any Swiss bank account. He says an Israeli investment vehicle that public records show Raz, Daniel and Beny Steinmetz still own jointly is "dormant".
Risa Heller, the Kushner Companies spokeswoman, declined to discuss what due diligence the firm had performed ahead of the investments.
The Kushner Companies appear to have carried out a public scrubbing of its Steinmetz associations. In late 2014, the Gaia name and logo disappeared from the Kushner website's list of partners, where it had appeared since early 2013.
But the Kushners have not stopped making deals with the Steinmetz family. Around the time Gaia was dropped from the website, it invested in yet another Kushner building: a Trump-branded luxury high-rise in Jersey City, New Jersey. The $200m project is known as Trump Bay Street, is at 65 Bay Street.
Jared Kushner's ethics disclosure filed last month revealed a stake in a company called 65 Bay LLC. The entity was originally called GAIA JC LLC.
© New York Times
Reuse content