The death of veteran comic actor Leslie Nielsen has resurfaced on social media, despite it occurring in 2010.
A report by the BBC on the actor's death on November 29, 2010, began trending on Facebook and Twitter on Tuesday morning.
Lots of people failed to realise the date on the report, and tweeted about their grief at the death of another entertainment industry giant.
Legends please stop dying... Loved Airplane & The Naked Gun Leslie Nielsen, comic actor and Airplane! star, dies - https://t.co/4kP4Rkiu8Z

— Ben (@eastendshedman) January 19, 2016
Nooo now Leslie Nielsen has died too :( The Naked Gun films were my favourites when I was younger

— Daveeeeeee (@dave_martin12) January 20, 2016
Legends are dropping like flies at the minutes...Leslie Nielsen, comic actor and Airplane! star, dies https://t.co/HU420fg2Wr

— Tom Varga-Paicsin (@tv15) January 20, 2016
Oh dear. Leslie Nielsen has died. How sad. I hope Tony Hart is OK.

— Jon Power (@jonpower) January 19, 2016
Nooooo. This fella made me laugh many times in my youth. RIP #LeslieNielsen #CelebrityDeaths https://t.co/svz0wuwf2B

— Dean Furniss (@S20Baggio) January 20, 2016
In honour of the late Leslie Nielsen #RIP I will be taking childish fart noises all day.

— Fbloke (@TheRealFbloke) January 20, 2016
Leslie Nielsen. Bloody genius. God bless, mate, and thanks for all the laughs, and for Forbidden Planet too. RIP

— Jeremy Starmouse (@Jeremy_Starship) January 20, 2016
Even BBC reporters were not safe from the confusion:
apology came up on my news Leslie Nielsen had died appears this is very old news Does not change fact he was a comedy genius & I loved him

— Catriona Renton (@BBCCatrionaR) January 19, 2016
The news of what people are dubbing as Mr Nielsen's 'second death' became so popular, the report is now on BBC's Most Read list.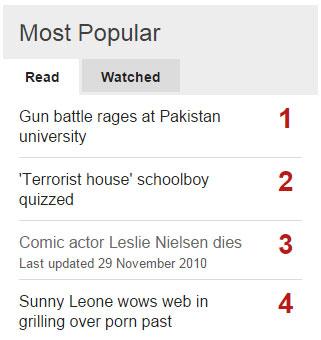 It would appear the date of the report has been added to the list to stop any further confusion.
However, others started using his "second" death to quote his best lines in beloved films such as 'Airplane!' and 'Naked Gun'.
Leslie Nielsen: Dead And Loving It. For over 5 years.

— Manny Grillo (@MannyGrillo) January 20, 2016
Surely Leslie Nielsen died back in 2010? *He did, and don't call me Shirley #LeslieNeilsen #stilldead #RIP

— Todd (@MrCTodd) January 20, 2016
Leslie Nielsen died in 2010. But that's not important right now.

— NotRightAway (@NotRightAway) January 20, 2016
What's with this Leslie Nielsen RIP stuff? He died 6 years ago. Mind you, it's still good that he's being talked about. "Nice beaver!"

— Steven Williamson (@steven_gamer) January 19, 2016
Leslie Nielsen has died! Again! Unbelievable!

— Andrew Simpson (@blackbeltsgeord) January 20, 2016
RIP Leslie Nielsen, who died again after a 5 year wait. His last meal was a choice between steak or fish. He had the Lasagne.

— Simon Pegg (@Simon_Pegg) January 19, 2016
Nielsen, a Canadian whose acting career took off in 1980, died in hospital in Fort Lauderdale, Florida, where he was being treated for pneumonia.
Still alive and kicking: Famous people social media tried to kill off
Still alive and kicking: Famous people social media tried to kill off
1/10 Jeff Goldblum

The actor, famous for his roles in The Fly and Jurassic Park suffered a fatal fall from a cliff while filming in New Zealand in June 2009 - or so Australian news show Today would have you believe. The show had got their information from the latest Twitter frenzy for celebrity deaths following on from the recent genuine death of Michael Jackson, but assured viewers that their story was confirmed by New Zealand police.

Getty Images

2/10 Pope Benedict

While there is strict ritual and ceremony to be followed to confirm the death of any pope, this did not seem to matter to thousands, who believed a tweet from 'Cardinal Tarcisio Bertone', the papal number two, announcing the passing on of the then Pope Benedict XVI in 2012. The tweet was later revealed to be from Tommaso De Benedetti, a Roman school teacher, who says he pulled the hoax to expose the weakness of social media.

Getty Images

3/10 Adam Sandler

The comedian should really give up snowboarding. The actor has been the victim of various hoax reports announcing his death, each time in a similar accident involving a snowboard and a tree. Rebutting the rumours on The Tonight Show with Jay Leno, Sandler assured viewers "If I do die it will be in America and I won't be on a snowboard, I will either be on a toilet or hanging from a belt naked."

Getty Images

4/10 Zach Braff

In 2007, Scrubs actor Zach Braff became an unfortunate victim of nothing but his own undoing. He set up a website announcing that he had committed suicide, in order to film his friends' reactions. In 2009, Braff was again the subject of an internet death hoax. New Jersey resident Chris Laganella kick-started a rumour about the actor's death, forcing Braff to put out a video on YouTube confirming his wellbeing.

Getty Images

5/10 Miley Cyrus

She once sang "I can't be tamed", but it also seems American singer Miley Cyrus can't be killed off by an internet rumour either. In September 2008, Reuters reported that the then 15-year-old star had died in a car accident, while later that year someone hacked her YouTube page to announce that she had died after being hit by a drunk driver.

Getty Images

6/10 Gotye

The Australian singer's friends and family were concerned that Gotye had become "somebody they used to know" in July, when CNN's iReport - the channel's social news network - reported that he had shot himself in the head in 2012. Gotye quickly took to Twitter to deny the report, while bandmate Tim Shiel joked "It saddens me to confirm the news of Gotye's passing - he suffered cardiac arrest while flying a unicorn over a double rainbow".

Getty Images

7/10 Kanye West

In one of his most famous hits, he said "Jesus walks with us", but according to Reuters in 2009, it was the rapper who was walking with Jesus, when it reported that he had been killed in a car crash. With Kanye being one of the world's biggest performers, this soon caused chaos on Twitter, leading to his less-than-amused then girlfriend at the time Amber Rose to take to the site exclaiming: "This 'RIP Kanye West' topic is not funny and it's NOT TRUE!".

Getty Images

8/10 Neil Young

Following the death of moon-walker Neil Armstrong at the weekend, NBCNews.com mistakenly reported "Astronaut Neil Young, first man to walk on moon, dies at age 82". The headline was amended within seven minutes, with sources confirming the 66-year-old Canadian musician is still rocking like a hurricane.

Getty Images

9/10 Skrillex

The dubstep DJ formerly known as Sonny Moore was the victim of several death pranks over the past year, including one alleging a cocaine overdose. In each occasion the producer everyone love to hate has had to take to Twitter to deny reports, and confirm that he is still alive and - unfortunately for some - making music.

Getty Images

10/10 Gerard Way

It's not just the micro-publishing power of Twitter that has sparked internet death rumours. With its open-editing platform, Wikipedia is also vulnerable to such pranks, and My Chemical Romance frontman Gerard Way found this out in 2008 when someone changed his entry on the online encyclopedia to confirm his death in a car crash. He later released a statement reassuring fans that he was okay and had not joined the 'Black Parade' quite yet.

Getty Images
He was 84 at the time of his death. Mr Nielsen had a star on Hollywood's walk of fame, and appeared in over 100 films.
Reuse content