The Independent has unveiled a unique app based on reader feedback that combines the best of newspaper design with digital interactivity, making the most of tablets or smartphone technology. The app is available to download on iPad and Kindle Fire today with  iPhone and Android to follow.
It comprises:
• The free 'digital newspaper': Beautifully designed and curated editions updated at least three times a day Monday-Friday in free, interactive format – plus two editions a day at weekends.
• The print edition of the newspaper: The Independent, page by page, exactly as it appears in print, including all supplements. Free one month trial with monthly or annual subscription packages. Free 7-day trial with weekly package
The free-to-download app allows readers to swipe through the pages and sections from start to finish, tapping on articles to read the full stories. This area is updated throughout the day, and is completely free to use. Updates will be published for breakfast, lunch and evening reading on weekdays, and twice daily on weekends. It will also bring readers special editions of major news and sport, offering more updates of curated, beautifully presented content than any other newspaper app. Users can share and comment on stories, as they do online, or enjoy enhanced multimedia content such as picture galleries and video. Crosswords are interactive and live weather forecasts can be tailored to location. By registering directly readers can get free push notifications of breaking news and updated editions.
Readers can also choose to download the newspaper exactly as it appears in print, including award-winning supplements - such as Radar and Traveller - from the past month. After a free trial, the app is available to subscribe to for £2.99 per week, £12.99 a month or £159.99 a year, providing an innovative way to bring the print edition to the rapidly growing digital global audience of the brand.
The app builds on significant digital investment and the audience growth of The Independent , demonstrated by record traffic achieved by independent.co.uk in excess of 30 million monthly unique browsers, 1.3 million average daily browsers, and 120 million page impressions - with new impressive growth figures announced today.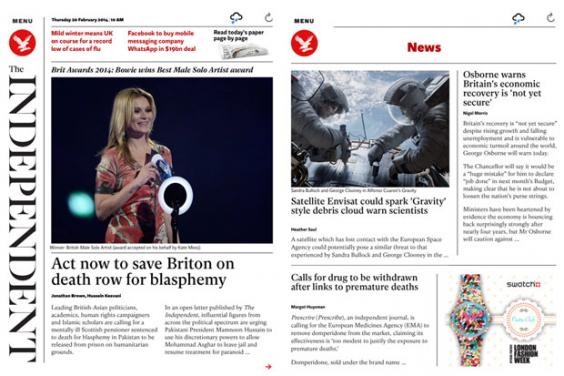 The app also presents fresh multi-platform commercial opportunities for advertisers, offering both IAB standard ad units of digital campaign packages, as well as bespoke and other high-impact full-screen interstitials. These can be combined with print or off-line campaign activity such as promotions, events or reader offers.
The user figures for the 'free digital newspaper' will be counted on the digital ABC certificate. 'Print edition' usage will be counted as either Digital Publication or Print ABC certificate, to be confirmed.
Zach Leonard, Managing Director, Digital at The Independent and Evening Standard, said: "We have responded to the demands of our readers by creating an app that is easy to use and allows them to engage with The Independent brand in the format they prefer. Our most considered news app yet, it is rooted in the insight that our readers expect the currency and interactivity a tablet edition can offer with the familiarity and impact of a traditional print product. The new app will help us to continue to deliver the best journalism to our readers and innovative, cross-platform opportunities for our advertisers."
Christian Broughton, Digital Editor at The Independent, said: "Most apps make do with a fairly static main edition. If they offer rolling news, it's usually hidden away in a separate area. We've built breaking news into the very core of The Independent app. Our readers want and deserve breaking news, and they want multimedia too. But they also tell us that they like the feel and texture of a newspaper – nothing is simpler than flipping through pages. In geek-speak, that's the ultimate intuitive UX! This app gives readers the best of both worlds."
Reuse content