"It's a great time for British drama," said Mark Gatiss, co-creator of the BBC's Sherlock series and a screen regular, who played Henry VIII's secretary Stephen Gardiner in Wolf Hall.
"Ten years ago we were told that traditional drama was dying out and reality TV was taking over. But that's not true and British drama is more than holding its own. History might judge this to be a golden age."
Wolf Hall might have completed its BBC2 run but the series is now a hot property for international broadcasters seeking to acquire the best global drama for their viewers.
The Hilary Mantel adaptation was the star attraction at the BBC Worldwide Showcase, a four-day export market held in Liverpool last week, which attracted more than 700 of the world's top television and digital executives.
Worldwide, the BBC's commercial wing, charged with investing in new productions and selling hit shows and formats across the world, returned £173.8m to the BBC last year.
The largest distributor of television programming outside the US, Worldwide now has a showcase to match its ambitions.
The event, which began above a Brighton pub in 1976, featured exclusive appearances from John Cleese and Rowan Atkinson – Worldwide is the international partner for Atkinson's new starring role as Maigret, the French detective who returns in two new films for ITV.
Buyers spend six hours a day watching programmes in a warren of "digibooths"  at the Liverpool Exhibition centre.
They were rewarded in the evening with a candlelit Tudor-style banquet at Liverpool Cathedral, attended by Jonathan Pryce (who played Cardinal Wolsey in the series), director Peter Kosminsky and screenwriter Peter Straughan, whose presence assisted the buyers to open their cheque-books.
"There's something beguiling about Wolf Hall. It's a story oft told but the team have found a fresh way to tell it," said Gatiss.
The drama was snapped up by Arte for France and Germany, DR (Denmark), YLE (Finland) with US rights going to  co-production partners Masterpiece.
Tim Davie, BBC Worldwide CEO, said: "Wolf Hall's success demonstrates the enduring power of top-end, high-quality premium content. There's bravery in the pacing of it and the performances are genius. If you're a lover of high quality TV, from whatever country, Wolf Hall makes the cut."
The BBC would not be able to mount £7m productions like Wolf Hall without early support from potential purchasers in advance deals brokered by Worldwide.
Stephen Mowbray, Head of Programme Acquisition at Swedish broadcaster SVT, said: "We bought Wolf Hall before we saw any of the footage. The competition for these shows is intense and if three other people want it you have to take a risk."
SVT also took home Last Tango in Halifax, Channel 4's Cucumber, Sky's new real-time medical drama, Critical, and a new BBC1 crime series, The Interceptor.
Ben Donald, BBC Worldwide's head of international drama, is looking for partners to secure financing for Maigret. "The Crime genre works well for co-productions," he said. "Rowan Atkinson is genius casting for Maigret. We're hoping France, Germany, Italy and Belgium will come in early. The aim is to maximise the money available for the producers on-screen."
It isn't just drama attracting the deal-makers. "I've never known the Natural History Unit feel so mainstream," said Wendy Darke, head of the famous BBC department which creates David Attenborough's spectacular series.
The unit is tempting buyers with The Hunt, a new series from Alastair Fothergill (Planet Earth), looking at the relationship between predator and prey.
One Planet, a landmark series for 2016, co-produced with Germany's ZDF, which will use ultra-HD filming innovations to "immerse" viewers in the planet's rain forests and its frozen summits.
As well as selling shows and operating a network of BBC-branded international channels, Worldwide licences local formats of hit shows like Strictly Come Dancing, The Great British Bake Off and The Office.
Kate Phillips, Worldwide's Creative Director of Formats, is excited about You're Back In The Room, a new gameshow in which contestants compete for a cash prize under hypnosis, another ITV programme which Worldwide will distribute internationally.
"It's utterly joyful which is often what viewers go for when economic times are tough," said Ms Phillips. "The quiz show is set for a revival," she predicted.
However Rona Fairhead, the BBC Trust Chairman, has called on Worldwide to deliver greater returns. "It brings in revenues of over £1bn but in terms of contribution it is about £170m or so, it is not a significant part of the funding," she said.
Davie said: "I do see continued potential to keep growing the financial returns to the BBC. But it's also about unlocking bigger creative ideas across the world. Worldwide is crucial in investing in premium TV productions in areas like natural history and drama where global co-productions are increasing important."
Digital services like Netflix, Hulu, the US streaming platform, and Amazon Prime Instant Video have opened up valuable new platforms for Worldwide programmes.
"There's always a debate – do we have to change output to appeal to a global market," Davie said. "The truth is doing brilliant things well is what travels. There's nothing un-British about Doctor Who and Sherlock. They transcend national boundaries."
Nothing travels better than Top Gear, which has been sold to over 170 countries. Can the BBC keep Jeremy Clarkson on board despite the transgressions which send him ever closer to the exit? "We often have to deal with controversial personalities in a creative business. Jeremy and the team bring incredible skills to the programme and we're proud of them."
Emboldened by the success of CBeebies Land at Alton Towers, Worldwide is taking the next step by partnering with Paramount Pictures on a £2bn "theme park" resort planned for Swanscombe in Kent, to rival Disneyland Paris.
How about an interactive Wolf Hall exhibit? "There might be too many dangers to stage Wolf Hall live," said Davie, mindful of the jousting clash which nearly did for Damian Lewis's King Henry.
Brooks moves to US News Corp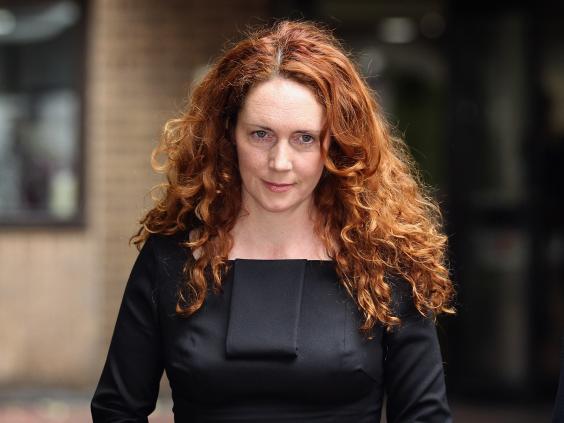 Rebekah Brooks has landed a new job leading Rupert Murdoch's search for promising internet startups to invest in, it was claimed yesterday. The former News of the World and Sun editor – who was cleared of phone hacking following a 138-day criminal trial last year – has moved from her home in Oxfordshire to New York, with her husband Charlie and three-year-old daughter Scarlett, according to the Mail on Sunday.
She is believed to have been put in charge of finding online investments for News Corp, parent company of News UK that runs The Sun, The Times and The Sunday Times. She has remained largely out of the public eye since the end of the Old Bailey trial in June. It is understood her husband will try to relaunch his career as a horse-racing trainer in the US.
He was also acquitted of charges connected to his wife's arrest. Last month Ms Brooks was spotted among a News Corp delegation attending the CES technology trade fair in Las Vegas. Mr Murdoch has always made his support for his editor clear. Soon after the hacking scandal emerged he flew to London and was pictured with Ms Brooks saying his priority was "this one". Brooks was also paid £16.1m in compensation for future loss of earnings as part of her severance deal.
Winter World Cup a ratings boost?
Fifa's determination to stage the 2022 Qatar World Cup in November and December prompted outrage from Premier League clubs and football fans.
Broadcasters like Fox in the US and Telemundo in Latin America, who have paid huge sums for the rights, are also vocal opponents of a winter tournament.
But a pre-Christmas final could boost UK broadcasters' revenues by about £12m, according to new research by the media agency, ZenithOptimedia.
The World Cup appeals to upmarket young men, targeted by advertisers in the drinks, auto and telecoms sectors. "Viewing figures are likely to be even higher than usual in the winter... when people are much more likely to stay in and watch television," the report found.
The last quarter of the year is the most important for most advertisers, as consumers prepare for Christmas, and airtime prices are significantly higher.
Reuse content