The Daily Star clearly doesn't share the same qualms as The Sun, as it continues to publish images of topless women in its newspaper.
Today's front page appears to take a swipe at its redtop rival following reports that it had stopped publishing pictures of bare-breasted women by promoting its own Page 3, and giving its readers a free poster featuring former famous Page 3 girls from The Sun.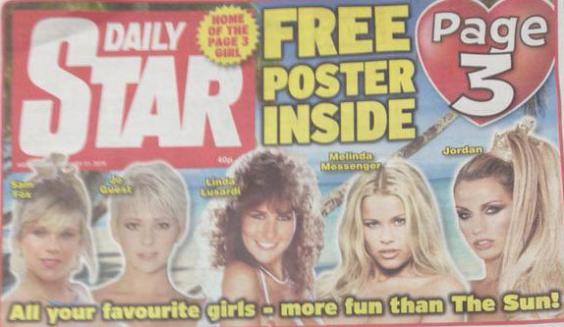 Included are archive images of Sam Fox, Jo Guest and Melinda Messenger, the latter of whom recently told the BBC that she felt it was a "good decision to end Page 3".
"It's had a long life, but we all have to change for the better – that is what society is all about," she said.
Meanwhile, campaigners and supporters of No More Page 3 are celebrating The Sun's reported decision to stop publishing photographs of topless women.
"It's a historic moment, but the devil will be in the detail, and there's still a lot to be done," No More Page Three campaigner Angela Towers told The Independent.
The Guardian reported today that The Sun's Page 3 website has enjoyed a surge in traffic since the newspaper stopped publishing its daily images of topless women.
Although there are no statistics available for the surge of interest in The Sun's Page 3 site, a source told The Guardian that Tuesday's total was "considerably greater than the previous 24 hours2. The website is currently free to access, whereas before it has appeared behind a paywall.
The Daily Star has said that it is "proud" to continue its page 3, which it said "brightens the day" for readers.
A spokesman for the tabloid said: "We will continue to listen to what our readers want and put a smile on their faces with our lovely, bright, talented and independent young ladies.
"Page 3 is as British as roast beef and Yorkshire pud, fish and chips and seaside postcards."
Reuse content