CNN has apologised for a technical glitch that showed an image of Vladimir Putin during a news segment on an alleged Isis executioner known as Jihadi John.
A picture of the masked man, who appears in beheading videos of at least five hostages, was followed by an image of the Russian prime minister looking somewhat annoyed.
Putin's face flashed up on screen during the live news broadcast above a caption that read: "Jihadi John identified".
9 controversial Putin quotes
9 controversial Putin quotes
1/9 2004

"Anyone who doesn't regret the passing of the Soviet Union has no heart. Anyone who wants it restored has no brains."

Getty images

2/9 December 2005

"There is no such thing as a former KGB man."

Getty images

3/9 G8 Summit press conference 2008

"If you want to become an Islamic fundamentalist and be circumcised, come to Moscow. We are multiconfessional. We have very good specialists. I can recommend one for the operation. He'll make sure nothing grows back."

Getty images

4/9 2010

"Russia doesn't negotiate with terrorists. It destroys them." After the Moscow Metro bomb

Getty images

5/9 September 2013

"They say that Pyotr Ilyich Tchaikovsky was a homosexual. Truth be told, we don't love him because of that, but he was a great musician, and we all love his music. So what?" Interview with Associated Press

Getty images

6/9 March 2014

"The West's leaders seem, from what they say, entirely to have forgotten that there are some leaders in the world who want to conquer other countries."

Getty images

7/9 2014

Amazingly elaborate metaphor regarding the West and Russia "[Sometimes I think] our bear should probably just sit quietly and just eat honey instead of hunting animals, maybe then they will leave the bear in peace, but, no, they will not. What they are trying to do is chain the bear, and when they chain the bear they will take out his fangs and claws. This is how nuclear deterrence is working at the moment. If they take out the bear's fangs and claws, then the bear will not be able to do anything. It will just be a stuffed animal." Russian President's annual press conference

Getty images

8/9 2014

After Ksenia Sobchack, a well-known anti-Kremlin activist and journalist, was allowed to ask a question about Putin's government suppressing opposing political viewpoints: "Why did you give her the floor?" Russian President's annual press conference

Getty images

9/9 January 2014

"You can feel relaxed and calm [in Russia], but leave children alone, please." Directed at gay people in January 2014, before the Sochi Winter Olympics

Getty images
Jihadi John has been identified as Mohammed Emwazi, 26, from west London. He studied computer science before becoming known to UK intelligence agencies over links to Islamic militants.
The Washington Post published his identity in February and Prime Minister David Cameron called for his capture after other news organisations followed suit.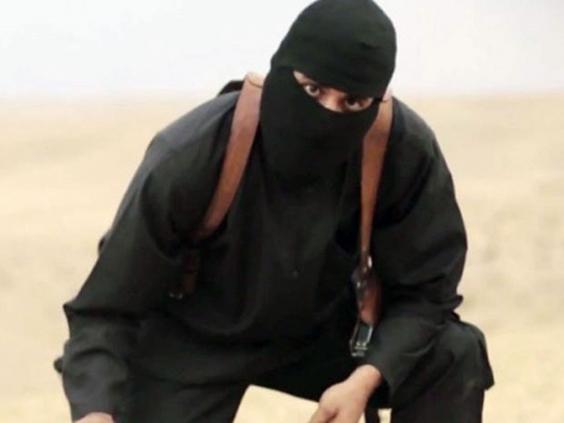 CNN, however, made the blunder on Thursday during correspondent Max Foster's report on Kuwaiti-born Emwazi, who has had a $10 million bounty on his head and is now subject to an international manhunt.
"I think, certainly there are concerns now about hostages being put at risk, and about eventually prosecuting this man, Jihadi John, in the future," said Foster, while unaware of the photo mix-up beside him.
CNN told Russian news agency TASS, according to channel Russia Today: "Due to a failure of a video server during [Thursday's] breaking news broadcast, a photo of Vladimir Putin, prepared for our next report, was accidentally shown. We apologise for that mistake."
According to RT, this is not the first time that CNN was subject to scrutiny after making mistakes related to Russia.
Earlier last month, CNN accidentally annexed Ukraine to Russia.
It showed a map in which Ukraine and Russia was highlighted in the same colour with the Russian flag superimposed on it.
Reuse content