The editor of BBC2's flagship news programme has provoked a furious row with Labour by letting slip a candid private opinion of a prominent frontbench MP's "boring snoring" interview style.
Ian Katz, who has been at the helm of Newsnight for only just over a week, learnt a hard lesson about the perils of Twitter after he responded to a friend's message about Monday night's edition. He accepted the  praise, but added a withering  assessment of the contribution of Rachel Reeves, the shadow Chief Secretary to the Treasury.
He tweeted back: "Tnks… except for boring snoring rachel reeves… playout was fun tho, wasn't it? telly MUCH netter [sic] than snooooozepapers innit."
His response was meant to be a  direct message to his acquaintance, but instead could be seen by all of his 26,000 followers.
Ms Reeves, who is regarded as one of Labour's highest-flyers, replied sarcastically: "thanks…"
Mr Katz rapidly deleted the offending tweet and said sorry to Ms Reeves, but Labour demanded a full public apology for the comment.
"It is completely unacceptable for a senior BBC editor to have expressed this view, whether or not you intended for it to be made public," the party  told him.
"It is vitally important the Labour Party, our Shadow Cabinet and Newsnight viewers have confidence in the impartiality and fairness of your programme, and the criteria on which guests and interviews are judged.
"This incident undermines that confidence and it is important this  is redressed."
He replied that he apologised unreservedly for his "ill-judged remark", insisting it did not reflect on his programme's neutrality, and said he hoped Ms Reeves would  be interviewed again soon.
Mr Katz, a former deputy editor of The Guardian, was a surprise replacement for Peter Rippon, who left Newsnight following the Jimmy Savile crisis. The programme's reputation took a further battering last year when it falsely linked a senior Conservative to  allegations of child abuse.
His expression of contrition did  not prevent senior Labour figures  from threatening a boycott of the  programme, which has been running for 33 years.
Michael Dugher, Labour's vice-chairman, tweeted: "Good luck in future to BBCNewsnight in trying to persuade Labour people to go on their frankly rather boring programme  at 11 at night… And whilst I'm at it… I'm not sure a guy who worked for the Guardian (yawn) & now Newsnight (snooze) can lecture people about being boring."
John Denham, a former cabinet minister, posted: "Ian Katz helped me answer whether I wanted to go from Southampton to Glasgow to appear  on Newsnight."
An invitation to appear on Newsnight was once considered by politicians to be highly prestigious, but its appeal has palled with the profusion of other media outlets offering airtime at more sociable hours.
Mr Katz's appointment was seen as an initiative to help the programme  to gain publicity by generating  agenda-setting news stories. However, his gaffe led to headlines today of the sort Newsnight thought it had put behind it.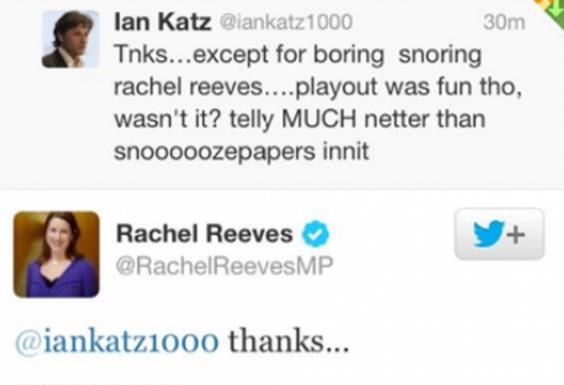 Reuse content