The Queen tweeted for the first time yesterday with the whole world watching – but not everyone was thrilled with her foray into the world of social media, as inadvertently documented by the BBC.
Her Majesty Elizabeth II took to Twitter to post on the @BritishMonarchy account saying: "It is a pleasure to open the Information Age exhibition today at the @ScienceMuseum and I hope people will enjoy visiting. Elizabeth R."
The tweet, which was retweeted 36,000 times and favourited 37,000 times, was responded by a curt "f*** off" by a user named @WolfgangDikface, which the broadcaster showed live on BBC News.
His original response, which has now been deleted, was posted again through a screenshot of his tweet captured on the news report amid positive replies to the Queen from other users of the social media site.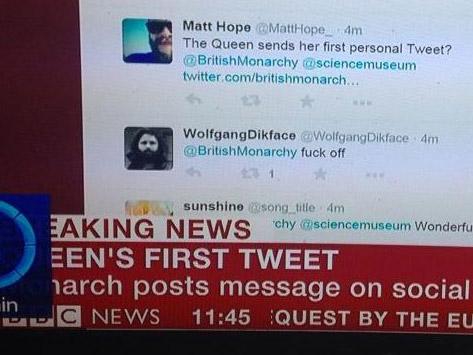 @WolfgangDikface no doubt got a lot of attention from his tweet and later posted: "New followers: Have a look round, make yourself comfortable but telling an 88 year old woman to f*** off on the BBC is about as good as i get".
The British Monarchy account, which has 830,000 followers, is usually updated and managed by palace officials who were announcing the occasion via Twitter in the minutes running up to her first post.
The Queen was watched by 600 guests at the museum as she took off her glove to get to grips with the touchscreen iPad mounted on a plinth.
Science Museum director, Ian Blatchford, said as he invited her up to the keyboard: "You made the first live Christmas broadcast in 1957 and an event relished by historians took place on 26 March 1976, when you became the first monarch to send an email, during a visit to the Royal Signals and Radar Establishment.
"May I now invite you to join me so that you may send your first tweet."
A BBC spokesperson said: "Following the Queen's tweet we showed the British Monarchy Twitter page live. Responses could be seen, including this offensive remark which appeared for less than a second."
Reuse content