Filming has officially begun in Belfast for the third and final season of The Fall, which is expected to air later this year.
Jamie Dornan is confirmed to return for the five part series as serial killer Paul Spector in the BBC 2 drama, who was last seen lying gravely injured in the arms of DSI Stella Gibson, portrayed by Gillian Anderson.
Swedish actor Krister Henriksson, known for his role as Kurt Wallander in the Swedish version of the show, will be joining the cast, alongside Mr Selfridge star Aidan McArdle, Aisling Bea and Ruth Bradley (Humans).
The Fall - Series 2
The Fall - Series 2
1/15 The Fall

Gillian Anderson and Jamie Dornan in 'The Fall'

BBC

2/15 The Fall

Tom Anderson is hot on the heels of Paul Spector

BBC

3/15 The Fall

Stella Gibson takes notes as she watches an interview

BBC

4/15 The Fall

Colin Morgan as DS Tom Anderson

BBC

5/15 The Fall

Paul finds himself in trouble as he tries to evade the poilce

BBC

6/15 The Fall

Paul Spector walks away from a crime scene

BBC

7/15 The Fall

Sally Ann Spector, the wife of Paul Spector talks to their young daughter

BBC

8/15 The Fall

Jamie Dornan as the disturbing killer Paul Spector

BBC

9/15 The Fall

Babysitter Katie and Paul have terse words in the park

BBC

10/15 The Fall

Stella Gibson continues her hunt for the serial killer she only knows as "Peter"

BBC

11/15 The Fall

Sally Ann wants Paul to leave after he unexpectedly turns up

BBC

12/15 The Fall

A traumatised victim sits in her hospital room

BBC

13/15 The Fall

Paul Spector turns up at the hospital to counsel a young woman

BBC

14/15 The Fall

Stella Gibson hunts for the man killing women in Belfast

BBC

15/15 The Fall

John Lynch and Gillian Anderson in The Fall

Helen Sloan/BBC
Merlin actor Colin Morgan will return as DS Tom Anderson, alongside previous series regulars John Lynch, Valene Kane, Emmett J Scanlan, Stuart Graham, Bronagh Waugh and Aisling Franciosi.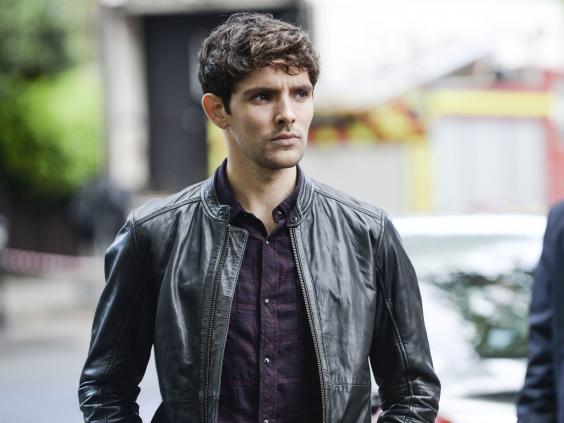 Series creator and writer Allan Cubitt said of the final series: "I've been on a very exciting journey over the last five years with Stella Gibson and Paul Spector – the central characters of The Fall – and I'm thrilled to have recently started filming the third instalment of their macabre, obsessive dance of death."
The Fall first aired in May 2013 and was nominated for both Bafta and National Television Awards, with the second series airing in 2014 and concluding on 17 December.
Reuse content