January is a difficult period for Highland estates even at the best of times. Landowners have to contend with driving snow, high winds, road closures, dying animals and tourists staying away.
But this year the clouds hanging over these Scottish hills seem even more menacing than usual.
That is because Scotland's landowners face a new threat: and it comes from their own government.
Nicola Sturgeon has launched what appears to be a crusade against Scotland's landowners. Scotland's SNP First Minister has declared her intention to strip sporting estates of the tax breaks they enjoy – tax breaks which, in many cases, can make the difference between economic viability and bankruptcy. She wants to have the power to intervene and force landowners to sell to local communities – even if the landowners don't want to.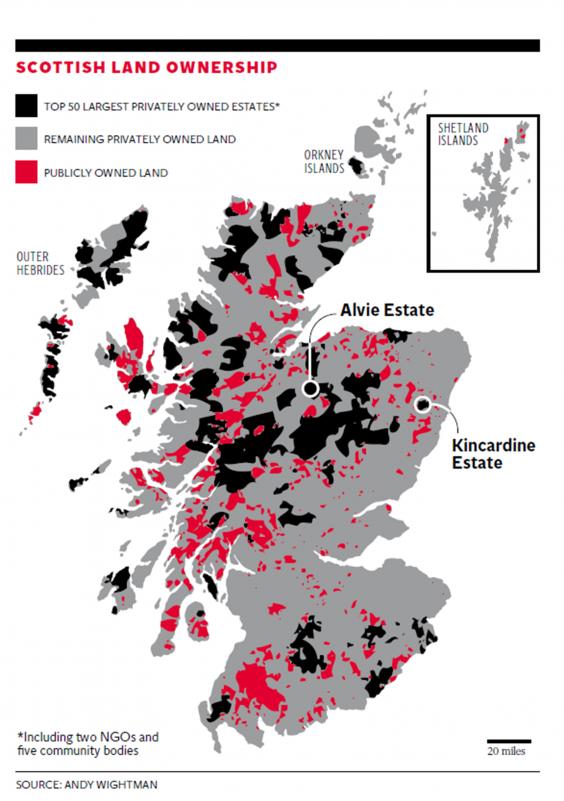 Under her plans, there could also be forced culls of more deer, foreign companies could be banned from investing in Scottish estates, and the law of succession could even be changed to force the division of estates between more inheritors.
Ms Sturgeon declared when she announced her plans that land reform was "unfinished business" for her government – giving the impression that this was a campaign that had yet to be completed.
But she insisted that she was not gunning for the landowners because of who they were and what they represented. "This is not some sort of class warfare," she said. The First Minister added that when around 400 people own half the privately held rural land in Scotland, something had to be done. "This is not about being hard for the sake of being hard on landowners. Responsible landowners... should be valued and respected for the contribution they make."
The proposals are popular with much of the SNP core vote, and it is difficult to feel too much pity for people who control thousands of acres.
But landowners insist they are being unfairly maligned.
Jamie Williamson, who owns the 13,000-acre Alvie Estate around Aviemore, is convinced that this attack on landowners is politically motivated. "The SNP needs to pitch for traditional Labour votes in urban Scotland. That is why they have decided to go after sporting estates," he said. "It is posturing to secure votes."
Mr Williamson is the antithesis of an absentee landlord. He not only lives on his estate but he and his family have to survive on the income it generates.
In pictures: Alex Salmond's campaign for Scottish independence
In pictures: Alex Salmond's campaign for Scottish independence
1/9 The campaign for independence

Alex Salmond stepped down as Scotland's First Minister and the leader of the SNP after the country voted no to independence

Getty Images

2/9 The campaign for independence

Alex Salmond said he accepted 'the democratic verdict of the people'

PA

3/9 The campaign for independence

First Minister of Scotland Alex Salmond chats to school children at Strichen Primary School in Strichen

PA

4/9 The campaign for independence

Scotland's First Minister Alex Salmond delivers his final independence speech to supporters in Perth

EPA

5/9 The campaign for independence

On the last day of campaigning before the polling booths open, the SNP leader has written to voters in a final attempt to convince them to vote for independence

Getty

6/9 The campaign for independence

It was decided to give Alex Salmond, free of charge and for nothing, an extra year in government

AFP

7/9 The campaign for independence

Alex Salmond and Alistair Darling taking part in a live television debate in Glasgow on 25 August

Getty Images

8/9 The campaign for independence

Alex Salmond during the live television debate with Alistair Darling at the Royal Conservatoire of Scotland on 5 August in Glasgow

Getty

9/9 The campaign for independence

Scottish First Minister Alex Salmond presents the White Paper for Scottish independence

Getty Images
He employs 19 people directly and probably another 20 indirectly. He describes his estate as "cows, sheep, trees and tourism" – but points out that he has more beds to let than sheep now. Indeed, Alvie shows how many estates have changed and adapted to modern tourism demands.
Rather than the traditional picture of a Scottish country estate being nothing more than moorland and rivers used by a few well-heeled types from the south, estates like Alvie are incredibly diverse, with quad bikes and zip wires, archery and clay pigeon shooting more central to the operation than old-fashioned "huntin', shootin' and fishin'".
In fact, deer on the Alvie estate are more likely to be shot with a camera than a gun these days.
But the trick is in appealing to both sides of the tourism coin. "We have toffs in the main house for the shooting and bobble hats in the caravan park," Mr Williamson joked.
Mr Williamson's fear is that the SNP's agenda is designed to break up estates for the sake of it, rather than for the good of the local communities or the land.
As one might expect, the land reform plans have been condemned by the Conservatives in Scotland. Responding to Ms Sturgeon's announcement late last year, Tory rural affairs spokesman Alex Fergusson said: "Big Brother is about to be legislated for by a government that said it would govern for all Scotland's people. It would appear that that is not the case if you own land."
This view is shared by Andrew Bradford, who owns the smaller, 3,000-acre Kincardine Estate in Aberdeenshire. He believes the SNP government is basing its attacks on outdated and ill-informed impressions.
"I am perceived as being a fat bastard who lives in a castle and who abuses his villagers. I would like to think that is not the reality," he said.
Mr Bradford's area of expertise is low-cost rural housing. His estate provides 69 affordable countryside homes – while the local authority provides just 13.
"I am desperately worried for the future of rural Scotland because if they force us out of our businesses I do not see a future for providing affordable housing," he said. "Jobs will go and those estates which are pumping money from south of the border and from overseas, to keep sporting estates going, that money will dry up.
"So I would say to the Scottish Government – be careful what you wish for."
And he added: "If they break up estates, we will have to sell off houses and that will squeeze the provision of affordable rented housing. And if the government wants to go after us, why should we even try to provide affordable housing?"
Landowners like Mr Williamson and Mr Bradford admit that there have been some high-profile examples of poor, absentee landlords in the past and this has helped fuel the campaign against all landowners.
However, they argue that land ownership in Scotland is not the straightforward caricature of posh, wealthy landowner versus the downtrodden rural masses that some like to portray. They insist that Scottish country estates are more diverse than ever before, that they cater for a broader range of tourists and provide much-needed affordable housing for locals.
But they also know they are in for a fight that will be far tougher than their annual battle against the elements each January. It is a fight not just for their own financial futures but for the future of the Highland estate itself.
Reuse content