Becoming a parent completely changes you, and your outlook on the world," actor and father-of-two Rafe Spall is telling me. "When you meet someone who's a bit of a dick, you just think: 'I can't have this petty squabble. I'm a grown-up, I've got kids'." The 32-year-old pauses. "And you cry a lot more. You think about your own kids, you cry; you see another kid, you cry ...."
The reason for this sudden burst of parental sentimentality? We're in a hotel lobby in Toronto, following the premiere of his latest film, X+Y, which he describes as "a story about family relationships that is going to break your heart". A tale of love, loss, and maths, it centres on Nathan (Asa Butterfield), an emotionally troubled boy with a gift for numbers; Spall plays Martin, a sardonic, marijuana-smoking tutor, who is preparing his prodigious teenage pupil for an international Olympiad. "All the characters are outsiders, all unable, in their own ways, to connect," says Spall; Nathan is on the autistic spectrum, while Martin suffers from multiple sclerosis. "But they are brought together through the beauty of maths. That was a really lovely world for me to dive into, because I got an F in GCSE maths," he grins.
He also spent time with MS sufferers as part of his research. "You have a responsibility to portray this disease in as precise a way as possible," he says. The result is one of Spall's finest performances yet – physically nuanced, raw and unsentimental.
Though self-deprecating, he is clearly immensely proud of the film, which reunites him with Sally Hawkins, his co-star in Nick Payne's stage hit Constellations. Hawkins plays Nathan's mother, Julie, a widowed single parent, and once again, the pair get to share clumsy flirtation and intimacy. "She's extraordinary; she's a black belt," he rhapsodises.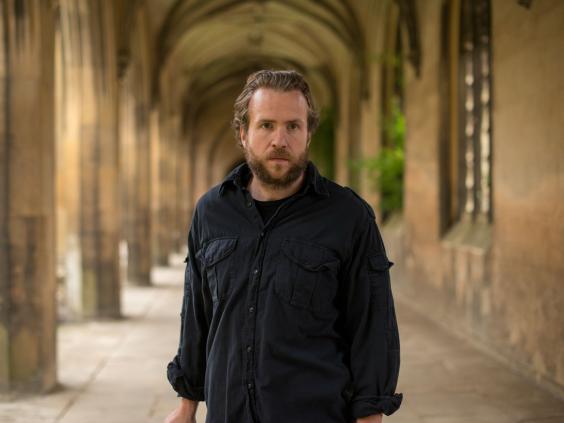 No slouch himself, Spall knew he wanted to be an actor "as soon as I knew you had to be something",  being a chip off the old block that is his father, Timothy. Unlike the progeny of many a famous parent, he will happily discuss his dad ad infinitum. "I think it will be the thing that he is defined by, the first line in his obituary – it is staggering," he says of Spall Snr's performance in Mr Turner, overlooked at this year's Baftas and Academy Awards to indignation from critics and public alike. His son, however, is sanguine about the perceived snub. "I would like for him to be recognised by the establishment, but I'm not angry because he is not angry," he shrugs.
Spall Snr encouraged his teenage son to join the National Youth Theatre, as he himself had done, though Spall Jnr didn't need much encouragement, thinking it was a good way to "get off with loads of girls", he says. He left his London state school at 18, and learnt on the job in small theatres. And in spite of a CV that now includes leading TV parts and films from Prometheus to I Give It A Year, he remains proudest of his stage work. He excitedly recalls his turn last year as part of a starry love triangle opposite real-life couple Rachel Weisz and Daniel Craig in a Broadway production of Pinter's Betrayal. "[Doing that felt] like coming in to bat for England against Australia at Lords, with 50,000 people watching and someone bowling at 90 miles an hour."
The second time we speak, Spall is back in London, packing up the contents of the Maida Vale home he shares with his wife, the former Hollyoaks actress Elize du Toit, their daughter, Lena, three, and son, Rex, two. "We've bought a really horrible house [in nearby Kensal Rise], that needs tons of work," he tells me cheerfully. "We've spent a fortune on this absolute shit hole, which is going to cripple me to do up."
He has just returned from five weeks in Vancouver, filming the pilot for Roadies, a TV comedy-drama set backstage on a rock tour, written and directed by Cameron Crowe. Spall plays a record executive, "the financial guy, sent to crack some skulls together"; however, when he gets there, "he wants to join the circus".  Should the full series be "ordered", it could be his big US break. "All the clichés about LA are true – the weather, the food, the positive attitude – so I would absolutely move my family there for a while," he enthuses.
Not that Spall has wholly given himself over to Californian optimism; briefly he gets mournful, when telling me about an old digital memory card he came across earlier that day. "I put it in my camera to have a look, which was really depressing … it's from when I was about 23. I actually used to be reasonably good-looking, and now …" he trails off. For the record, he's still very handsome, and probably a good bit thinner now; since his early twenties, he has lost more than five stone, though is far from being obsessed with his physical appearance, he says.
"Who lays out the parameters of what's deemed attractive? It's one thing wanting to feel good about yourself, but I don't understand the modern narrative that if you are a young actor, when you take your shirt off, you have to be jacked out … do you find it attractive?" he enquires. I confess that I do not. "None of the women I know do either," he shrugs. "Which is good, because I would never have had sex otherwise, but I just don't understand who it is for."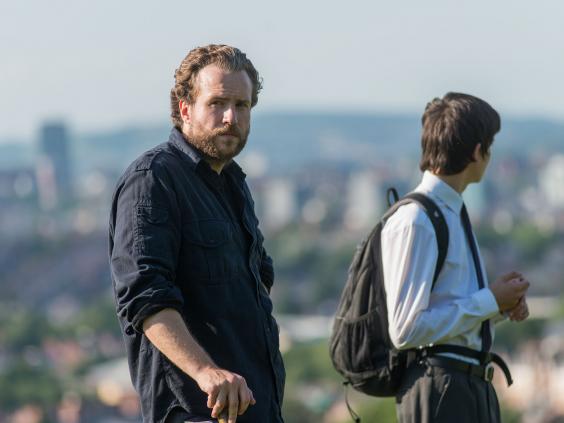 He has played the game in the past, exercising assiduously to achieve a standard Hollywood physique for his first leading-man role in I Give It A Year. "But I know what I need to do to achieve that body, and it means me dedicating my whole life to the way my torso looks," he declares. "And that's, like, the opposite of sex." Fortunately, his wife is with him on this. "She finds me much more attractive in X+Y, in which I am scruffy and bigger than I usually am, than she did in I Give It A Year," he says. "Because you get a real essence of me in this performance."
He met du Toit seven years ago and says he knew from an hour in that he wanted to marry her. Recently, he prompted mass swooning on Twitter after describing love in an interview as "when a noise that you didn't know was there suddenly stops, [and] you feel a second of surprising, exquisite peace. Like that feeling, all the time." So beneath his wisecracking exterior, does there beat the heart of a romantic poet? "I recently found books of horrible poems that I wrote when I was 17," he admits. "You're not going to get verse out of me these days, but I do enjoy writing."
He is, in fact, working on his own film script – a comedy – in conjunction with the British Film Institute. "There is nothing more questionable than a human being who says they are going to write, direct and star in a movie," he notes. "But I am going to do it, and my dad and Sally Hawkins [are] going to be in it." Which really doesn't sound too questionable at all.
'X + Y' is out now
Reuse content