Berta Cáceres, a Honduran indigenous and environmental rights campaigner, has been murdered in her own home a week after she was threatened over her opposition to a hydroelectric dam project. 
Ms Cáceres was shot dead when gunmen entered her home in La Esperanza in the west of the country at around 1am on Thursday. 
Her attackers fled without being identified, but also wounded her brother. Police say they have arrested a suspect but did not release a name. 
Police told Italian newspaper La Repubblica she had been killed during a botched robbery but her family have said they believe she was assassinated for her high-profile campaigns against dams, illegal loggers and land owners. 
Her 84-year-old mother, Austrabertha Flores, said on Hondurian radio: "I have no doubt that she has been killed because of her struggle and that soldiers and people from the dam are responsible, I am sure of that. I hold the government responsible".
Last year, Ms Cáceres, a member of Honduras' largest indigenous group the Lenca, was awarded the Goldman Environmental Prize for her opposition to the Agua Zarca cascade - four giant dams in the Gualcarque river basin. 
In pictures: Biggest threats to the rainforests
In pictures: Biggest threats to the rainforests
1/10 Borneo

Destruction of the rainforest, deforestation in Borneo

2/10 Brazil

Aerial view af an area devastated by clandestine gold mining in the Jamanxim National Forest, state of Para. With 1,3 million hectares, the Jamanxim National Forest is a microsm that replicates what happens in the Amazon, where thousands of hectares of land are prey of illegal woodcutters, stock breeders and gold miners

3/10 Amazon rainforest

Intensive logging makes rainforest fires more likely as the Earth warms

Rex

4/10 Peru

Miners known as "Maraqueros" ready a rustic type of hydraulic jet known locally as a "Chupadera," after hauling the device about 16-meters deep into a crater at a gold mine process in La Pampa in Peru's Madre de Dios region. A new threat now looms for the estimated 20,000 wildcat miners who toil in huge scar of denuded rainforest known as La Pampa

5/10 Peru

A rope hangs around the trunk of a tree at a illegal gold mining process in La Pampa in Peru's Madre de Dios region. An estimated 20,000 miners toil in this malarial expanse of denuded rainforest known as La Pampa

6/10 Amazon rainforest

The extent of the environmental damage in the Amazon rainforest

afp/getty images

7/10 Indonesia

Destruction remains from tropical rainforest in Kuala Cenaku in Riau Province, Sumatra. Norway entered a partnership with Indonesia to support Indonesia's efforts to reduce emissions from deforestation and degradation of forests and peat lands. The business of pulp, palm oil and wood are causing the deforestation of Sumatra, the largest island owned by Indonesia, and is contributing global climate change to the extinction of many of the world's rare species

8/10 Malaysia

An area that has been cleared of rainforest to make way for a palm oil plantation in Sabah, Malaysia

CORBIS

9/10 Indonesia

Regenerated palm oil trees are seen growing on the site of destroyed tropical rainforest in Kuala Cenaku

GETTY IMAGES

10/10 Brazil

Brazil launched the Amazon Fund, aimed at protecting the rainforest so vital to the world's climate, and at combating climate change. In December 2008 Brazil launched a national climate change plan which proposed to cut the country's deforestation rate in half by 2018

Getty Images
Her campaign held up the project by local firm Desa leading to the withdrawal of funding by a Chinese firm and the private sector arm of the World Bank, the International Finance Corporation.
She said she had regularly received threats because of her work: "They follow me. They threaten to kill me, to kidnap me, they threaten my family. That is what we face.
"They have guards which have made death threats against us. They've been on the point of shooting us. I've received threats and had my vehicle followed."
Three of her colleagues at the campaign group she co-founded, the Council of Indigenous Peoples of Honduras (Copinh), have been murdered over their opposition to the dam and two of her four children have reportedly already fled the country over safety concerns. 
A 2015 report by Global Witness found Honduras to be the most dangerous country in the world for environmental activists with more killed in suspicious circumstances per capita than anywhere else. 
The report said at least 111 activists were killed in the country between 2002 and 2014.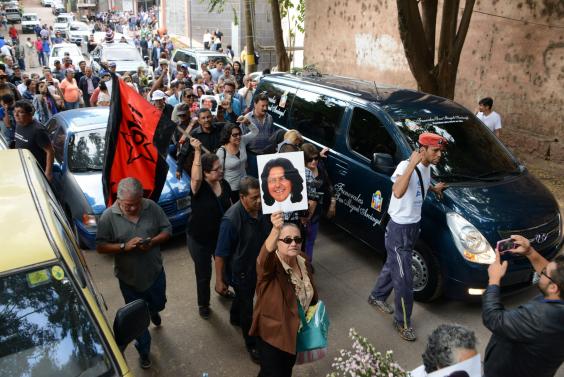 Erika Guevara-Rosas, Americas Director for Amnesty International, said in a statement that "the cowardly killing of Berta is a tragedy that was waiting to happen". 
She said: "For years, she had been the victim of a sustained campaign of harassment and threats to stop her from defending the rights of indigenous communities.
"Berta's death will have a devastating impact for many human rights activists and organisations." 
Additional reporting by AP
Reuse content