Caitlyn Jenner's transition was unveiled on the cover of a major fashion magazine just two days ago, but there are already calls for the former Olympic athlete to be stripped of her medals.
While much of the world is celebrating this ground-breaking moment for transgender visibility and rights, one campaign is attempting to use Jenner's statement to Vanity Fair that she was "always living a lie" as Bruce as a skewed justification for revoking the medals she was awarded during her athletic career.
It claims that Jenner, who won gold in the decathlon during the 1976 Summer Olympics, violated committee rules by participating as a man when she "believed herself to be truly female".
The petition states: "It has recently come to light that gold medalist Bruce Jenner is in fact transgender, and therefore, identifies as a woman. We congratulate Ms Jenner on these new developments and wish her the best.
Inspirational quotes about LGBT rights
Inspirational quotes about LGBT rights
1/27 Caitlyn Jenner

"Why do people think it's OK to ask deeply personal questions when you're transgender?"

Reuters / Vanity Fair

2/27 Kanye West

"Look, I can be married to the most beautiful woman in the world, and I am. I can have the most beautiful little daughter in the world, and I have that. But I'm nothing if I can't be me. If I can't be true to myself, they don't mean anything," the rapper said about Jenner.

Getty Images

3/27 Stephen Fry

"Homosexuals are not interested in making other people homosexuals. Homophobes are interested in making other people homophobic."

Rex

4/27 Hillary Clinton

"Gay rights are human rights."

Getty Images

5/27 Anderson Cooper - Journalist and TV host

"The fact is, I'm gay, always have been, always will be, and I couldn't be any more happy, comfortable with myself, and proud."

Getty Images

6/27 Laverne Cox - Actress

'"We are not what other people say we are. We are who we know ourselves to be, and we are what we love."

7/27 PM David Cameron

"I am proud that we have made same-sex marriage happen. I am delighted that the love two people have for each other — and the commitment they want to make — can now be recognised as equal."

AFP/Getty Images

8/27 Kellie Maloney

"We don't have a choice. People think we wake up one morning, put a dress on and be a woman. I knew about it when I was very young but I was brought up in a male world and had responsibilities, I was frightened and I wanted to beat it. I didn't want to lose my friends. In the end I was so depressed and so desperate, I tried to commit suicide about three times."

Getty

9/27 Ellen DeGeneres - comedian and TV host

"To me beauty is about being comfortable in your own skin. It's about knowing and accepting who you are."

10/27 President Barack Obama

"Just to prohibit somebody who cares about another person, it just seems to me that's not what America's about. Usually, our constitutions expand liberties, they don't contract them."

AFP/Getty Images

11/27 Zac Efron - Actor

"To me, being gay was just another way that you can be."

Getty Images

12/27 Lance Bass - former NSYNC member

"The thing is, I'm not ashamed - that's the one thing I want to say. I don't think it's wrong, I;m not devastated going through this. I'm more liberated and happy."

Larry Busacca/Getty Images

13/27 Ed Miliband - former Labour leader

"Whether you're gay or straight, you should be able to signify your commitment, your love, with the term marriage."

Reuters

14/27 Kate Bornstein - Author

"Gender is not sane. It's not sane to call a rainbow black and white."

Getty Images

15/27 Adam Levine - Maroon 5's singer

"Maybe we should make straight marriage illegal. It doesn't seem to have a very high success rate."

GETTY IMAGES

16/27 Tom Daley - Olympic diver

"I felt so alone and trapped in who I was... for people to be so supportive about it has been amazing."

17/27 Kurt Cobain - Former musician

"I'm not gay, although I wish I were just to piss off the homophobes."

Getty Images

18/27 Jay-Z - Rapper

"You choose to love whoever you love. It's no different than discriminating against blacks."

PA

19/27 Brittney Griner - Basketball player

"I am a strong, black, lesbian woman. Every single time I say it, I feel so much better."

Rex Features

20/27 Daniel Radcliffe - Actor

"You don't have to be gay to be a supporter, you just have to be human."

Getty Images

21/27 Elle Page - Actress

"I am tired of hiding and I am tired of lying by omission... I suffered for years because I was scared to be out... I'm gay."

Getty Images

22/27 Michael Sam - NFL player

"I want to own my truth... No one else should tell my story but me."

Getty Images

23/27 Pink - singer

"I think the best day will be when we no longer talk about being gay or straight... It's not a gay wedding, it's just a wedding. It's not a gay marriage, it's just a marriage."

24/27 Jason Collins - former NFL player

"When I acknowledged my sexuality, I felt whole for the first time."

GETTY IMAGES

25/27 Ricky Martin - singer

"Acceptance has to come from within and this kind of truth gives me the power to conquer emotions I didn't even know existed."

26/27 Frank Ocean - Musician

"I believe that marriage isn't between a man and a woman; but between love and love."

Getty Images

27/27 Elton John

"So I am deeply saddened and shocked over the current legislation that is now in place against the LGBT community here in Russia. In my opinion, it is inhumane and it is isolating."

Getty Images
"However, this creates somewhat of a problem as Ms Jenner (as talented as she is) claims that she has always believed herself to be truly female, and therefore, was in violation of committee rules regarding women competing in men's sports and vice versa.
"It is only fair to all involved that women receive their credit as champions of the Decathalon and that the men racing Ms. Jenner are not expected to compete with a superior, streamlined being such as herself.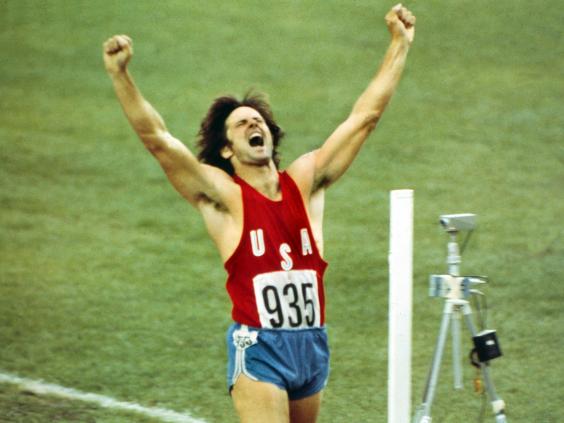 "We urge Ms Jenner to support the transgender community by giving up the medals earned by competing against the wrong gender."
Depressingly, the petition has been signed over 2,000 times and has spawned the hashtag #givebackthegold, along with a number of tweets demanding she hand her medal back.
Since Bruce Jenner claims to have always been a female he should #givebackthegold

; Steven Dale (@tiny_steve) June 3, 2015
If Bruce Jenner has always been a woman then "she" cheated in the Olympics and should #givebackthegold

; Mr. Brewer (@MrBrewerPCA) June 3, 2015
Caitlyn jenner should have to turn in her men's olympic medals. #givebackthegold #transjenner #CallMeCaitlyn

; Gerry Geronimo (@FlacidAlpaca) June 2, 2015
The petition has been slammed as transphobic and "ridiculous" by many on social media, who reacted angrily to its launch. Bernard Reed OBE, a trustee of the Gender Identity, Research and Education Society, told The Independent the petition is "total nonsense".
He said: "At the time under the regulations of the International Olympic Committee she was permitted to compete only as a man and met all of the necessary criteria to do so. The situation would now be different if she ever did wish to compete as a woman at an international level, in which case she would have to satisfy certain requirements."
The #givebackthegold campaign is hypocrite, obnoxious and just plain dumb. Don't these ppl have better things to do with their lives?

; Xavier de Sousa (@xavinisms) June 3, 2015
Pro Tip: If you support the #givebackthegold campaign then you're basically the worst sort of human #dontgivebackthegold

; Jane Wilson (@janewilson90) June 3, 2015
#givebackthegold is RIDICULOUS! Did you demand Oscar Pistorious give back his medals? Stop trying to disguise your transphobia

; .Izzy (@izzysasa) June 3, 2015
Jenner is otherwise enjoying the support of leading figures including the US President Barack Obama, who tweeted her to praise the "courage" she demonstrated by sharing her story.
The Kardashian sisters, Demi Moore, Monica Lewinsky, Ellen DeGeneres and Kerry Washington were just a few of the other figures to applaud Jenner for helping others in the trans community by sharing her story on such a public platform.