They were coming for him and his people. Friends were being killed or fleeing for their lives. So Andrew White did what he always does when faced with an enemy. "I invited the leaders of Isis [Islamic State] for dinner. I am a great believer in that. I have asked some of the worst people ever to eat with me."
This extraordinarily self-confident priest is best known as the vicar of Baghdad, leader of a church in the chaos outside the protected Green Zone. He made his offer last year as the terrorist forces threatened to take the city. Did he get a reply? 
"Isis said, 'You can invite us to dinner, but we'll chop your head off.' So I didn't invite them again!" 
And he roars with laughter, despite believing that Islamic State has put a huge price on his head, apparently willing to pay $157m (£100m) to anyone who can kill this harmless-looking eccentric. Canon White was a doctor before he became a priest and could be one still, in his colourful bow-tie and double-breasted blazer with a pocket square spilling silk. But appearances are deceptive. 
For the last two decades, he has worked as a mediator in some of the deadliest disputes on Earth, in Israel and Palestine, Iraq and Nigeria. He has sat down to eat with terrorists, extremists, warlords and the sons of Saddam Hussein, with presidents and prime ministers. 
White has been shot at and kidnapped, and was once held captive in a room littered with other people's severed fingers and toes, until he talked his way out of it. He is an Anglican priest but was raised a Pentecostal and has that church's gift of the gab, even though multiple sclerosis (MS) makes him drawl like a posh barfly. "When I went on Radio 4 talking about Baghdad there were complaints because they thought I was drunk. I wasn't!"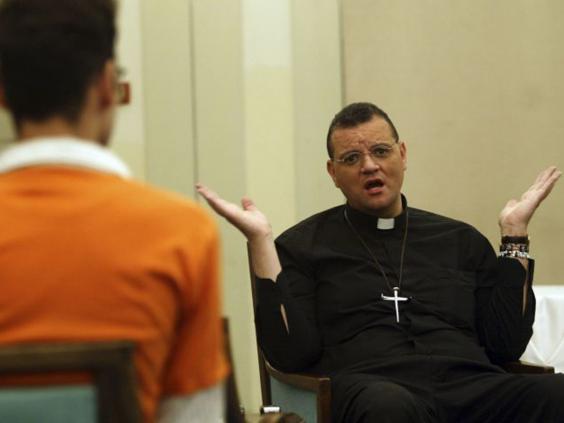 MS also affects his vision and his balance, but he claims to have come up with his own way of keeping the symptoms down, by injecting his own stem cells. A big man with a boyish enthusiasm, he declares himself afraid of nothing, not even the direct threat to his life. 
"They've not sent an email telling me it's off," says White, 50, chuckling and looking at his travelling companion Terry, a former policeman. How does it feel to have that price on his head? "It feels good." Terry raises his eyebrows and mutters, "While the head's attached." 
It's knockabout stuff, but let's put this in context. White reopened St George's church after the invasion of Iraq even though civil war raged and the diplomats and ex-pats who had once made up the congregation no longer dared to go there. 
Iraqis came instead, and the congregation reached a peak of 6,500. They built a school, a clinic and food bank. White pledged to stay even as the sound of bombs grew louder. "We had Isis on the doorstep of Baghdad last year. I said to my people, 'I will not leave you; don't leave me.' But many did leave me and they went to Nineveh and Mosul. Isis were there too. There was total mayhem." 
More than 1,200 men, women and children who worshipped with him have been killed in recent years, he says. Four boys he knew were beheaded because they refused to swear allegiance to Islam. The church caretaker was forced to watch as his five-year-old boy was cut in half.
There used to be 1.5 million Christians in Iraq but now there are only 260,000, he says. Some are calling it genocide. Surely he no longer believes that negotiations with Isis could work? White stares at me from behind owlish spectacles. "Can I be honest? You are absolutely right. You can't negotiate with them. I have never said that about another group of people. These are really so different, so extreme, so radical, so evil." 
People news in pictures
People news in pictures
1/30 30 September 2016

Singer Rihanna makes her way through reporters as she arrives to Christian Dior's Spring-Summer 2017 ready-to-wear fashion collection presented in Paris

AP

2/30 30 September 2016

U.S. President Barack Obama speaks at the funeral service of former Israeli President Shimon Peres at the Mount Herzl cemetery in Jerusalem

REUTERS

3/30 29 September 2016

Democratic presidential nominee Hillary Clinton takes a selfie during an Iowa Democratic party early vote rally in Des Moines, Iowa

AFP/Getty Images

4/30 29 September 2016

Kim Kardashian, Kourtney Kardashian and Kris Jenner attend the Off-white 2017 Spring/Summer ready-to-wear collection fashion show in Paris

AFP/Getty Images

5/30 29 September 2016

French printing company's director Michel Catalano (R) and former employee Lilan Lepere (L), who were both held hostage by the two brothers who killed 12 people in an attack on French satirical newspaper Charlie Hebdo on January 2015, pose with French President Francois Hollande (C) after been awarded of the Chevalier de la Legion d'Honneur (Knight of the Legion of Honour) during a visit for the inauguration of Michel Catalono group's refurbished premises in Dammartin-en-Goele. Elite French police stormed a printworks and a Jewish supermarket on 9 January, killing two brothers wanted for the Charlie Hebdo attack and an apparent accomplice who had taken hostages in two separate sieges that traumatised France

AFP/Getty Images

6/30 29 September 2016

Former US president, Bill Clinton pays his respect in front of the coffin of former Israeli president Shimon Peres at a plaza outside the Knesset, Israel's Parliament, in Jerusalem. Israeli leaders and crowds of mourners are gathering outside parliament to pay last respects to ex-president and Nobel Peace Prize winner Shimon Peres, whose body is lying in state. The former US president had helped usher in the Oslo peace accords of the 1990s, which resulted in the Nobel prize for Peres, who died on 28 September, aged 93

AFP/Getty Images

7/30 28 September 2016

Britain's Prince William and his wife Kate, the Duke and Duchess of Cambridge, walk through the steam of a steam train in Carcross, Yukon

AP

8/30 28 September 2016

Former England national football team manager Sam Allardyce speaks to the press outside his home in Bolton. Sam Allardyce's reign as England manager came to a humiliating end as he departed after just 67 days in charge following his controversial comments in a newspaper sting

AFP/Getty Images

9/30 27 September 2016

Democratic nominee Hillary Clinton and Republican nominee Donald Trump leave the stage after the first presidential debate at Hofstra University in Hempstead, New York. Polls declared Clinton the winner after she branded rival Trump a racist

AFP/Getty Images

10/30 26 September 2016

US President Barack Obama wears a traditional blanket and hat given to him during the 2016 White House Tribal Nations Conference at the Andrew W. Mellon Auditorium in Washington

AFP/Getty Images

11/30 26 September 2016

French President Francois Hollande meets with officers of the French Gendarmerie during a visit to the Gendarmerie of Calais. Hollande said on a visit to the port of Calais that the sprawling "Jungle" migrant camp there would be "completely dismantled"

AFP/Getty Images

12/30 26 September 2016

Azerbaijan's President Ilham Aliyev casts his vote during a referendum on extending presidential terms in Baku, Azerbaijan

REUTERS

13/30 25 September 2016

Prince Charles, Prince of Wales meets mounted police officers and their horses after the the National Police Memorial Service at St Paul's Cathedral in London

Getty Images

14/30 24 September 2016

Canadian Prime Minister Justin Trudeau, center, kneels to talk to Prince George as his father, Prince William, The Duke of Cambridge, speaks with Governor General David Johnston, right, and Kate, The Duchess of Cambridge, holds their daughter Princess Charlotte upon arrival in Victoria, British Columbia

AP

15/30 24 September 2016

US actor Richard Gere and his girlfriend Spanish publicist Alejandra Silva, pose during a photocall after the screening the film "Time out of mind" at the 64th San Sebastian Film Festival, in the northern Spanish Basque city of San Sebastian

AFP/Getty Images

16/30 24 September 2016

(L-R) Former US First Lady Laura Bush, former US President George W. Bush, First Lady Michelle Obama, and President Barack Obama attend the opening ceremony for the Smithsonian National Museum of African American History and Culture in Washington

AFP/Getty Images

17/30 24 September 2016

British opposition Labour Party leader Jeremy Corbyn (C) waves following his speech after being announced as the winner of the party's leadership contest at the Labour Party Leadership Conference in Liverpool

AFP/Getty Images

18/30 23 September 2016

A statue of the movie boxer Rocky stands near the stage entrance as Republican presidential nominee Donald Trump holds a rally with supporters in Aston, Pennsylvania

REUTERS

19/30 22 September 2016

Priscilla Chan embraces her husband Mark Zuckerberg while announcing the Chan Zuckerberg Initiative to "cure, prevent or manage all disease" by the end of the century during a news conference at UCSF Mission Bay in San Francisco

REUTERS

20/30 21 September 2016

British Foreign Secretary Boris Johnson reads before a meeting of the United Nations Security Council during the 71st session of the U.N. General Assembly at U.N. headquarters in New York

REUTERS

21/30 20 September 2016

Britain's Prince William sits in the cockpit of his East Anglian Air Ambulance (EAAA) H145 helicopter, in London

REUTERS

22/30 19 September 2016

Model Cara Delevingne poses for photographers upon arrival at the Burberry Spring/Summer 2017 fashion show at London Fashion Week

AP

23/30 19 September 2016

Cuba's former leader Fidel Castro, right, shakes hands with Iranian President Hassan Rouhani, center, in Havana. Rouhani is on a one-day official visit to Cuba

AP

24/30 18 September 2016

French far-right Front National (FN) party's President, Marine Le Pen, gestures as she delivers a speech on stage during the FN's summer congress in Frejus, southern France. Marine Le Pen's slogan reading "In the name of the [French] people" is seen on the rostrum

AFP/Getty Images

25/30 17 September 2016

Pope Francis holding an infant during his visit to the neonatology ward of San Giovanni Hospital in Rome

AFP/Getty Images

26/30 16 September 2016

Outgoinng leader Nigel Farage embraces new leader of the anti-EU UK Independence Party (UKIP) Diane James as she is introduced at the UKIP Autumn Conference in Bournemouth Diane James was announced as UKIP's new leader on September 16 to replace charismatic figurehead Nigel Farage. Farage made the shock decision to quit as leader of the UK Independence Party following victory in the referendum on Britain's membership of the European Union. / AFP PHOTO / DANIEL LEAL-OLIVASDANIEL LEAL-OLIVAS/AFP/Getty Images

AFP/Getty Images

27/30 15 September 2016

Musicians and members of the Beatles, Paul McCartney, right, and Ringo Starr pose for photographers upon arrival at the World premiere of the Beatles movie, Ron Howard's 'Eight days a week-the touring years' in London

AP

28/30 15 September 2016

Hillary Clinton boards her plane to return to campaigning after her bout with pneumonia at Westchester County Airport in White Plains, New York

AFP/Getty Images

29/30 15 September 2016

Japan's main opposition Democratic Party's new leader Renho (C) raises her fists with her party lawmakers after she was elected party leader at the party plenary meeting in Tokyo

REUTERS

30/30 15 September 2016

Secretary of State John Kerry listens as actor and activist Leonardo DiCaprio speaks at the Our Ocean, One Future conference at the State Department in Washington. The conferences focus on marine protected areas, sustainable fisheries, marine pollution, and climate-related impacts on the ocean

AP
So what is to be done? "We must try and continue to keep the door open. We have to show that there is a willingness to engage. There are good Sunni leaders; they are not all evil like Isis."
But surely there is only one logical conclusion to be drawn? He sighs, and answers slowly. "You are asking me how we can deal radically with Isis. The only answer is to radically destroy them. I don't think we can do it by dropping bombs. We have got to bring about real change. It is a terrible thing to say as a priest. 
"You're probably thinking, 'So you're telling me there should be war?' Yes!" 
I am shocked by his answer, because this is a man who has risked his life many times to bring peace.
"It really hurts. I have tried so hard. I will do anything to save life and bring about tranquillity, and here I am forced by death and destruction to say there should be war."
White had to be ordered to leave Baghdad at Christmas by his close friend the Archbishop of Canterbury, the Most Rev Justin Welby. "He said to me, 'Andrew, look, what you are doing is so important and the reality is you are more use alive than dead. Come out of there. Don't die.'" 
They once worked together as directors of the centre for peace and reconciliation at Coventry Cathedral, going secretly to mediate in places such as the Niger Delta. Both wear crosses made out of nails taken from the cathedral after it was bombed during the war. Canon White wears his next to a pouch containing his US identity cards from the Green Zone. 
"People always say I am reckless and fearless and never listen to anybody, but I always listen to my bishop. Maybe he knew better than me. Now he says I can go back in there as long as I don't tell anybody what I am doing or when I am doing it."
So White is on tour in this country promoting his new autobiography, My Journey So Far (Lion), appearing in Coventry tomorrow night and around the south of England all week. He has a home and a family in Sussex, but says this fortnight is his longest visit to Britain in years. 
We are talking over sandwiches in the Cabinet Room of the Carlton Club, that Piccadilly sanctuary for high-ranking Conservatives, where the walls are lined with portraits of party grandees. One of them was the father of a nurse he used to go out with. "She was a good one."
White has been close to the political establishment here and in Washington, briefing the Foreign Office about what he was seeing in Baghdad. These days he is the president of his own Foundation for Relief and Reconciliation in the Middle East (frrme.org), working in the place to which many of his congregation fled. 
"I see myself as the pastor of the Iraqi refugee community in Jordan. I am providing them with food, housing, education for their children and a clinic to give them healthcare."
The passion in his voice is magnified by the effort it takes to form the words properly. "There was one boy called Mario, whose daddy had been killed by Isis. He said to me, 'Will you be my daddy now?' I said, 'Yes, of course.' I would care for him, I would love him, I would be there as his support." White has done the same for other children. "They all see me as their daddy. Whatever they ask for, I provide. That is part of the job of being a father." 
His home is now in Jordan, he says. But what about his wife and two sons in this country? "My eldest son is now at Cambridge. My youngest son is at home, and as long as he can get to see the Rugby World Cup Final, he is happy. My Muslim assistant Dr Sarah Ahmed and my little boy get on brilliantly and she has kind of adopted him. So we have a very broad relationship with our children, both the ones I care for in the Middle East and those here."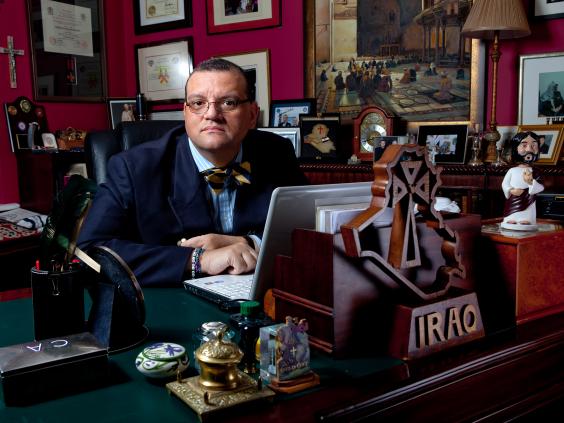 His eldest, Jacob, once invited "Yes-Sir Arafat" to his fifth birthday party because he often saw the Palestinian leader on television with his father, as White mediated negotiations with the Israelis. Arafat didn't go to the party, but was moved by the letter and sent an autographed keffiyeh (scarf) as a present. 
How much time does White spend with his boys? "Normally, I see them every six weeks. Jacob used to say to me if I was home too long, 'Daddy, time to go back to work now.' They don't know any different. They have never had me there all the time." 
How does his wife, Caroline, feel about all this? "Great," he says in a voice that suddenly sounds tight and small. "Until things went really bad with Isis, she has never worried about me. The boys had never worried until suddenly they found a whole load of police outside our house. They had heard something big might be coming. Oh, there are some mints here …." 
He has a habit of changing the subject dramatically when he's unsettled by the question. Reaching for the mints, he spills the bowl. How is his health? "Well, I suppose I am ill, aren't I? In theory. I've got multiple sclerosis and I should not be able to do anything like I do." 
White allowed himself to be a human guinea pig for a doctor at the clinic in the grounds of his church, who injected him with stem cells from his own body. "It transformed me overnight. The only thing it didn't help was my balance." He has to go back every six months for the treatment. "Everywhere else does research about it. We just do it."
There are those who say he is reckless about his body, but also about his friends. Tariq Aziz, Saddam's deputy prime minister (and a Christian by heritage), was one of those. "I used to go and see him in his palace, then in his prison cell. I organised his funeral when he died." 
Aziz was "a bad person" admits White, but adds: "I know the regime was awful, but in a way I really did love him. He was a special person." What does that mean? "To me, personally. I used to talk to him about anything."
Some will be outraged by that, but Canon White does not care. He really does believe in loving his enemies – even when they put a price on his head, and when war seems inevitable. "Sometimes the impossible can happen," he says, looking for hope. 
"If you want to make peace, you can't just do it with the nice people. Nice people don't cause the wars."
Reuse content