The Dalai Lama has summed up David Cameron's policy towards China as being simply about "money, money, money".
In an interview with author Jonathan Mirsky for the Spectator, the Tibetan spiritual leader was asked for his opinion on George Osborne's controversial tour of the country.
"Money, money, money. That's what this is about. Where is morality?" the Dalai Lama said.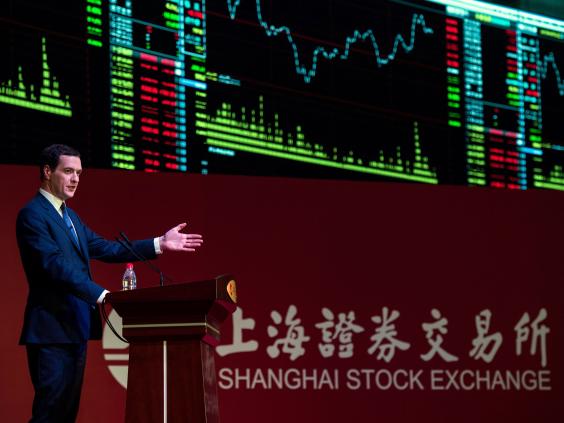 The Buddhist leader met the Prime Minister three years ago, prompting a furious response from Beijing, which saw the Chinese foreign ministry demand that Britain apologise for hosting him.
The Government refused, but the following year Downing Street said Mr Cameron had "no plans" to meet the Dalai Lama in the foreseeable future as it looked to "shift UK-China relations up a gear".
Mr Osborne's tour of the country has so far inferred that the shift has worked, seeing the Chancellor set the aim of making China the UK's second-largest trading partner by 2025.
He said the country's poor human rights record and authoritarian regime did not rule it out as a business partner.
"This is primarily an economic and financial dialogue, but of course we are two completely different political systems and we raise human rights issues, but I don't think that is inconsistent with also wanting to do more business with one fifth of the world's population," Mr Osborne told BBC Radio 4.
Academics have identified a "Dalai Lama effect" that shows China cutting its exports to countries who receive him as part of cooling relations, the Spectator reported.
Dalai Lama's best words of wisdom
Dalai Lama's best words of wisdom
1/6 Dalai Lama

"Common sense tells us we'll be happy even if we're poor if we're warm-hearted, whereas if we're wealthy but self-centred we'll be miserable."

Getty Images

2/6 Dalai Lama

"With the realization of ones own potential and self-confidence in ones ability, one can build a better world."

Ashwini Bhatia

3/6 Dalai Lama

"It is under the greatest adversity that there exists the greatest potential for doing good, both for oneself and others"

EPA

4/6 Dalai Lama

"Love and kindness are the very basis of society. If we lose these feelings, society will face tremendous difficulties; the survival of humanity will be endangered."

Dylan Martinez /REUTERS

5/6 Dalai Lama

"My religion is very simple. My religion is kindness. This is my simple religion. There is no need for temples; no need for complicated philosophy. Our own brain, our own heart is our temple; the philosophy is kindness."

2004 Getty Images

6/6 Dalai Lama

"No-one can afford to assume that someone else will solve their problems. Every individual has a responsibility to help guide our global family in the right direction."

Getty Images
China regards the religious figure as a dangerous separatist who could threaten its rule over Tibet and has installed its own Panchen Lama, the second-highest figure in Tibetan Buddhism, spurned by many followers as a fake.
Amnesty International says that in China: "The authorities continue to severely restrict the right to freedom of expression.
"Activists and human rights defenders risk harassment and arbitrary detention. Torture and other ill-treatment remain widespread and access to justice is elusive for many.
"Ethnic minorities including Tibetans, Uighurs and Mongolians face discrimination and increased security crackdowns."
Reuse content