In the somewhat staid surroundings of New York's Waldorf Hotel, a few days before his 25th birthday, Daniel Radcliffe is contemplating the close of his first quarter-century.
"I'm going to be making people feel really f****ing old for the rest of my life," the actor formerly known as Harry Potter quips. He's also likely to make most of us feel utterly bone-idle, having packed 20 films and three successful theatre stints into his career already.
"This has been a landmark year for me, because it's the first year I've ever asked: 'Can I have a holiday at some point, please?"' he says. "I've never really seen the point of holidays before. But this year, I would also like to go and lie on a beach somewhere and do absolutely sod all for a few days," he beams.
Before that beach break beckons, however, he's here to talk about Horns, a surreal, supernatural thriller, based on the novel by Joe Hill – son of Stephen King, no less – which is being released in time for Halloween. Radcliffe stars as Ig, a young man wrongly accused of the rape and murder of his long-time girlfriend, Merrin (Juno Temple). As he tries to both clear his name and discover who really committed the crime, Ig sprouts a solid, sizeable pair of horns, which usefully and mysteriously drive people to expose their darkest sides.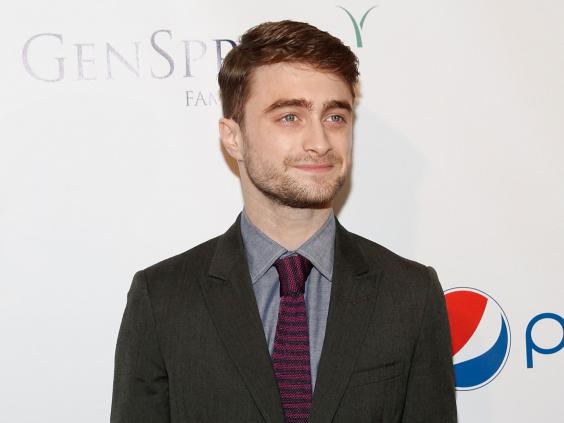 I confess to Radcliffe that I'm not entirely sure what his horns are supposed to represent. Is Ig the devil? Or is everyone else a devil? Or are they merely metaphorical? "Joe Hill once said to me that explanation in fantasy is death," he cautions, sipping on a bottle of Diet Coke.
Of course, Radcliffe is probably better practised than most in accepting the outlandish. "But Potter [rather sternly, he refers to the series, and character, by surname alone] is a true fantasy, in the sense that the whole world is different," he says. "Whereas Horns is more magical realism, where there's one really f***ing weird thing happening in an otherwise normal world."  "Sorry," he adds. "I'm swearing a lot today."
The film is deliciously twisted, and the role undoubtedly his darkest yet. "The darkness is what appealed to me," he enthuses. "Ig suddenly becomes aware that everybody has these evil, horrendous thoughts inside them, which he doesn't want to know, and he ends up… I was about to say that he ends up having sympathy for the devil," he giggles.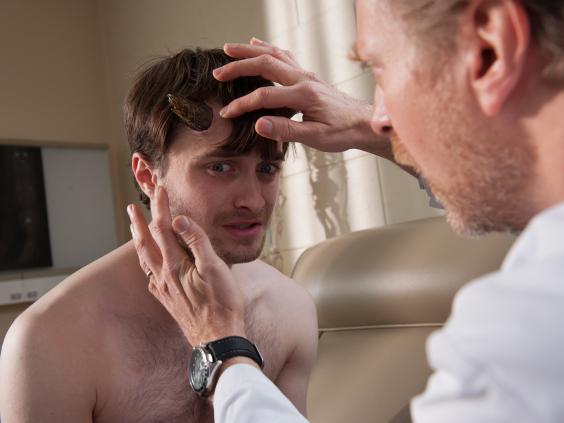 Almost all of Radcliffe's professional choices post-Potter have been bold, but he recognises he is in a position of huge luxury. "Most of my actor friends my age are all hoping to get into some mega-franchise and then not have to worry any more," he admits. "It gives you so much autonomy over your career. For me to already have that is pretty amazing."
The person he credits with advising him most closely on roles these days is his Dad, Alan, a former literary agent, now his manager. "We're all very aware of how weird it sounds to call your parent that," says Radcliffe, with a wry smile. "But most actors have to sit their manager down and say: 'This is the kind of movie I want to do; this is the type of career I want to have.' I don't have to do that with my Dad because we're unified in our taste." His parents also clearly raised a well-rounded young man. Radcliffe is refreshingly straightforward and un-actory, particularly for a former child star.  When we discuss his Potter co-stars, Emma Watson and Rupert Grint, he doesn't lay the luvvie love on with a trowel: "I think I disappoint people sometimes by saying that we aren't best pals who hang out with each other all the time," he admits. "But I prefer to disappoint people than be disingenuous."

He is also open about his early career insecurities. "There were definitely times when I didn't know what I was doing," he says of the Potter years. "When I got out into the real world and met other actors who had trained, I was like, 'Jesus, I've got to go and find some sort of a process for myself.'" That self-doubt contributed to an unhealthy relationship with alcohol; he famously admitted to turning up to the Potter set still drunk from the night before, and "dead behind the eyes", and to becoming "a recluse at 20". Four years ago, however, he gave up alcohol completely. It's a sensitive subject, and one he has rarely spoken about since. "After I talked about it the first time, it became such a dominating topic that I regretted ever having mentioned it," he confesses. "And I didn't feel the need to keep people updated with the status of my not drinking or drinking."
However, when we meet, a forthcoming, unauthorised, biography of the actor, by entertainment reporter Randy Jernigan, has just sparked fresh headlines, thanks to Jernigan's claim that Radcliffe relapsed while rehearsing for The Cripple of Inishmaan in London's West End last year. "Well, that was completely untrue," he scoffs. "And particularly hilarious because I think what was actually said was that the stress of learning an Irish accent made me turn to drink." "I mean," he rolls his bright blue eyes. "It's hard, but it's not that hard."
The irony is that Radcliffe credits The Cripple of Inishmaan with having helped him lay his career demons to rest. "I'd done Equus and How to Succeed in Business Without Really Trying [on stage], but with both, I thought: 'These people just think you're a movie actor who got lucky...'" He shrugs, with no trace of self-pity. "And then I came back [to the stage] for The Cripple of Inishmaan and I thought: 'No. You've done two Broadway runs and a West End show. You belong here.' And that was a fantastic feeling, to walk into a rehearsal not thinking that anyone there was wondering: 'Why is he here?'"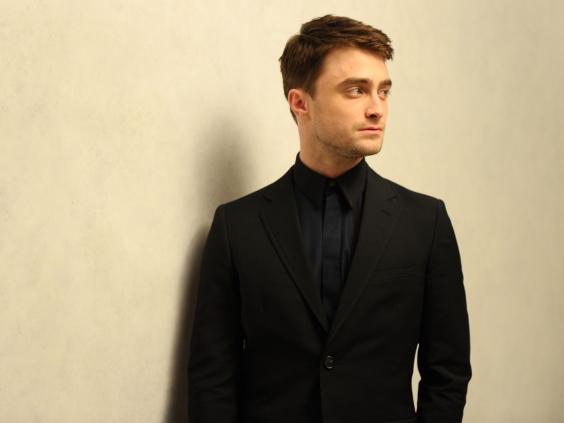 These days, he splits his time between London and New York. "If I'm honest, I would like to spend more time here [in New York]," he admits. His girlfriend, the actress Erin Darke, is based here too; they met on the set of Beat poets biopic Kill Your Darlings in 2012. "In London I can become a bit reclusive," he says. "I never really developed a social circle of people my own age there."
He's also attracted to the positivity of the US. "Growing up in Britain, it's what you take the piss out of Americans for: their enthusiasm. But you get to a point in life where you're like, actually, I'd rather have it that way. People are supportive of each other here, and I think that's part of what makes it a very creative city." "London's a very creative city too," he adds. "But it can be very negative. I'm a high-energy, enthusiastic kind of person and that just comes off as slightly uncool in London."
His energy is serving him well, though, as he prepares for his next role, playing Seb Coe in Gold, the story of the athlete's friendship and rivalry with Steve Ovett; though production hasn't yet begun, Radcliffe – who today looks lean and healthy, with biceps protruding from his T-shirt – is already in training. "Seb Coe's 1500-metre record is around 3 minutes 30, so what I'm about to say is not impressive by athletic standards," he warns. "But I did a 1500 metres in under six minutes which is all right …." Particularly for a committed smoker. "I've quit drinking; smoking is the vice that I'm holding on to, thanks," he grins. "Never trust a man with no vices."
'Horns' is released on 29 Oct