When David Potts agreed to take on the top job at Morrisons, it was obvious he'd be in for one of the toughest gigs of his professional life.
And yesterday the true scale of the task at hand was laid bare by his chairman Andy Higginson, who left him with a stark message – fix it.
The 57-year-old will pull into his executive car parking spot at the front of Morrisons' Bradford head office on Monday morning and will immediately start by shutting 23 convenience stores and letting close to 400 staff go.
Planned convenience store openings have been shelved and Mr Potts will speak to his property people about how they managed to get it so wrong when picking new sites, and how they can ensure that any future stores will be in places where people actually want to go shopping.
Once that's complete, he must get to grips with how Morrisons managed to overvalue its supermarket portfolio by nearly £1.3bn, causing a writedown that contributed to a £792m full-year loss, making the £176m loss in 2014 look like small change lost down the back of the meat counter.
And once he has stomached all of that, he must start ringing round all his biggest shareholders to ask whether they want the good news or bad news first – the 5 per cent dividend rise this year to 13.65p a share, or the 63 per cent dividend cut the year after.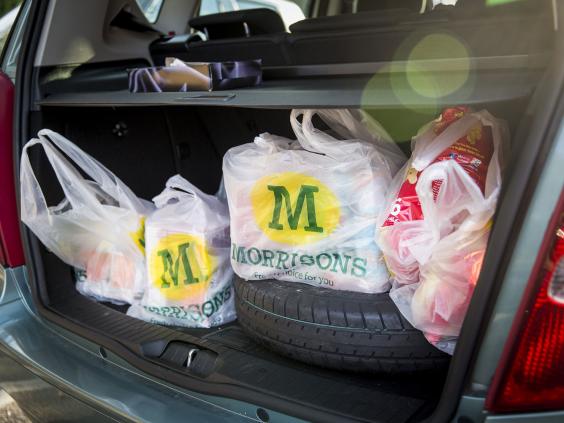 No doubt one call will be longer than most – when he picks up the phone to Sir Ken Morrison – as Mr Potts attempts to press his case for the business's future in an attempt to avoid a public admonishment similar to the one received by his predecessor Dalton Philips, whose strategy was labelled "bullshit" by the supermarket's architect.
Yesterday's full-year results will give Mr Potts some comfort. Sales in the three months to the beginning of February dropped by just 2.6 per cent – compared with the previous, consecutive, quarterly falls of 6.3 per cent, 7.6 per cent and 7.1 per cent.
The hugely expensive website managed to pull in sales of £200m from a standing start, despite serving just 50 per cent of the country, and the number of transactions compared with a year ago was almost flat.
Mr Potts can also rely on the full support of his new chairman, Mr Higginson, and the finance director Trevor Strain, both of whom spoke warmly of the man they both worked with at Tesco.
Mr Higginson said he was looking forward to taking a step back from the day-to-day running of Morrisons – a role he appears to have performed since joining as chairman and sacking Mr Philips in one of his first acts in the boardroom.
He said: "I have no aspiration to run the business and I'm off to the beach now. My work here is done."
Mr Strain, who stepped up as interim chief executive after Mr Philips' departure,  will take on his responsibilities for the numbers again – and try to wipe clean the past and the years he sat by Mr Philips and agreed with the numbers and strategy he has now washed his hands of. He too has the backing of Mr Higginson, who added: "There is a poor history in this sector of blaming previous regimes and I don't want to get into that. I think we've got a first-class finance director and I don't put any personal blame on him."
Mr Potts will also need to take note of Mr Higginson's suggestion that Morrisons must be more innovative, tap into the supermarket's integrated supply chain, with its own farms and abattoirs, and go back to the basics of focusing on the customers instead of appeasing the suppliers.
He said: "I think Morrisons is a very warm brand and people feel very affectionate to it. It is very quirky and I compare that to my old business Tesco, which is a fantastically efficient business which was always admired rather than loved. It's rather efficient and hard edged, while Morrisons is much more affectionate and warm."
If Mr Potts survives all that on his first day, his second– which is also his birthday – should be much easier.  
Reuse content