After failing in his mission to 'fit in' with the working classes by eating a bacon sandwich normally, and receiving some criticism for his relentless selfie-snapping, Ed Miliband all but turned his back on every politician's favourite publicity tool  ̶  the un-humble photo opportunity.
The Labour leader declared his days in front of the lens dead in July, instructing a central London crowd during a 20-minute speech on the issue that if they wanted "a politician who thinks that a good photo is the most important thing" not to vote for him.
"Because I don't," he continued. "I believe that people would quite like somebody to stand up and say there is more to politics than the photo-op. And that culture diminishes our politics."
But it seems he's had a change of heart. Because 'no photo ops' Ed happens to have opted in on a classic photo opportunity for any hearts-and-minds desiring politician – being snapped giving money to a beggar on the street.
Ed Miliband trying to put a coin in a beggar's cup without looking. One for @OddMiliband pic.twitter.com/p4ela4TD5m

Peter Thompson (@TheRedRag) October 31, 2014
Images of him dropping small change into the outstretched cup of a homeless women quickly circulated on Twitter, with many noting the careful positioning of a press photographer in the background, cleverly poised to capture the philanthropic moment in action.
In pictures: Ed Miliband trying to look normal
In pictures: Ed Miliband trying to look normal
1/17 The beggar

Ed Miliband casually gives money to a homeless woman in Manchester, surrounded by press photographers.

2/17 The Bacon Sandwich

Ed Miliband buys a bacon sandwich from cafe owner Antonios Foufas at New Covent Garden Market in London as he kicks off a day of campaigning on the eve of the local and European elections

3/17 The Bacon Sandwich

Ed Miliband chats with a cafe owner Antonios Foufas at New Covent Garden Market in London

4/17 The Bacon Sandwich

Ed Miliband embarked on a whirlwind campaign tour of England - but struggled at the first hurdle (a bacon sandwich). Aides intervened after just a few less-than-elegant bites

Jeremy Selwyn

5/17 Flower Shopping

Ed Miliband talks with a couple of traders at New Covent Garden Market in London

6/17 Flower Shopping

Ed Miliband purchases some red roses for his wife at New Covent Garden Market in London

7/17 Talking Business

Ed Miliband talks with a trader at New Covent Garden Market in London

8/17 Good Morning Britain

Miliband on ITV's Good Morning Britain show on 20 May 2014, a day of gaffes in which he was also caught out by BBC Wiltshire for not knowing who the local Labour leader was

9/17 '£70 Weekly Shop'

Ed was accused of being 'out of touch with reality' after he seemed not to know what he - or the average British family - spends on a weekly food shop

PA

10/17 Drop in Polls

Ed Miliband paid a visit to Leighton Hospital in Crewe to speak with the staff about the NHS, but faced difficult questions about polls showing his personal ratings falling well behind those David Cameron and George Osborne

PA

11/17 On the Sofa with Farage

Ed Miliband appeared on the Andrew Marr Show to debate with Nigel Farage - but has all but conceded defeat in the Newark by-election, allowing Ukip a free run at the Tories

BBC

12/17 Wollies in Wellies

Miliband was among a number of politicians to come under fire for 'touring' the floods in the South and South West earlier this year

PA

13/17 Wollies in Wellies

The Labour leader admitted it was 'a difficult decision for politicians whether to visit areas like this'

14/17 Missed Opportunity

Miliband's performance at the Labour conference last year failed to make much of an impression on voters, polls suggested

Getty Images

15/17 Sharing the Moment

Miliband, Nick Clegg, David Cameron and Angus Robinson enjoy their moment with Andy Murray, after the tennis player's Wimbledon win

Getty Images

16/17 Casual Husband

Miliband and his wife Justine are pictured in their hotel room in Brighton as he prepares to give his keynote speech to the annual Labour Party Conference

Getty Images

17/17 The Milibands

Just your average family of four?

Getty Images
Still, the bar for embarrassing Miliband photographs has already been set so high by 'the bacon gurn', the picture is unlikely to become front page fodder any time soon: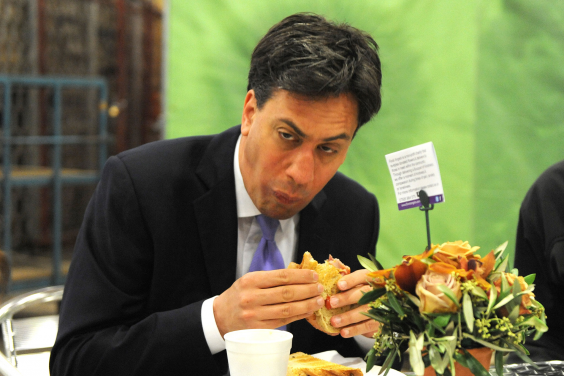 The unfortunate shot comes as former Prime Minister Tony Blair warned Miliband not to chase after "nasty Ukip policies" on immigration and urged the party take a stronger stand against the party.
"Let's be clear: we don't think that Ukip's right, not on immigration and not on Europe – so the first thing you've got to be really careful of doing is… saying things that suggest that they're kind of justified in their policy, because what you're actually going to do is validate their argument when in fact you don't believe in it," he told Progress magazine.
Reuse content