George Galloway has ordered lawyers to issue Twitter users who alleged he was an anti-Semite with letters demanding £5,000 and threatening legal action.
The Bradford West MP has reportedly singled out up to a dozen people, including some who had only re-tweeted other posts and a charity worker with just 75 followers.
The letters, seen by The Times, were issued by Bradford-based Chambers Solicitors. They said the recipient was "required" to pay legal costs of £5,000 plus VAT into a HSBC bank account by 10 March.
If Mr Galloway sues them for libel and they lose the case, they may then face being ordered to pay "significant damages".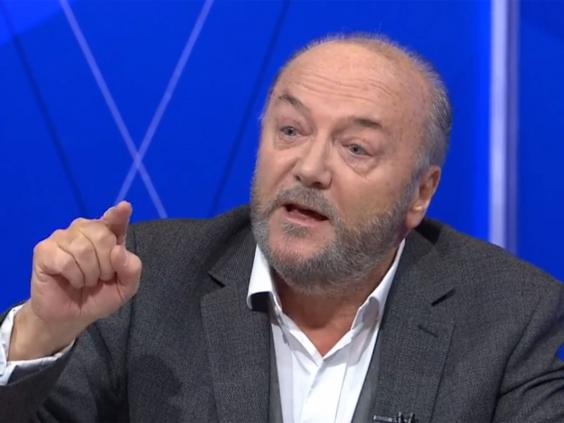 It is unusual for MPs to take legal action over tweets, with the last prolific case being won by the late Lord McAlpine of West Green after a BBC Newsnight programme led to him being wrongly accused of child abuse.
He recouped a total of £310,000 from the BBC and ITV for their part in the mass libel, while individual Twitter users were asked to make a small donation to charity.
Ron McKay, a spokesperson for Mr Galloway, confirmed his legal action to The Independent, claiming it was "normal practice" for lawyers to demand costs from a defendant before a the start of a libel case.
"If they don't pay the money it will go to court," he added.
"George has been grossly libelled as an anti-Semite and he will pursue anyone who does that, however big or small."
George Galloway's most memorable moments
George Galloway's most memorable moments
1/7 George Galloway

Galloway with Saddam Hussein in 2002

AP

2/7 George Galloway

George Galloway ducks as an egg is thrown at him during a May Day rally in Wallasey, in 2003

PA

3/7 George Galloway

Galloway takes his oath in the US senate in 2005

Getty Images

4/7 George Galloway

Not many can forget the sight of George Galloway licking milk out of the lap of actress Rula Lenska pretending to be a cat on Celebrity Big Brother 2006, but many would like to

5/7 George Galloway

British MP George Galloway (C) is given a rousing welcome by Palestinians after crossing from Egypt into the southern Gaza Strip border town of Rafah in 2010.

Getty Images

6/7 George Galloway

George Galloway was mocked for appearing on Big Brother in a silly catsuit, but he emerged a household name and was re-elected as an MP in 2012

Getty Images

7/7 George Galloway

The outspoken politician George Galloway will turn his hand to film making following an announcement that he intends to produce a feature-length documentary entitled The Killing of Tony Blair in 2012.

PA
Among those receiving a warning was Hadley Freeman, a Guardian columnist, who wrote a since deleted tweet about the Respect MP on 10 February.
Later that day, Mr Galloway wrote on Twitter: "I have begun legal proceedings against Hadley Freeman of the Guardian on her defamatory comments about me. No one should repeat them."
The furore inspired the hashtag #libelGalloway to trend as people concocted joke statements to poke fun at his legal action.
I have begun legal proceedings against Hadley Freeman of the Guardian on her defamatory comments about me. No- one should repeat them.

— George Galloway (@georgegalloway) February 10, 2015
A charity worker who re-tweeted a post supporting Ms Freeman, which repeated an anti-Semitism accusation, was among those receiving letters.
"I don't have £50 let alone £5,000," the person told The Times.
"I just got out of hospital, I had taken some heavy painkillers…I forgot about it until I got an email from Chambers Solicitors threatening to take me to court and ordering me to pay £5,000 for Mr Galloway's legal fees.
"It was a re-tweet and I only have 75 followers anyway."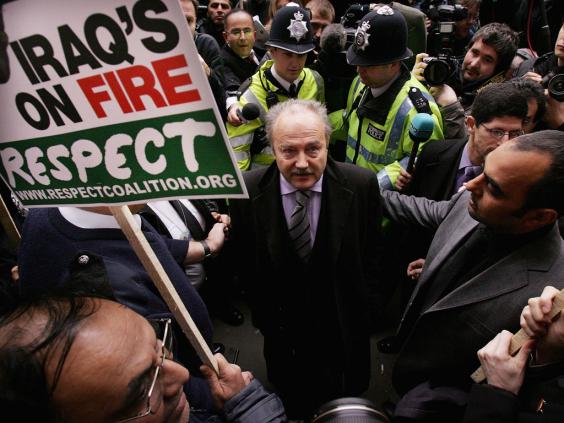 Another recipient told the newspaper they were "frightened" by the demands sparked by two re-tweets that were not meant as endorsements.
Mr Galloway has also personally threatened critics with legal action on Twitter, writing to one last week: "Most unwise of you to be writing these things. My lawyers will find you."
It comes after he was heckled while appearing on a heated Question Time in Finchley where he was questioned on the rise of anti-Semitism in the UK.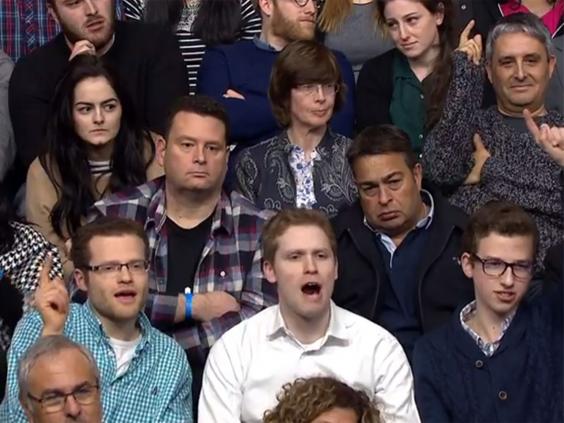 Mr Galloway accused the BBC of a "set-up" for allowing an audience member to suggest he "bears some responsibility" for the phenomenon through his pro-Palestinian activism.
He was heckled by audience members shouting "you're not welcome here" and calling the MP "scum", before his car was surrounded by Israeli flag-waving protesters as he left.
"To accuse a parliamentarian of 27 years of being responsible for a spike in anti-Semitism is totally ludicrous," Mr Galloway said, adding that Zionism and Israel were different from Judaism and Jewishness.
Last week, a disastrous Twitter question and answer session saw him call critics "unhinged", "madmen" and "Tory scum" after he was bombarded with joke questions and insults.
"I must say there is nothing like Twitter to remind you of the sea of ignorance filth racism hatred and utter banality that's out there," he wrote afterwards.
Mr Galloway has consistently denied allegations of anti-Semitism and was attacked by a man in August who was shouting about his allegedly "shameful" attitude towards Jews.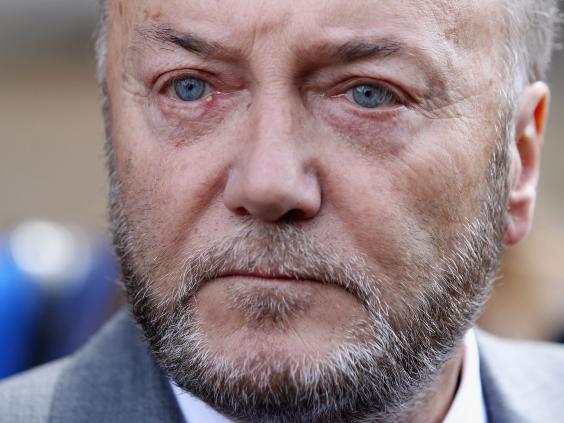 Last year, he was interviewed by police on suspicion of inciting religious hatred after he declared his Bradford constituency was an "Israel-free" zone.
He previously refused to debate with a student at Oxford University because he was Israeli.
In the wake of the latest "cash for access" scandal, Mr Galloway was named as the MP with the third-highest earnings outside of his Parliamentary office, making an extra £303,350 last year.
It was mostly from his regular £1,650-an-hour appearances on Iran's Press TV , as well as other media shows for Russia Today and a station in Beirut.
Mr Galloway co-founded the anti-war Respect Party in 2004 after being expelled by Labour because of comments he made as part of his opposition to the Iraq war and won his Bradford West seat in 2012.