She has won an army of followers thanks to her stunning show-stoppers and her illuminating facial expressions.
And now it has emerged that Nadiya Jamir Hussain has the support of someone even more powerful than Paul Hollywood. She has received the backing of the Prime Minister to win the Great British Bake Off, which reaches its climax this week.
David Cameron, who has become hooked on Bake Off after watching the hit BBC series with his children, thinks Nadiya is "cool under pressure" and hopes she is chosen by Hollywood and Mary Berry as the winner on Wednesday.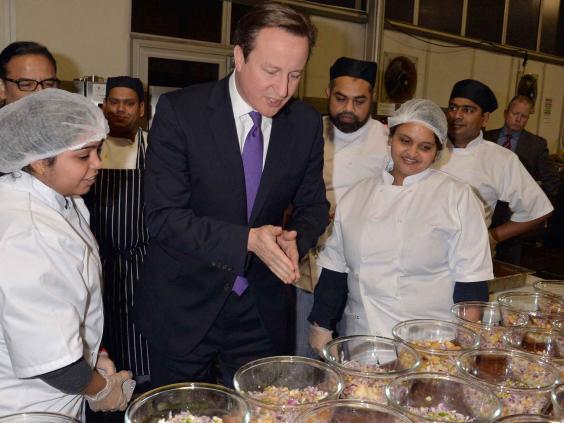 The PM will sit down with his children to watch the final just hours after giving his party conference speech in Manchester. After a slow start, mother of three Nadiya is now the favourite to win the show, in its sixth series, ahead of anaesthetist Tamal and travel photographer Ian.
Her online followers describe themselves as "Nadiyators" who are fans of her stunning bakes – such as last week's chocolate and turquoise icing peacock showstopper – as well as her contorted expressions. 
At the weekend, Nadiya said she was thrilled to have such a large fanbase, revealing she was worried that her headscarf would be a problem for some viewers. She said: "I was a bit nervous that perhaps people would look at me, a Muslim in a headscarf, and wonder if I could bake.
Great British Bake Off winners: Where are they now?
Great British Bake Off winners: Where are they now?
1/4

Series 1, 2010- Edd Kimber

Edd Kimber was only 25 when he was crowned the first winner of The Great British Bake Off.

He has since worked in the pastry kitchen of Raymond Blanc's restaurant Le Manoir, and has written two books, 'Say it With Cake' and 'The Boy Who Bakes.'

Kimber has given up his day job in bank litigation and now runs master classes in London, teaching baking fanatics how to make French delicacies.

2/4

Series 2, 2011- Joanne Wheatley

Joanne Wheatley became the first woman to win The Great British Bake Off in 2011.

A strong contestant throughout, the housewife from Essex said winning the show gave her the opportunity to start cooking classes from her home.

She now runs a series of popular cooking master classes from her home in Ongar, Essex, and specialises in teaching cooking for old stove AGA ovens.

She has written two books, 'A Passion for Baking' and 'Home Baking', and has her own column in Sainsbury's monthly magazine.

3/4

Series 3, 2012- John Whaite

Former law student Whaite has swapped law school for pastry classes since winning The Great British Bake Off last year.

The 24-year-old has since studied patisserie at Le Cordon Bleu restaurant in London, and published a book, 'John Whaite Bakes: Recipes for Every Day and Every Mood.' He is currently writing his second, which will be published in March 2014.

Whaite is also an ambassador for Baking a Smile, a charity which provides cakes and baking workshops for children with terminal illnesses.

Like Edd and Joanne, he holds cooking classes from his home in Greenwich, where he lives with his partner of five years.

BBC

4/4

Series 4, 2013- Frances Quinn

Recently-crowned winner Frances Quinn has revealed she's been approached to write a coffee table-style cookery book

The children's clothes designer has yet to reveal whether she would like to pursue a full-time career in baking, although no doubt her inventive designs would make for a beautiful looking cook book.

Love Production
"But I hope that people have realised that I can — and just because I'm not a stereotypical British person, it doesn't mean that I am not into bunting, cake and tea.
"I'm just as British as anyone else, and I hope I have proved that."
Reuse content