The explorer Henry Worsley has died while attempting a solo crossing across the Antarctic, his family has announced.
The 55-year-old former Army officer was trying to become the first adventurer to cross the continent on his own.
On Friday he was airlifted to hospital after suffering from exhaustion and dehydration 30 miles shy of the finish line. He was 71 days into his attempt to complete Sir Ernest Shackleton's unfinished expedition and had passed the South Pole, covering 913 miles.
His wife, Joanna, issued a statement saying: "It is with heartbroken sadness I let you know that my husband, Henry Worsley, has died following complete organ failure; despite all efforts of ALE and medical staff at the Clinica Magallanes in Punta Arenas, Chile."
She also praised her husband for his fundraising successes during the expedition, which totalled over £100,000 for the Endeavour Fund which supports injured service men and women.
"Henry achieved his Shackleton Solo goals: of raising over £100,000 for the Endeavour Fund, to help his wounded colleagues, and so nearly completing the first unsupported crossing of the Antarctic landmass.
"On behalf of myself and family, I wish to thank the many hundreds of you who have shown unfailing support to Henry throughout his courageous final challenge and great generosity to the Endeavour Fund."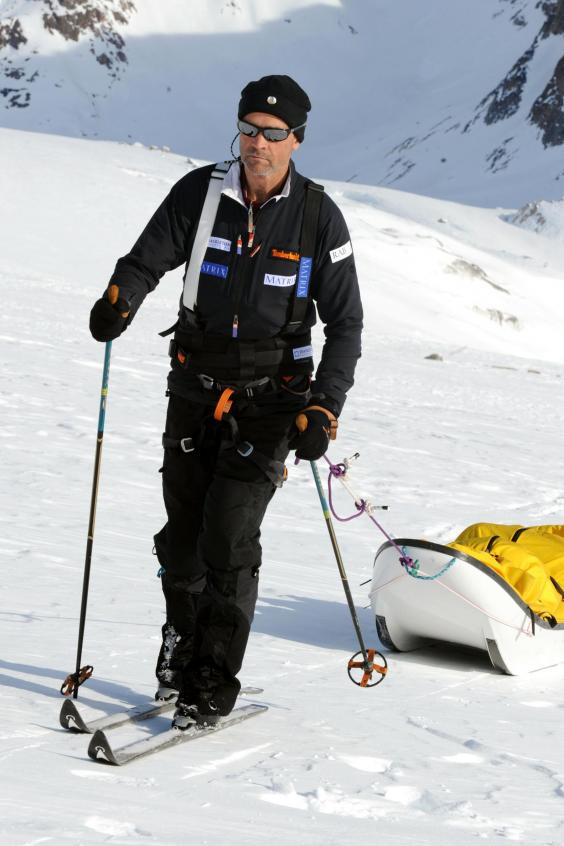 The Endeavour Fund is managed by the Royal Foundation of the Duke and Duchess of Cambridge as well as Prince Harry.
The Duke of Cambridge, a patron of the expedition paid tribute to Worsley.
"Harry and I are very sad to hear of the loss of Henry Worsley. He was a man who showed great courage and determination and we are incredibly proud to be associated with him.
"We have lost a friend, but he will remain a source of inspiration to us all, especially those who will benefit from his support to the Endeavour Fund.
Notable deaths in 2016
Notable deaths in 2016
1/33

Grand secretary of the Orange Order Drew Nelson died on 10 October aged 60 after a short illness

PA

2/33

Aaron Pryor, the relentless junior welterweight died Sunday, Oct. 9, at the age of 60 at his home in Cincinnati after a long battle with heart disease

AP

3/33

Polish Director Andrzej Wajda died on October 9, aged 90

Reuters

4/33

Stylianos Pattakos has died following a stroke on 8th October. He was 103 years old.

AP

5/33

Dickie Jeeps, was an English rugby union player who played for Northampton. He represented and captained both the England national rugby union team and the British Lions in the 1950s and 1960s. He died on 8th October. He was 84

Getty

6/33 Duke of Westminster

Billionaire landowner the Duke of Westminster, Gerald Cavendish Grosvenor has died on 9 August, aged 64

Rex Features

7/33 Christina Knudsen

Sir Roger Moore's stepdaughter Christina Knudsen has died from cancer on 25 July at teh age of 47

Getty Images

8/33 Caroline Aherne

The actress Caroline Aherne has died from cancer on 2 July at the age of 52

Getty Images

9/33 Christina Grimmie

Christina Grimmie, 22, who was an American singer and songwriter, known for her participation in the NBC singing competition The Voice, was signing autographs at a concert venue in Orlando on 10 June when an assailant shot her. Grimmie was transported to a local hospital where she died from her wounds on 11 June

Getty

10/33 Kimbo Slice

Former UFC and Bellator MMA fighter Kimbo Slice died after being admitted to hospital in Florida on 6 June, aged 42

Getty

11/33 Muhammad Ali

The three-time former heavyweight world champion died after being admitted to hospital with a respiratory illness on 3 June, aged 74

Getty Images

12/33 Sally Brampton

Brampton who was the launch editor of the UK edition of Elle magazine has died on 10 May, aged 60

Grant Triplow/REX/Shutterstock

13/33 Billy Paul

The soul singer Billy Paul, who was best known for his single "Me and Mrs Jones", has died on 24 April, aged 81

Noel Vasquez/Getty Images

14/33 Prince

Prince, the legendary musician, has been found dead at his Paisley Park recording studio on 21 April. He was 57

15/33 Chyna

WWE icon Joan Laurer dies aged 45 after being found at California home on 20 April

16/33 Victoria Wood

The five-time Bafta-winning actress and comedian Victoria Wood has died on 20 April at her London home after a short illness with cancer. She was 62

17/33 David Gest

The entertainer and former husband of Liza Minnelli, David Gest has been found dead on 12 April in the Four Seasons hotel in Canary Warf, London. He was 62-years-old

PA

18/33 Denise Robertson

Denise Robertson, an agony aunt on This Morning for over 30 years, has died on 1 April, aged 83

19/33 Zaha Hadid

Dame Zaha Hadid, the prominent architect best known for designs such as the London Olympic Aquatic Centre and the Guangzhou Opera House, has died of a heart attack on 31 March, aged 65

2010 AFP

20/33 Ronnie Corbett

British entertainer Ronnie Corbett has passed away on 31 March at the age of 85

2014 Getty Images

21/33 Imre Kertesz

Hungarian writer and Holocaust survivor Imre Kertesz, who won the 2002 Nobel Literature Prize, has died on 31 March, at the age of 86

REUTERS

22/33 Rob Ford

Rob Ford, the former controversial mayor of Toronto, has died following a battle with a rare form of cancer. The 46-year-old passed away at the Mount Sinai Hospital in Toronto on 22 March

23/33 Joey Feek

Joey (left) passed away in March after a two-year cancer illness. She was part of country music duo, Joey + Rory, with her husband Rory (right)

Jason Merritt/Getty Images

24/33 Umberto Eco

Italian writer and philosopher Umberto Eco died 19 February 2016 aged 84

EPA

25/33 Harper Lee

Harper Lee, the American novelist known for writing 'To Kill a Mockingbird', died February 19, 2016 aged 89

2005 Getty Images

26/33 Vanity

Vanity, pictured performing in 1983, died aged 57

REX Features

27/33 Dave Mirra

The BMX legend's body found inside truck with gunshot wound after apparent suicide aged 41

28/33 Harry Harpham

The former miner became Sheffield Labour MP in May after many years as a local councillor. He died after succumbing to cancer, at the age of 61.

29/33 Dale Griffin

The Mott the Hoople drummer died on January 17, aged 67

REX

30/33 Rene Angelil

Celine Dion's husband and manager Rene Angelil has lost his battle with cancer on 14 January, aged 73

2011 Getty Images

31/33 Alan Rickman

Legendary actor Alan Rickman has died on 14 January at the age of 69 after battle with pancreatic cancer. He is largely regarded as one of the most beloved British actors of our generation with roles in Love Actually, Die Hard, Michael Collins, and Robin Hood: Prince of Thieves and an illustrious stage career

2015 Getty Images

32/33 Maurice White

The Earth, Wind & Fire founder died aged 74. The nine-piece band sold more than 90 million albums worldwide and won six Grammy awards

33/33 Lawrence Phillips

Former NFL star found dead in prison cell on 13 January in suspected suicide, aged 40

AFP/Getty Images
"We will now make sure that his family receive the support they need at this terribly difficult time.
Worsley, from Fulham, south London is survived by his wife Joanna and two children.
Additional reporting by the Press Association.
Reuse content