"You - you alone will have the stars as no one else has them," Zelda Rae Williams posted. "In one of the stars I shall be living.  In one of them I shall be laughing.
"And so it will be as if all the stars were laughing, when you look at the sky at night... You - only you - will have stars that can laugh."
It is apt that the tribute, made by Robin Williams' beloved daughter, who celebrated her 25th birthday alongside her father just a week ago, was also the most fitting to his memory.
The quote was from Antonie De Saint-Exupery's book The Little Prince – a French novella written just after the outbreak of the Second World War. It was a turbulent and dark time for Saint-Exupery, as he himself struggled with poor health and depression amid tumultuous personal circumstances.
Yet through it, he went on to create the character of the young prince, who had fallen to Earth from an asteroid the size of a house. The story is one of loneliness, but also one of friendship, of deep loss but also of love. It is the story of an alien, essentially, who struggles to make sense of the world around him. And it is not unlike the story of Williams himself.
Robin Williams: A career in pictures
Robin Williams: A career in pictures
1/30 Robin Williams

1980: Robin Williams in the world-famous Mork and Mindy series that launched his career.

Rex

2/30 Robin Williams

1984: Williams in 'Moscow On The Hudson'. The actor earned his first Golden Globe nomination for his turn as a Russian circus performer in this 1984 hit.

3/30 Robin Williams

1987: Williams in the critically acclaimed 'Good Morning, Vietnam'. Williams ad-libbed all the radio broadcast scenes from this 1987 film about a radio DJ sent to Vietnam to entertain the US troops serving out there.

Rex Features

4/30 Robin Williams

1989: Robin Williams appeared with Robert Sean Leonard and Josh Charles in 'Dead Poets Society' as English teacher John Keating - or the "slightly more daring O Captain, My Captain".

Touchstone Pictures

5/30 Robin Williams

1990: Williams and Robert De Niro in Awakenings, an emotional film that saw Williams portray a British neurologist who administered a drug to catatonic patients that briefly awoke them from decades of catatonia.

6/30 Robin Williams

1991: Williams appeared as an adult Peter Pan forced to return to Neverland to rescue his children in 'Hook'. The film received mixed reviews but proved popular at the box office.

7/30 Robin Williams

1992: Williams in 'Toys'. The film followed a military general after he inherits a toy factory and decides to produce war toys.

8/30 Robin Williams

1993: Williams appeared in one of his best-loved roles in Mrs Doubtfire, where he played an actor disguising himself as a female housekeeper in order to spend more time with his children.

9/30 Robin Williams

1995: Williams appeared as man released from a board game after being trapped for decades inside it in the blockbuster 'Jumanji'.

10/30 Robin Williams

1996: Williams starred opposite Jennifer Lopez in 'Jack', a film about a young boy who ages four times faster than other children.

11/30 Robin Williams

1997: Williams appeared alongside Matt Damon in 'Good Will Hunting', a film that won him an Oscar for his portrayal of psychologist Sean Maguire. As he accepted his award, a touched Williams warned the audience: "Oh man, this might be the one time I'm speechless".

Miramax Pictures

12/30 Robin Williams

1997: The box-office hit Flubber saw Williams take the role of Professor Philip Brainard, who creates the unstoppable green goo Flubber in his bid to produce a new energy source.

13/30 Robin Williams

1998: Williams gave a poignant turn as Dr Hunter 'Patch' Adams, an unqualified doctor who treats patients with laughter in 'Patch Adams' .

14/30 Robin Williams

1998: Williams stars alongside Cuba Gooding, Jr in 'What Dreams May Come', a film that follows American physician Chris Nielsen's journey through the afterlife after he is killed in a car crash.

15/30 Robin Williams

1999: Robin Williams, Bob Balaban (left), and Armin Mueller-Stahl star in the movie 'Jakob the Liar' about a Jewish shopkeeper who uses his imagination to engender hope throughout a Polish ghetto in 1944.

Getty

16/30 Robin Williams

1999: American Science Fiction drama 'Bicentennial Man' followed an android (Williams) as he experiences emotions and becomes more human

17/30 Robin Williams

2002: Williams took a more sinister role as reclusive crime writer and murderer Walter Finch in 'Insomnia'.

18/30 Robin Williams

2002: Williams undertook an unsettling, psychopathic role in One Hour Photo, where he played a photo lab technician obsessed with a family who frequented the store.

19/30 Robin Williams

2002: Williams starred alongside Danny DeVito in 'Death to Smoochy', a film about a corrupt children's television host disgraced by an FBI sting.

20/30 Robin Williams

2005: Robin Williams stars in 'The Big White', a film about a financially struggling travel agent trying to make a bogus life insurance claim in order to pay for his wife's Tourette treatment.

21/30 Robin Williams

2006: Williams and Ben Stiller star in 'Night at the Museum'. Williams will appear in upcoming film "Night at the Museum: Secret of the Tomb," playing the statue of Teddy Roosevelt who comes to life at night.

22/30 Robin Williams

2006: Robin Williams, Jeff Daniels and Cheryl Hines star in roadtrip comedy 'R.V.', which followed the tribulations of a dysfunctional family.

23/30 Robin Williams

2006: Williams took the leading role in the political comedy drama 'Man of the Year' about a comedian who decides to run for President and finds himself mistakenly elected.

24/30 Robin Williams

2007: Robin Williams and Freddie Highmore in 'August Rush', where Williams played a homeless musician who teaches children living on the streets music and employs them as performers.

25/30 Robin Williams

2007: Robin Williams, Mandy Moore and John Krasinski starred in 'License to Wed'. Williams played a reverend who places a couple through a series of tests to see if they should marry in his church. The rom-com was poorly received by critics.

26/30 Robin Williams

2010: Robin Williams and John Travolta star in 'Old Dogs', a comedy that sees two friends and owners of a sports marketing firm struggle to deal with seven-year-old twins placed in their care. The film was nominated for four Golden Raspberry Awards.

27/30 Robin Williams

2013: Susan Sarandon, Robert De Niro and Robin Williams star in The Big Wedding

28/30 Robin Williams

2013: Williams starred as President Eisenhower in Lee Daniels' 'The Butler'.

29/30 Robin Williams

2014: Robin Williams with his Mork and Mindy co-star Pam Dawber in The Crazy Ones series. It was axed after one season.

30/30 Robin Williams

2014: Rob Williams stars in 'The Angriest Man in Brooklyn', the story of a bad-tempered man mistakenly told he has 90 minutes to live.
A family man in every sense of the word, it was the birth of his son, Zachary, in 1983, from his first marriage to Valerie Velardi that convinced him to seek help for drug and alcohol abuse – the substances he used to enhance how he viewed and interacted with the environment around him and followed a successful stand-up, TV and film career that showed no sign of slowing down. His friend and peer, John Belushi, had died of a drug overdose just hours after Williams snorted a line of cocaine with him at a hotel in Los Angeles.
"Cocaine for me was a place to hide," he told People magazine in 1988. "Most people get hyper on coke. It slowed me down. Sometimes it made me paranoid and impotent, but mostly it just made me withdrawn. And I was so crazy back then — working all day, partying most of the night — I needed an excuse not to talk. I needed quiet times and I used coke to get them."
Video: The death of Robin Williams
Williams would go on to stay sober for 20 years. Not that he was perfect, in other areas of his life, however. In 1984, he had an affair with a cocktail waitress, Michelle Tish Carter, who would sue him in 1986 for not informing her that he had been infected with herpes. The case was settled out of court, but it led to the end of his marriage with Velardi in 1988.
August 12, 2014
He was a single man for less than a year, marrying Zachary's nanny, Marsha Garces, in 1989 while she was several months pregnant with their first child, Zelda Rae Williams – named after the computer character from The Legend Of Zelda. They couple welcomed a second child, Cody Alan Williams, in 1991.
They remained married until 2008, when Garces filed for divorce citing irreconcilable differences.
"You know, I was shameful, and you do stuff that causes disgust, and that's hard to recover from," he told The Guardian during an interview in 2010.
"You can say, 'I forgive you' and all that stuff, but it's not the same as recovering from it. It's not coming back."
Five years before his second divorce, Williams and rekindled his relationship with a former demon. He had started drinking again on film location in Alaska in 2003 and in 204, his problem was further accentuated after his long-time friend, the actor Christopher Reeve, who he had known since they attended the Juilliard School together in New York, died of a heart attack.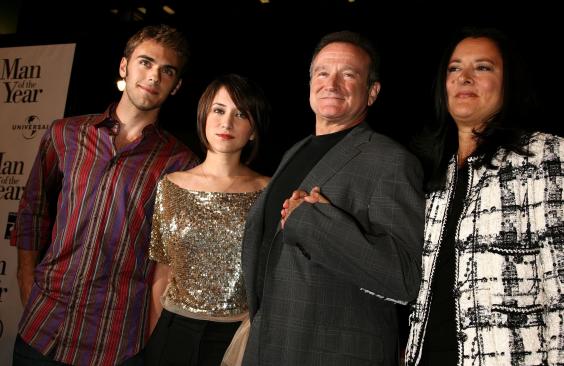 "Because I felt alone and afraid," he continued, explaining why he went back to the bottle after 20 years of abstinence. "It was that thing of working so much, and going f**k, maybe that will help. And it was the worst thing in the world."
In the end, it was a family intervention that saw him hauled back into rehabilitation in 2007.
"It's [addiction] — not caused by anything, it's just there," Williams explained on Good Morning America after his 60-day stint in Oregon's Hazelden Springbrook treatment centre.
"It waits. It lays in wait for the time when you think, 'It's fine now, I'm OK.' Then, the next thing you know, it's not OK. Then you realize, 'Where am I? I didn't realise I was in Cleveland.'"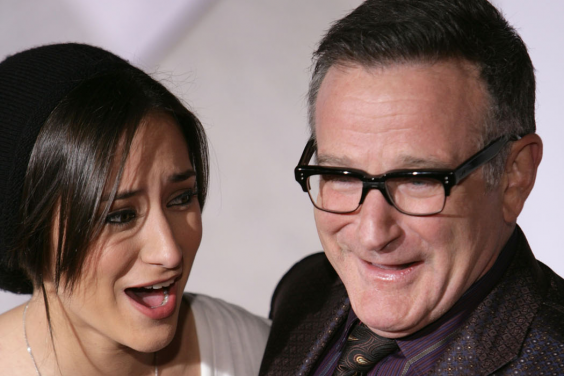 Sober again, and having recovered from a heart operation he had undergone in 2009, things were starting to look up. In 2011, he married his third wife, the graphic designer Susan Schneider.
"I kept thinking, 'She's so beautiful', but I also had the feeling that I knew her," he said in an interview shortly after they wed.
"I said: 'Don't I know you?' I know it sounds like a bad pick-up line. But it's true."
Schneider, he said, had given him hope – and a new lease of life after his divorce from his wife of 19 years and numerous health problems that left him unable to fulfil the volume of work he had previously enjoyed.
But that hope, it seems, was fleeting. In July this year, after a long an arduous struggle to come to terms with depression, he was admitted to the Hazelden Addiction Treatment Center in Minnesota in order to "focus on his commitment" to overcome his addictions.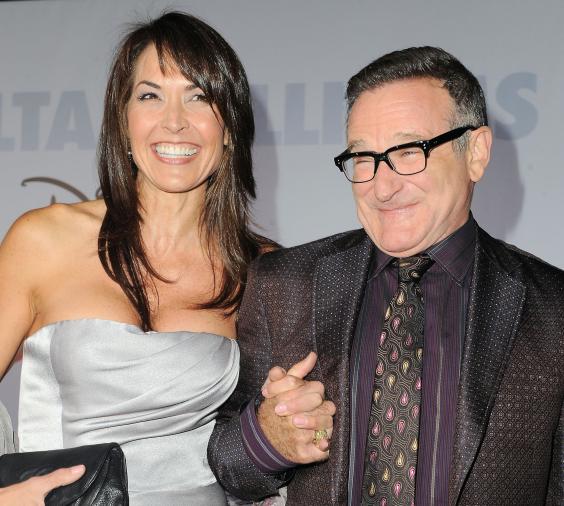 "After working back-to-back projects, Robin is simply taking the opportunity to fine-tune and focus on his continued commitment, of which he remains extremely proud," his publicist, Mara Buxbaum, said at the time.
A month later, Williams was found dead in his home in North California after an apparent suicide.
"This morning, I lost my husband and my best friend, while the world lost one of its most beloved artists and beautiful human beings," Schneider said in a statement.
"I am utterly heartbroken."
Buxbaum later confirmed that Williams had recently been suffering from severe depression.
His last public message to the world was also a tribute  ̶  to his daughter, Zelda.
"Quarter of a century old today but always my baby girl," he wrote, tweeting a vintage black-and-white family photograph of the pair from the early 90s. "Love you."
#tbt and Happy Birthday to Ms. Zelda Rae Williams! Quarter of a century old today but always my… http://t.co/qlsWIu429e

Robin Williams (@robinwilliams) July 31, 2014
"I love you. I miss you. I'll try to keep looking up," she concluded her own.
Sadly, her Little Prince has fallen for the very last time.