JK Rowling has praised an article arguing that discussion of the Cologne sex attacks should not be "dominated by the issue of race" and should instead focus on advancing women's rights.
Taking to her Twitter account yesterday evening, the Harry Potter author said Musa Okwonga's comment piece was "the best comment I've read on the Cologne attacks, written by a black man of African descent living in Germany".
Mr Okwonga, a poet, journalist and communications consultant living in Berlin, said the assaults on women in Cologne and other German cities including Hamburg and Stuttgart on New Year's Eve, were appalling – but that the incidents should spur greater discussion of women's rights, rather than focusing primarily on the alleged race of the perpetrators.
The best comment I've read on the Cologne attacks, written by a black man of African descent living in Germany. https://t.co/ub3ycti2KP

— J.K. Rowling (@jk_rowling) January 6, 2016
"In racial terms, Germany is not particularly diverse, and the majority of black and Arab people you see tend to be working-class," Mr Okwonga wrote.
"There are all sorts of economic reasons for that, one being that those arriving from Africa and the Middle East find it very difficult to get papers or work once they are here.
"In Berlin, where I live, the overwhelming majority of black men you see every day are poor, homeless or selling drugs… I would say something like 80 per cent if not more.
"At the risk of sounding uncharitable, I don't think that as many people as I would like are concerned with the socio-economic nuances of why these black men are so poor. 
"There is instead a tendency, more widespread that many people like to acknowledge, to regard black men as inherently untrustworthy or criminal."
Mr Okwonga, who attended Eton College and read law at Oxford University, said that "even on the most crowded of trains white Berliners will leave a space next to me" and that there are many stories of black people struggling to find rooms and flats to stay in the German capital.
Despite saying that he loved Berlin, Mr Okwonga continued: "These instances have made me realise that the cultural expectations of black men in some parts of Germany are already dangerously low."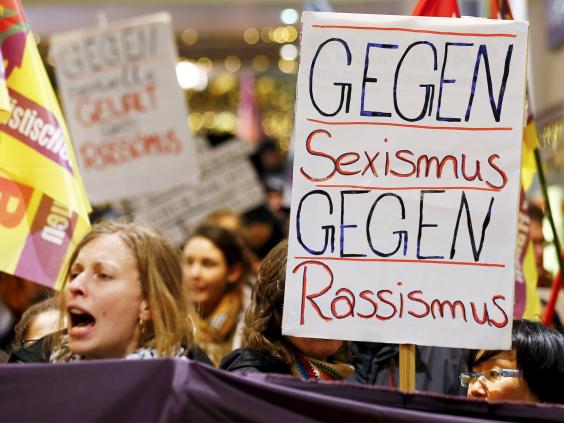 He concluded: "Why don't we just start with the premise that it is a woman's fundamental right, wherever she is in the world, to walk the streets and not be groped.
"And why don't we see this as a perfect moment for men, regardless of our ethnic backgrounds, to get genuinely angry about the treatment of women in public spaces: to reject with fury the suggestion that we are somehow conditioned by society forever to treat women as objects, condemned by our uncontrollable sexual desires to lunge at them as they walk past."
Countries where sexual violence has become a way of life
Countries where sexual violence has become a way of life
1/19 Afghanistan

Recommendation: I urge the Government of Afghanistan to adopt legislative reforms to ensure that sexual violence offences are not conflated with adultery or "morality crimes" and to establish infrastructure for the delivery of protection, health and le gal services to survivors. I call on the Ministry of the Interior to accelerate efforts to integrate women into the Afghan National Police, thereby enhancing its outreach and its capacity to address sexual and gender-based violence

2/19 Central African Republic

Recommendation: I urge the authorities of the Central African Republic to ensure that efforts to restore security and the rule of law take into account the prevention of sexual violence and that monitoring of the ceasefire and peace agreement explicitly reflects this consideration, in line with the joint communiqué of the Government and the United Nations on the prevention of and response to conflict-related sexual violence signed in December 2012. I further encourage the authorities to make the rapid response unit to combat sexual violence operational and to establish a special criminal court

3/19 Colombia

Recommendation: I commend the Government of Colombia for the progress made to date and its collaboration with the United Nations, including through the visit of my Special Representative on Sexual Violence in Conflict in March 2015. I encourage the authorities to implement Law 1719 and continue to prosecute cases of sexual violence committed during the conflict to ensure that survivors receive justice and receive reparations. Conflict-related sexual violence should continue to be addressed in the Havana peace talks, as well as in the resulting accords and transitional justice mechanisms. Particular attention should be paid to groups that face additional barriers to justice such as ethnic minorities, women in rural areas, children, lesbian, gay, bisexual, transgender and intersex individuals and women abused within the ranks of armed groups. I encourage the Government to scale up its protection measures and share its good practices with other conflict-affected countries

4/19 Congo

Recommendation: I urge the Government of the Democratic Republic of the Congo to ensure full implementation of the armed forces action plan against sexual violence, to systematically bring perpetrators to justice and to deliver reparations to victims, including payment of outstanding compensation awards. I call on donors and the United Nations system to support the Government in its efforts and to pay increased attention to neglected areas, including unregulated mining regions

5/19 Iraq

Recommendation: I commend the Government of Iraq for its national action plan for the implementation of Security Council resolution 1325 (2000) and urge its swift implementation, including by training its security forces to ensur e respect for women's rights. Programmes to support the social reintegration of women and girls released from captivity by ISIL are urgently needed, as is community-based medical and psychological care. The capacity of the United Nations system should be enhanced through the deployment of Women's Protection Advisers or equivalent specialists

6/19 Libya

Recommendation: I urge the national authorities in Libya to implement Decree No. 119 and Resolution 904 of 2014 to ensure redress for all victims, including those affected by the current conflict, through the establishment of multisectoral services and the adoption of legislation to categorically prohibit sexual violence

7/19 Mali

Recommendation: I urge the Government of Mali, with support from United Nations Action against Sexual Violence in Conflict, to develop a comprehensive national strategy to combat sexual and gender-based violence and to ensure the safety of humanitarian workers so that services can reach remote areas. I further call on all parties to ensure that conflict-related sexual violence is addressed in the inter-Malian dialogue and that perpetrators of sexual violence do not benefit from amnesty or early release

8/19 Myanmar

Recommendation: I urge the Government of Myanmar to continue with its reform agenda and, in the process, take practical and timely actions to protect and support survivors of conflict-related sexual violence and to ensure that security personnel accused of such crimes are prosecuted. Sexual violence should be an element in all ceasefire and peace negotiations, excluded from the scope of amnesty provisions and addressed in transitional justice processes. It is critical that women be able to participate consistently in and influence these processes

9/19 Somalia

Recommendation: I reiterate my call to the Federal Government of Somalia to implement the commitments made under the joint communiqué of 7 May 2013 and its national action plan to combat sexual violence in conflict, including specific plans for the army and the police. I encourage the adoption of a sexual offences bill as a matter of priority

10/19 South Sudan

Recommendation: I urge the parties to the conflict in South Sudan to adopt action plans to implement the commitments made under their respective communiqués. I call upon the Government of South Sudan to address the negative impact of customary law on women's rights and to reflect international human rights standards in national law. I also encourage the African Union to make public and act upon the report of its Commission of Inquiry on South Sudan

11/19 Sudan (Darfur)

Recommendation: I call upon the Government of the Sudan to grant the United Nations and its humanitarian partners unfettered access for monitoring and the provision of assistance to people in need in Darfur. Given that there has been grave concern over sexual violence in Darfur for more than a decade, I encourage the Government to engage with my Special Representative on Sexual Violence in Conflict to develop a framework of cooperation to address the issue comprehensively

12/19 Syria

Recommendation: I acknowledge the Government's invitation to my Special Representative to visit the Syrian Arab Republic and call upon the authorities, in the context of such a visit, to agree on specific measures to prevent sexual violence, including by members of the security forces. I condemn the use of sexual violence by ISIL and all other parties listed in the annex to the present report and call on them to cease such violations immediately and allow unfettered access for the delivery of humanitarian assistance

13/19 Yemen

Recommendation: I urge the authorities in Yemen to undertake legislative reform as a basis for addressing impunity for sexual violence, ensuring the provision of services for survivors and aligning the minimum legal age of marriage with international standards. I further call on the authorities to engage with local community and faithbased leaders to address sexual and gender-based violence and discriminatory social norms

14/19 Bosnia and Herzegovina

Recommendation: I urge the relevant authorities in Bosnia and Herzegovina to harmonize legislation and policies so that the rights of survivors of conflict-related sexual violence to reparations are consistently recognized and to allocate a specific budget for this purpose. I further call upon the authorities to protect and support survivors participating in judicial proceedings through, inter alia, referrals to free legal aid, psychosocial and health services, as well as economic empowerment programmes

15/19 Ivory Coast

Recommendation: I urge the Government of Côte d'Ivoire to ensure the effective implementation of its national strategy to combat gender-based violence and the action plan for FRCI, and call on the international community to support these efforts. It is critical to accelerate disarmament, demobilization and reintegration and strengthen law enforcement to ensure that ex-combatants who have been reintegrated into the transport sector do not pose a risk to women and girls who are reliant on those services. The Government and the international community must provide monitoring and awareness-raising to mitigate the possibility of a recurrence of sexual violence in the context of the presidential elections to be held in October 2015

16/19 Liberia

Recommendation: I call on the Government of Liberia to continue its critical efforts to combat sexual and gender-based violence including through the United Nations-Government of Liberia Joint Programme, and in the context of recovery from the Ebola virus epidemic

17/19 Nepal

Recommendation: I encourage the Government to ensure that survivors of conflict-related sexual violence are recognized under the law as "conflict victims", which will enable them to access services, judicial remedies and reparations. I further call on all parties involved in the transitional justice process to ensure that the rights and needs o f survivors of sexual violence are addressed in institutional reforms and that these crimes are excluded from amnesties and statutes of limitations

18/19 Sri Lanka

Recommendation: I call upon the newly elected Government of Sri Lanka to investigate allegations of sexual violence, including against national armed and security forces, and to provide multisectoral services for survivors, including reparations and economic empowerment programmes for women at risk, including war widows and female heads of household

19/19 Nigeria

Recommendation: I encourage the Government to implement its national action plan on the implementation of Security Council resolution 1325 (2000) to ensure that women's protection concerns are mainstreamed throughout its security operations. I also call upon the authorities to guarantee security in and around internally displaced persons camps and to extend medical and psychosocial services to high-risk areas
One allegation of rape and 90 criminal complaints have been filed by more than 100 women who were at Cologne's train station last Thursday, where it is believed around 1,000 men were gathered.
According to reports, victims were teenage girls and women in their early 20s, with many witnesses alleging that the attackers were of Middle Eastern or North African appearance.
The attacks have fuelled tensions in Germany, with some blaming the assaults on the fact that more than a million refugees and migrants have arrived in the country in the past 12 months alone.
Read Mr Okwonga's comment in full here.
Reuse content