Josie Cunningham, branded the "most hated woman in Britain", has told The Independent of her horror after being the subject of an article describing her as a scrounger.
Cunningham, who first appeared on the front page of The Sun in March 2013 under the banner "infuriating Britain" in an article that painted her as a drain on the NHS.
The aspiring glamour model from Leeds had her breasts enlarged from a 32A to a 36DD. She says that prior to the operation she didn't want to leave the house because she was badly bullied for having small breasts.
She told The Independent of her reaction to the front page: "I cried buckets. I wasn't expecting the backlash. I was hoping for a good piece, something positive... But I wasn't portrayed that way.
"People were trying to bully me again. It made me feel 13 years old – my back just went up and I thought: 'I'm not going to be bullied' so I just rolled with it."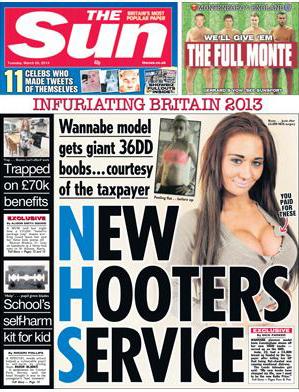 Cunningham, who was badly bullied as a teenager and suffers from anxiety, says she contacted tabloids in the hope that she could show other women who were unhappy with their appearance that there was "hope".
"I approached the papers just to put out a message to any other women or teenage girls that suffered from depression or maybe felt that they didn't fit [in]," she says. "I just wanted to reach out to people and say: 'Keep trying, hopefully you'll get the help that you do require. Stay strong Don't let the bullies keep you down and reach out, grab hope and don't let it go'."
Cunningham, who is now 24, says she was bullied "horrifically" as a teenager. "I got doused in petrol, and attacked on a daily basis," she says. "I was bullied horrifically for my chest and my nose."
The former call-centre worker now revels in her "most hated" persona, and says: "I love being the most hated woman in Britain. I'd have it on my headstone if I could."
She says that "staying strong" for her children helped her make the decision to do more negative stories with tabloid newspapers and cultivate her new image. "I thought: 'I'm 22 with two children and I'm not going to allow myself to be bullied again and be beaten down. I've got to stay strong, not just for myself but for my kids.'
"I've turned a massive negative into as much of a positive as I can."
Celebrity Big Brother 2015 contestants
Celebrity Big Brother 2015 contestants
1/13 Katie Hopkins

Professional motormouth and columnist for The Sun

2/13 Perez Hilton

US showbiz blogger Perez Hilton

Getty

3/13 Patsy Kensit

4/13 Keith Chegwin

Keith Chegwin is the bookies' favourite to win CBB

Getty Images

5/13 Kavana

Nineties popstar Kavana

Getty Images

6/13 Jeremy Jackson

American actor and singer who is best known for playing Hobie Buchannon in Baywatch

Getty Images

7/13 Alicia Douvall

Model and skincare company owner Alicia Douvall is entering the Celebrity Big Brother house

Channel 5

8/13 Chloe Goodman

Celebrity Big Brother 2015 contestant Chloe Goodman

Getty Images

9/13 Alexander O'Neal

American R&B singer, best known for songs 'If You Were Here Tonight', 'Criticize' and 'Fake'

Kevin Winter/Getty Images

10/13 Calum Best

British-American former fashion model turned reality TV personality

Channel 5

11/13 Nadia Sawalha

TV presenter and actress best known for her role as Annie Palmer in EastEnders

Channel 5

12/13 Michelle Visage

Singer and TV host, known best for her role as a judge on RuPaul's Drag Race

Getty Images

13/13 Ken Morley

Comedian and actor best known for his role as Reg Holdsworth in Coronation Street

BBC
Controversial publicity stunts carried out by Cunningham have included saying she was going to abort her third child in order to appear on Big Brother, and telling young women who'd failed to do well in their A-Levels that they could become escorts.
When asked about whether she'd encourage her three-month-old daughter Grace to undergo the same procedure, she said that she'd already started saving up.
"I won't lie, I have already put away money into her bank account for getting a boob job when she's older. she said. "If she turns around and says: 'Mum, I want massive boobs so everyone can stare at me more,' it's not there for that.
"I would never ever ever wish my worst enemy, let alone my own daughter, to go through the hurt and the pain that I did [being flat-chested]."
She added that she didn't regret having the surgery that turned her into a tabloid star. "I was in a really bad place before I had my had my chest done – it got to the point where I didn't want to leave the house because I was bullied over it."
Speaking about her new-found celebrity, Cunningham said: "A lot of people do stare. I suffer with anxiety – but it doesn't help with people staring... We've all got skeletons in our closet… We all bleed the same colour and I am human."
She is the subject of a Channel 4 documentary airing on Thursday night, called Josie: The Most Hated Woman in Britain? .
The Sun has been contacted for comment.
Reuse content