Ecuadorian officials considered smuggling Julian Assange out of their London embassy inside a bag, wearing a disguise and hidden in a diplomatic car, it has emerged.
Documents reportedly leaked from the embassy in Knightsbridge, where he still resides, appear to reveal a list of escape plans drawn up for the WikiLeaks founder in 2012.
Slides from a PowerPoint presentation outlined "possible escape scenarios for Assange", including using diplomatic immunity, a car, disguise and putting him in a bag.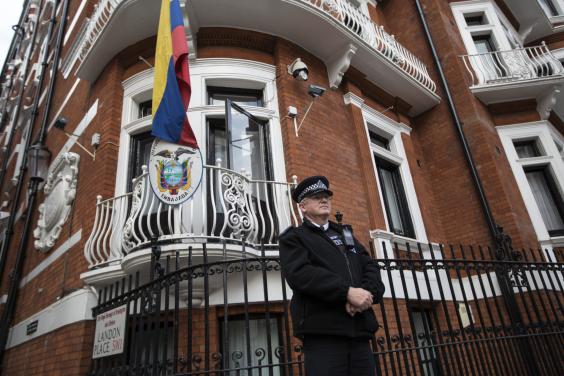 Codenamed Operation Hotel, the report lays out how Ecuador considered ways of getting "Mr Guest", as Assange was referred to, out of their embassy.
The document suggested Ecuador could appoint the Australian as its official representative to the United Nations, allowing him to reach safety in Ecuador under diplomatic immunity before the UN General Assembly could revoke the appointment.
Another idea said Assange could leave in an unspecified "disguise" to reach a nearby rooftop helipad or merely "get lost in the crowds at Harrods".
A proposal to conceal him in a diplomatic car leaving the embassy was quickly dismissed because of surveillance by the Metropolitan Police, which allegedly then involved 50 men covering 24 hours a day and two vans.
Because the Ecuadorian Embassy shares its building, Scotland Yard had been able to station officers inside in hallways, on stairs, by lifts and blocking all routes that could get Assange to a car, the document claimed.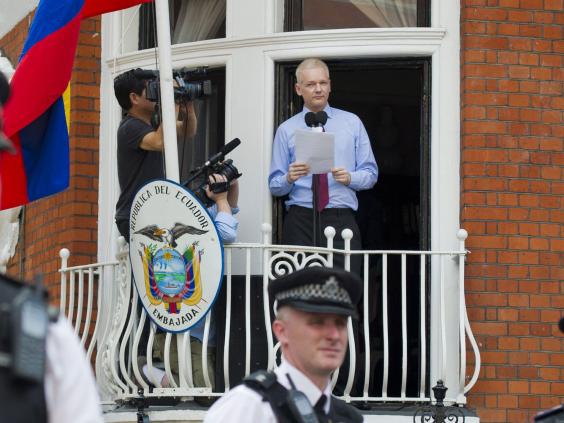 The last proposal cited an unusual case dating back to 1984 to suggest that Assange could simply be put in a special "diplomatic bag", where he could leave with British authorities powerless to open it.
But the author noted that regulations said immunity only applied to sacks that "contain only diplomatic documents or articles intended for official use" – not to mention the fact that police would be monitoring it with heat-seeking cameras.
The documents, seen by BuzzFeed News and initially reported on by journalist Fernando Villavicencio, have been posted online by the WikiLeaks Forum.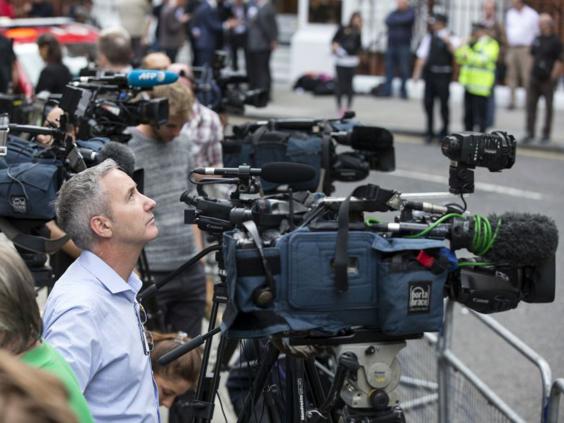 The Ecuadorian Embassy has not responded to The Independent's requests for comment and a spokesperson for the Metropolitan Police said the force would not discuss the leak "for operational reasons".
Assange has lived in a small flat at the embassy for more than three years in an attempt to avoid extradition to Sweden for questioning over allegations of rape and sexual assault, some of which have now been dropped. He denies all allegations.
He also feared potential prosecution in the US over his publication of leaked documents from soldier Chelsea Manning, including classified material from the Iraq and Afghanistan wars that sparked international outrage in 2010.
Whistleblowing controversies of the last decade
Whistleblowing controversies of the last decade
1/12 Edward Snowden NSA leak

Articles in The Guardian revealed that the US and the UK spied on foreign leaders and diplomats at the 2009 G20 summit.

Reuters

2/12 WikiLeaks' US diplomatic cables leak

In 2009, former US soldier Chelsea Manning, downloaded hundreds of thousands of classified US Government documents, and passed them on to Jullian Assange's whistleblowing website WikiLeaks. Among the documents were 250,000 State Department diplomatic cables. One disclosed the close relationship between Russian President Vladimir Putin and then-Italian Prime Minister Silvio Berlusconi, the Guardian reported. Allegations included "lavish gifts", lucrative energy contracts and the use by Berlusconi of a "shadowy" Russian-speaking Italiango-between.

Getty Images

3/12 WikiLeaks' US diplomatic cables leak

WikiLeaks' US diplomatic cables leak: In a revelation which bruised the UK's 'special relationship' with the US, WikiLeaks published conversations by US commanders criticising Britain's military operations in Afghanistan.

Getty Images

4/12 WikiLeaks' US diplomatic cables leak

WikiLeaks' US diplomatic cables leak: One document disclosed startling levels of corruption in Afghanistan, including an incident involving the then vice-president, Ahmad Zia Massoud, who was reportedly stopped and questioned in Dubai when he flew into the emirate with $52m in cash.

Getty Images

5/12 WikiLeaks' US diplomatic cables leak

Another cable documented fears in Washington over Pakistan's nuclear weapons programme, in a volatile country with a strategic position in the Middle East.

PA

6/12 WikiLeaks' US diplomatic cables leak

Day four of the gradual drip of leaks exposed allegations that Russia and its intelligence agencies are using mafia bosses to carry out criminal operations, with one cable reporting that the relationship is so close that the country has become a "virtual mafia state".

Getty Images

7/12 Edward Snowden NSA leak

In 2013, The Guardian published classified US National Security Agency (NSA) documents, from a then anonymous whistleblower. Four days later he was exposed as former NSA contractor Edward Snowden. A month after the initial leak, the New York Times allegeded that the NSA received emails, video clips, photos, voice and video calls, social networking details, logins and other data held by a range of US internet firms.

8/12 Edward Snowden NSA leak

Since Snowden revealed that the US had eavesdropped on German Chancellor Angela Merkel's phone, German-US relations have been strained. In May 2014, Mrs Merkel said still had significant differences with the United States over surveillance practices and that it was too soon to return to "business as usual," according to the New York Times.

Getty Images

9/12 Edward Snowden NSA leak

On 7 June, The Guardian published the Presidential Policy Directive 20, whcih included a list of potential targets for cyber-attacks by the US Government.

Rex Features

10/12 Samy Kamkar iPhone and Android exposé

In April 2014, hacker and researcher Samy Kamkar revealed that Android phones collect user location data every few seconds. Files are then transited to Google several times an hour.

Getty Images

11/12 Samy Kamkar iPhone and Android exposé

It is believed Apple and Google are using the data to better target adverts to smartphone users, according to The Guardian.

Getty Images

12/12 Samy Kamkar iPhone and Android exposé

The two companies have since justified the collection of data. In a letter to the US congress Apple confirmed it collected the data and said that, in order to be useful, "the databases [of tower and network locations] must be updated continuously". A Google spokesman told the Guardian Android phones explicitly asked to collect anonymous location data when users turned them on.

Getty Images
In an interview with The Times Magazine on Sunday, he revealed that he had not had access to fresh air or sunlight since 2012 and that he avoided even his balcony because of "security issues".
"There have been bomb threats and assassination threats from various people," Assange said.
The fugitive is thought to have cost the UK taxpayer £10 million in police expenses during his stay and a Foreign Office minister accused the embassy of an "abuse of diplomatic relations" for harbouring Assange last month.
Reuse content