Khloe Kardashian has removed a meme referring the Ku Klux Klan from her Instagram page, after receiving backlash from social media users.
The image shows the 30-year-old, alongside sisters Kim and Kourtney Kardashian, with the words: "The only KKK to ever let black men in." The image was captioned, "True".
Kourtney Kardashian's boyfriend, Scott Disick, who presumably saw the lighter side of the meme, also shared the image on his Instagram page, adding, "And a Jew" – a reference to his own background.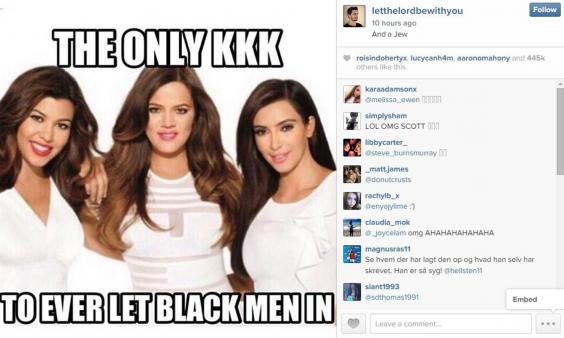 However, over 26,000 people commented on Kardashian's initial picture, many of whom accused the reality television star of being "racist".
"And people wonder why us as black people say that racism is still alive and well today..this is sad," commented K.Ashuri.
A user called firstname_georgina wrote, "This isn't funny at all. Why make jokes about a group that terrorised and still terroises my people. You're a clown for this. Very disrespectful and disgusting for this. A joke."
A spokesperson for Kardashian could not be reached.
The Ku Klux Klan, who have been in existence since the 1860s, are a racist group, divided into three separate movements.
Although the right-wing hate group initially violently fought against the rights of the black community, they have also discriminated against Jews, Catholics, the gay community and different groups of immigrants. There are thought to be over 50 Klan chapters in the US, with an estimated 5,000 members.
More recently, Klan groups have protested over gay marriage, urban crime and immigration. 
Reuse content