Earlier this month Madame Tussauds unveiled Nicki Minaj as the latest musician to join their Las Vegas gallery.
But the waxwork drew criticism for depicting Minaj on her hands and knees, barely clothed, in reference to the singer's 'Anaconda' video.
Even though the singer was excited about her waxwork, others felt it was disrespectful and sexist.
Outspoken rapper Azealia Banks voiced her concerns with the problematic statue, saying it would lead to people "shoving their crotch in her face".
All ppl are gonna do is go up to that statue and take pictures shoving their crotch in her face and putting their crotch on her butt

— AZEALIA BANKS (@AZEALIABANKS) August 12, 2015
And it looks like she's kind of right.
Photos of people defiling Nicki Minaj's waxwork have spread so much on social media that Madame Tussauds had to issue a statement saying they were concerned over the 'inappropriate' photographs being taken.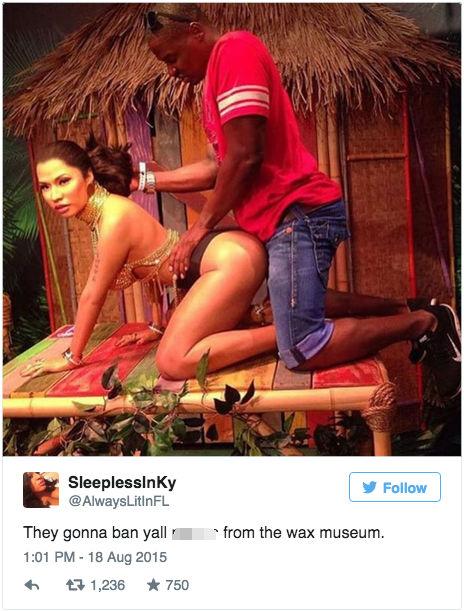 (We have edited this tweet to remove offensive language)
"Our visitors are generally respectful towards the wax figures," the statement reads. "And [we] do our utmost to ensure our wax figures are treated respectfully, but on this occasion clearly one of our hosts was not present."
Statement regarding Nicki Minaj's Madame Tussauds wax figure pic.twitter.com/tnnyZL0BNX

— Madame Tussauds LV (@TussaudsVegas) August 18, 2015
They said they will be redesigning the set around Minaj's waxwork so inappropriate pictures cannot be taken again, and will increase the presence of staff in the area.
Minaj, however, doesn't seem too upset, publishing pictures fans sent her on Instagram and Twitter and finding the whole thing quite funny.