Malcolm Glazer, the controversial billionaire owner of Manchester United, has died.
Glazer bought Manchester United in 2005 for £790 million and presided over an era in which it won the Champions League and five premiership titles but he remained unpopular with many fans who believe he used the club as a cash cow to finance debts.
It remained unclear last night what the repercussions would be for the club, which with the retirement of manager Sir Alex Ferguson and the sacking of his successor David Moyes is already facing an uncertain future.
The club, which is 90 per cent owned by the Glazer family, downplayed the significance of his death and his three sons, Bryan, Joel and Avram, are on the board. A spokesperson at Old Trafford said: "The thoughts of everyone at United are with the family tonight."
Malcolm Glazer dies aged 85
Malcolm Glazer dies aged 85
1/10 Malcolm Glazer

Then new Tampa Bay Buccaneers head coach Tony Dungy (L) poses with team owner Malcolm Glazer during a press conference in Tampa 22 January, 1996.

TONY RANZE/AFP/Getty Images

2/10 Malcolm Glazer

Malcolm Glazer celebrates the Bucs' 48-21 victory over the Oakland Raiders in Super Bowl XXXVII in San Diego, in 2003.

AP Photo/Dave Martin, File

3/10 Malcolm Glazer

Glazer's Tampa Bay Buccaneers won the Superbowl in 2003

AP

4/10 Malcolm Glazer

Then head Coach Jon Gruden of the Tampa Bay Buccaneers rides with team Malcolm Glazer during a victory parade on January 28, 2003 in Tampa, Florida. The Buccaneers defeated the Oakland Raiders 48-21 in Super Bowl XXXVII.

Chris Livingston/Getty Images

5/10 Malcolm Glazer

Pictured in 2005, Tampa Bay Buccaneers owner Malcolm Glazer, left, and his New York Jets counterpart Robert Woody Johnson smile as they hold a football together during a press conference at Tokyo Dome hotel in Tokyo.

AP Photo/Katsumi Kasahara, File

6/10 Malcolm Glazer

Malcolm Glazer before Tampa Bay Buccaneers play against the Chicago Bears November 27, 2005 in Tampa. The Bears defeated the Bucs 13 - 10.

Al Messerschmidt/Getty Images

7/10 Malcolm Glazer

Pictured in 2005, Malcolm Glazer smiles at the announcement of Tampa Bay being awarded the 2009 Super Bowl, during the NFL's Spring Meetings at the Ritz-Carlton Hotel in Washington.

AP Photo/J. Scott Applewhite, File

8/10 Malcolm Glazer

Supporters hold posters opposing Manchester United's US owner Malcolm Glazer before the English Premier League football match between Manchester United and Stoke City at Old Trafford in Manchester, north-west England on May 9, 2010.

ANDREW YATES/AFP/Getty Images

9/10 Malcolm Glazer

An Arsenal fan taunts Manchester United fans by wearing a Malcollm Glazer mask and carrying US flags before the FA Cup Final between Manchester United and Arsenal in Cardiff's Millennium Stadium in Wales, 21 May, 2005.

JOHN D MCHUGH/AFP/Getty Images

10/10 Malcolm Glazer

Joel Glazer (second right), Avram Glazer (right) and Bryan Glazer (left) and members of the board of directors talk with club director Sir Bobby Charlton at Old Trafford on June 30 2005 in Manchester, England, when their father Malcolm Glazer bought the club. His sons are much more involved in the running of Manchester United.

Matthew Peters/Manchester United via Getty Images
His death, at the age of 86 on Wednesday, was announced by the Tampa Bay Buccaneers, the US NFL team that the self-made billionaire bought in 1995.
A statement issued by the NFL club said he had a "long established estate succession plan" which means the Buccaneers "will remain with the Glazer family for generations to come" but the future of Manchester United was not mentioned.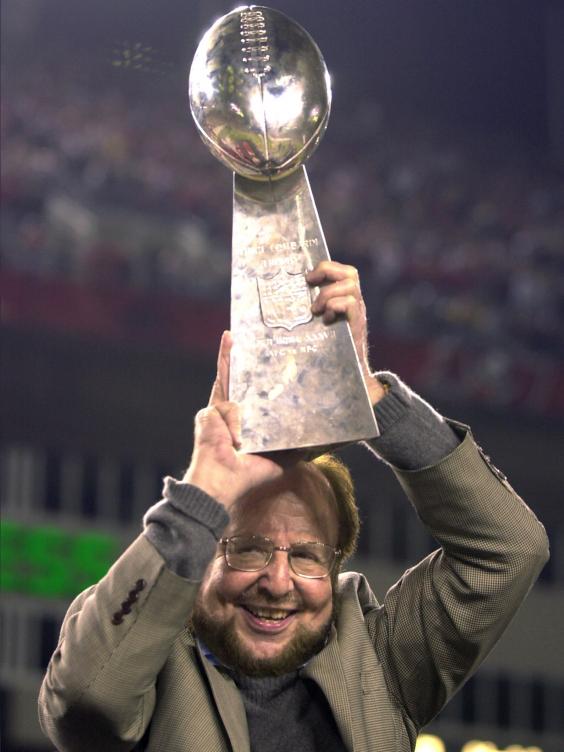 Glazer, one of seven children, was born in New York, and he took over the family watch business at the age of 15 when his father died. His investments over the years included holdings in companies such as Harley Davidson and Tonka. Forbes estimated him and his family to be $4 billion.
His health had been failing since 2006 when he suffered two strokes which left him with limited speech and movement.
His ownership of the Buccaneers transformed the team from a laughing stock to a model franchise and one of the most successful teams, including winning the Super Bowl, but his take-over of Manchester United was widely opposed by fans.
Even after a decade of continued success, however, many Manchester United fans accused him of using the club's money-making capacity to finance other debts rather than using it to invest in transfers and the club's future.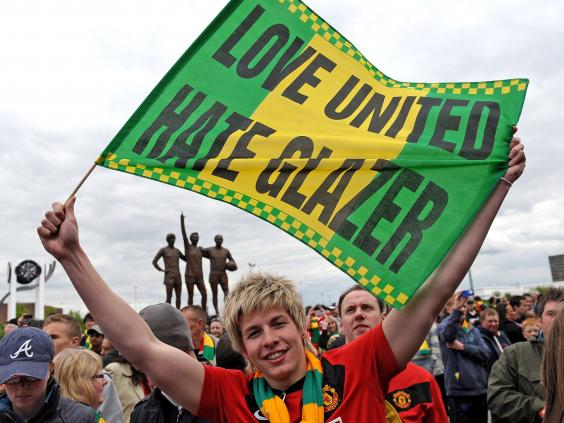 The club was debt-free when he bought it but now has debts amounting to £400 million. He borrowed to finance the purchase and then used the profits to pay off interest.
In its statement announcing his death the Buccaneers paid tribute to him as an owner and businessman.
"A pioneering thinker, Glazer rebuilt the Buccaneers into a model franchise and a Super Bowl winner.
"A dynamic business leader, Glazer helped mold the Buccaneers into a model franchise and one respected league-wide. Since being purchased by Glazer in 1995, the Buccaneers franchise has earned seven playoff berths, five playoff wins, and captured its first Super Bowl championship [in 2003]."
Reuse content