At 6ft tall, Maya Angelou may have been an imposing physical figure, but it is her cultural stature that was truly unsurpassed.
The civil rights figurehead and author of more than 30 books, including the ground-breaking memoir I Know Why the Caged Bird Sings, died on Wednesdayat her home in Winston-Salem, North Carolina. In her 86 years, Ms Angelou had been an activist, a novelist, a magazine editor and a college professor, a dancer, actress, calypso singer and streetcar conductor.
Her poems and autobiographical prose made her one of America's foremost voices on race and gender, and her optimism in spite of a troubled early life made her an inspiration to millions. She spoke six languages, taught American Studies at Wake Forest University in Winston-Salem beginning in 1981, and had more than 30 honorary degrees from other universities.
But though she was known to her students and followers as Dr Angelou, she never in fact earned a university degree. Instead, "I created myself," she said. "I have taught myself so much."
Maya Angelou: In her own words
Maya Angelou: In her own words
1/6 'There's a world of difference between truth and facts. Facts can obscure the truth'

Maya Angelou with her book, 'I Know Why the Caged Bird Sings', in 1971

AP

2/6 'Segregation shaped me, and education liberated me'

Maya Angelou in Washington in 1992

AP

3/6 'Prejudice is a burden that confuses the past, threatens the future and renders the present inaccessible'

Maya Angelou delivers a speech in 1995

EPA

4/6 'Good done anywhere is good done everywhere'

Maya Angelou smiles during an interview in 2005

AP

5/6 'At 15 life had taught me undeniably that surrender, in its place, was as honourable as resistance, especially if one had no choice'

Maya Angelou speaks during the 9th Annual Maya Angelou Women Who Lead Luncheon in 2011

AP

6/6 'Until blacks and whites see each other as brother and sister, we will not have parity. It's very clear'

Maya Angelou with President Barack Obama in 2011

AP
She was born Marguerite Ann Johnson in St Louis, Missouri in April 1928. Maya was a nickname given to her by her brother; she retained the surname Angelou after taking it from one of her husbands. Her parents divorced when she was three, and her early childhood was divided between St Louis and the severely racially segregated town of Stamps, Arkansas.
At the age of seven, she was raped by her mother's boyfriend, whom she subsequently saw being beaten to death by a mob after she testified against him in court. "My seven-and-a-half-year-old logic deduced that my voice had killed him, so I stopped speaking for almost six years," she recalled later. Though spoken language temporarily deserted her, she said often that this period of silence was when she first developed a deep relationship with the written word.
As a young teenager Ms Angelou studied dance and drama in San Francisco, but she dropped out when she was just 14 to become not only the city's first African-American streetcar conductor, but also its first female one. She eventually graduated from high school aged 17, and in the same year gave birth to her son, Guy. She had not lost her passion for performance, and during the mid-1950s she travelled to Europe with a touring production of the opera Porgy and Bess. In 1957 she recorded an album, entitled Miss Calypso.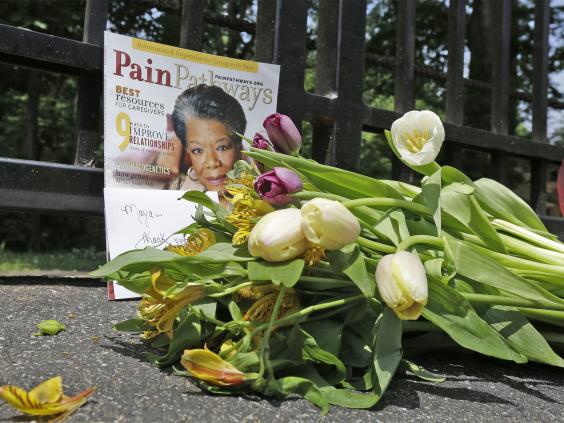 Yet it was not until she became involved with the civil rights movement in the 1960s that Angelou began to turn her hand to writing. She was friends with both Martin Luther King Jr and Malcolm X, and was distraught after Dr King was assassinated on her 40th birthday. In 1969, after a period spent working in Africa as a magazine editor, she published the first of her memoirs, I Know Why the Caged Bird Sings, which recounted her life up to the age of 17.
"All my work, my life, everything is about survival," Ms Angelou once said. "All my work is meant to say, 'You may encounter many defeats, but you must not be defeated.' In fact, the encountering may be the very experience which creates the vitality and the power to endure."
Though she was celebrated primarily for her writing, Angelou also received several Tony Award nominations for her theatre work and an Emmy nod for her TV role in the 1977 slavery drama Roots. In 1998, she even directed a feature film, Down in the Delta. For many years she was a close friend and mentor of Oprah Winfrey, who referred to Angelou as her "mother-sister-friend".
Already a national figure, Angelou took to the national stage in 1993, when the new President Bill Clinton invited her to read one of her poems at his inauguration. In 2010, President Barack Obama awarded her the Presidential Medal of Freedom, America's highest civilian award. Shortly before Mr Obama's inauguration as the first black President of the US, Ms Angelou told CNN his election had made her excited and hopeful for the future. "I've really said it so many times I wonder if I'm coming off like a piece of tape recording, but I'm very proud to be an American," she said.
Reuse content