Mona Eltahawy relishes the radical feminist Muslim label. The award-winning writer and activist believes more attention should be paid to her brand of extremism than to the "fringe lunatic minority" represented by the self-proclaimed Islamic State (Isis), or Daesh, the Arabic name she prefers to use.
"I avoid continuously writing or tweeting about Isis, as it centres them in the narrative and we end up reacting to them and reacting to the agenda they set,"  she says. "Even though some people may find my form of extremism unpalatable what they have to recognise is I am creating a space to allow more people to move towards my end of extremism, away from the violent extremism end of the spectrum."
Egyptian-American Eltahawy, who lived in the UK between the ages of seven and 15, believes the radicalisation of young Western Muslims is only partly explained by a "feeling of marginalisation and alienation" and being "lost between different cultures".
"For some people religion becomes their only form of expression and opposition and it can take a very violent turn," she says. "This is not a majority of people who identify as Muslim. We are showing you can still belong to this religion; you can still be a Muslim and find other ways of expressing your divisions that do not involve this horrific level of violence."
Eltahawy, 47, chose a non-violent way to protest. In 2012, she was arrested for spray-painting an anti-Muslim advert in New York. Nonetheless, she supports free speech and received her first death threats after defending the right of a Danish newspaper to publish cartoons of the Prophet Mohamed.
The women who are shaping our world
The women who are shaping our world
1/27 Janet Yellen (US)

Women hold positions of power in the United States like in no other country, but in terms of raw power none challenge Janet Yellen, Chair of the Federal Reserve, whose decisions determine the cash in not only every Americans' purse but ours too.

AP

2/27 Oprah Winfrey (US)

Oprah still directs the US national conversation through her TV appearances, stadium tours and, most recently, her backing of 'Selma', which finally gave Martin Luther King the deserved cinematic attention.

Getty

3/27 Christine Lagarde (France)

Managing Director of the IMF (the first woman to run the 188-country financial organization), Lagarde's leadership has coincided with one of the worst modern economic crises. She is willing to say the unpalatable as she demands politicians reform their economies to "effectively address the predicament of the 200 million jobless worldwide."

AP

4/27 Nicola Sturgeon (UK)

The Queen? No, the person whose political career has been built on a commitment to tear apart the union who (at this moment) holds the actual power. With the SNP likely to sweep Scotland in the forthcoming general election, it will be Sturgeon who will have the greatest say over Britain's future.

Tom Pilston/The Independent

5/27 Emma Watson (UK)

It's what she's done since Hogwarts that has so impressed. The fashion world may have adopted her as a muse, but it is in the area of sexual politics that she has found her voice, becoming a UN Women Goodwill Ambassador and helping launch the UN Women HeForShe campaign, calling for men to advocate the cause of gender equality.

Getty Images

6/27 Angela Merkel (Germany)

In Germany she is known as 'Mutti' (or 'Mother') but it is in her international dealings that the Chancellor's power has been most marked - whether breaking the post-World war II taboo on military actions by sending arms to Kurdish fighters facing ISIS or working tirelessly to seek a peaceful resolution to the crisis in Ukraine.

Getty Images

7/27 Christiane Nüsslein-Volhard (Germany)

One of only 12 female Nobel Prize winning scientists, pioneering geneticist Nüsslein-Volhard is a global expert in genetic mutations and the ethical implications of recent developments in genomics and biotechnology. She campaigns for rights of mothers worldwide.

Getty

8/27 Lubna Olayan (Saudi Arabia)

A corporate trailblazer, and is one of the most influential businesswomen in the Middle East, Olayan is CEO of her own financing company, which runs 40-plus companies across the region. She has also pushed progressive business practices where few others do, promoting women and celebrating their contribution to business culture.

AFP/Getty

9/27 Wajeha al-Huwaider (Saudi Arabia)

The co-founder of the Association for the Protection and Defense of Women's Rights in Saudi Arabia is one of the few voices for equality in a country where women are must have a male guardian to travel, open a bank account and seek employment. Her campaign to permit women to drive gained international acclaim.

YouTube

10/27 Shahnaz Wazir Ali (Pakistan)

Special Assistant to the Prime Minister of Pakistan and chairperson of Higher Education Commission and a rare female voice in the country - since the assassination of Benazir Bhutto there has been a dearth of women at the highest levels of power in Pakistan.

AFP

11/27 Malala Yousafzai (Pakistan)

Shot by the Taliban in 2012 for blogging about life under their rule, Yousafzai has become an inspirational campaigner for education for women and girls. She is the youngest person to receive the Nobel Prize, giving her access to political leaders worldwide and helping turn her advocacy into a global movement.

Getty Images

12/27 Margaret Chan (China)

Chan has not had an easy time as DG of the World Health Organisation, her second term seeing one of the worst global disease outbreaks in recent times in the Ebola outbreak in West Africa. The WHO's late response was criticised, leading to Chan to admit the agency "underestimated the magnitude, the complexity and the challenges".

AFP

13/27 Yao Chen (China)

She is not just the doe-eyed ingénue starring in some of China's biggest romantic comedies over the past five years. Yao has also used her popularity – and the 71 million followers she has on the social media site Sina Weibo – to address troubling social and environmental issues in her country, as well as the plight of South-east Asian refugees.

Getty

14/27 Indra Nooyi (India)

Born to a Tamil-speaking family in Madras, Nooyi (CEO, PepsiCo) is now one of the world's most powerful businesswomen, having taken Pepsi from its sugary drink origins to the second largest food and drink behemoth in the world. It is an achievement that rewards her with a reputed $17m per year.

Getty

15/27 Julie Bishop (Australia)

Since Julia Gillard left, there has been a lack of women in senior posts. Bishop is the exception, having been Foreign Affairs minister since 2013. Her handling of the disappearance of Malaysia Airlines flight MH370 won plaudits, leading to her being touted as a contender for PM Tony Abbott's job.

AFP

16/27 Cathy Freeman (Australia)

Since winning gold at the 2000 Olympic games, sprinter Freeman has campaigned for Aboriginal rights with her Cathy Freeman Foundation, working to improve the educational prospects of Australia's indigenous children.

Getty

17/27 Rapelang Rabana (South Africa)

At 23, Rapelang Rabana founded Yeigo Communications, the hugely influential communications software development company based in Cape Town. Listed by Forbes as one of 30 under 30 Best Young African Entrepreneurs, she made Oprah's 2012 O Power List and this year was hailed by the World Economic Forum.

18/27 Thuli Madonsela (South Africa)

Widely known as 'Mrs Anticorruption', public prosecutor Madonsela played an instrumental role in drafting the country's new Constitution that saw Nelson Mandela becomethe first black president of South Africa and has been tireless in standing up for human rights and punishing corruption.

AFP/Getty

19/27 Folorunsho Alakija (Nigeria)

Alakija's first company was a fashion label that catered to Nigeria's elite, including the wife of former military president Ibrahim Babangida. This connection paid off - he gave her a prospecting licence for lucrative oil fields and she has now replaced Isabel dos Santos as the richest woman of Africa (estimated worth $41.83bn).

AP

20/27 Chimamanda Ngozi Adichie (Nigeria)

The author of 'Half of a Yellow Sun', which won the Orange Prize for Fiction, has been hailed as "the most prominent" of a "procession of critically acclaimed young Anglophone authors [that] is succeeding in attracting a new generation of readers to African literature".

Getty

21/27 Rihanna (Barbados)

Little explanation is needed for this Barbadian phenomenon. Rihanna is one of the most famous women in the world - she uses social media such as Twitter and Instagram to communicate directly with her millions of fans. Not all of her actions are deemed to be feminist, though.

Getty

22/27 Michelle Bachelet (Chile)

President Bachelet (the first woman to head her country) is now serving a second term, having ended her first with an 84 per cent approval rating. In her earlier career, her commitment to standing up for the oppressed caused her to be jailed, tortured and exiled and, between her presidencies, she served as Executive Director of UN Women.

AFP/Getty Images

23/27 Isabel Allende (Chile)

Hailed as the world's most widely read Spanishlanguage author, Allende's influence is greater even than that. A life that has seen her experience political intimidation, exile and the loss of a daughter has made her a powerful campaigner for the empowerment and protection of women.

AFP/Getty

24/27 Dilma Rousseff (Brazil)

Brazil's first female president. Rouseff has been in power since 2010, leading a $2.2 trillion economy and 200 million people. With the World Cup and the Olympics, the eyes of the world are firmly on her country at a time when she is seeking to redistribute wealth during an economic recession.

AFP/Getty Images

25/27 Gisele Bündchen (Brazil)

The world's highest-paid model for the past eight years, Bündchen made $47m in 2014. She is also Goodwill Ambassador of the United Nations Environment Programme, and on the board of the Rainforest Alliance, a charity working to conserve biodiversity and sustainability.

Getty

26/27 Shakira (Colombia)

Since launching her music career at age 13, the singer has sold almost 60 million albums and topped the charts in 55 countries. Her social media reach is also immense – she is Facebook's "most liked" person, with 93 million followers.

Getty

27/27 Sofia Vergara (Colombia)

She may be best known for US TV's 'Modern Family' but it is Vergara's business achievements that make this 41-year-old actress so important to her country. Her savvy steering of her firm, Latin World Entertainment, has made it a regional $27m-a-year talent management, marketing and tech powerhouse.

Getty
She has just finished her first book – Headscarves and Hymens: Why the Middle East Needs a Sexual Revolution, which comes out in the UK in May. It is an extension of her essay Why Do They Hate Us?, which provoked huge controversy in 2012 for its examination of misogyny in the Arab world.
But Eltahawy, who lived in Saudi Arabia for six years after leaving Britain, is unapologetic about its themes and condemns the hypocrisy of world leaders who flocked to pay their respects after the Saudi King Abdullah died in January.
"I am horrified by the moral amnesia that develops when a dictator dies," she says. Saudi Arabia, where women are banned from driving and cannot go anywhere without a male chaperone, is a "black hole of misogyny" that operates a system of "gender apartheid".
Saudi human rights abuses, she argues, go ignored "because of oil and because they spend billions of dollars on weapons" – and also "because [the country] is home to the two holy sites of Islam".
"If you want to cosy up to an ally, if you want a business deal, if you want to sell weapons to someone, throw them women's rights, say we will turn a blind eye and you will get what you want," she says. "It's time to stop treating women like a cheap bargaining chip."
The same cultural relativism arguments – "this is their culture; we can't touch it" – that are used to ignore abuses by Saudi Arabia are used in the UK to allow practices such as female genital mutilation and forced marriage to flourish, along with the rise of Sharia courts, Eltahawy says. Liberals in the UK have not spoken out for fear of appearing racist, leaving the field clear for right-wingers such as Nigel Farage.
Eltahawy was born in Egypt but moved to the UK with her family aged seven as her parents, both doctors, completed their PhDs here. Even though they arrived in the Seventies, at "the height of second- wave feminism... so little [was] expected of Muslim women" that her mother's teachers were astonished to find she was a doctor and that she had not taken the name of Eltahawy's father. In fact, her mother was the breadwinner for the year the family lived in Glasgow.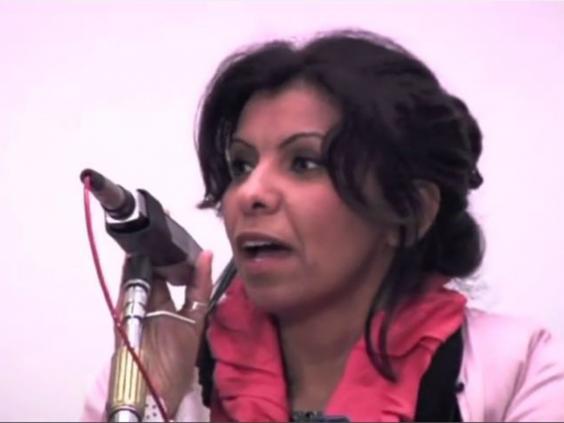 Eltahawy says the UK "formed an early memory of home for me" – she has supported Manchester United since she was nine – but it was in Saudi Arabia that she witnessed "a military form of religion that helped shape the kind of woman I am today".
Her distinguished reporting career, which included six years at Reuters, in Cairo and Jerusalem, took her to Egypt, Israel, Palestine, Libya, Syria, Saudi Arabia and China, before she moved to the US in 2000. During the 18-day revolution that toppled Egypt's President Hosni Mubarak in 2011, she became a familiar figure on Western television.
While reporting in Tahrir Square, Cairo, Eltahawy was sexually assaulted by Egyptian riot police, who also broke both of her wrists and one hand, in what she now believes was a deliberately targeted attack. She was held for 12 hours without any medical aid. In detention she borrowed a phone and sent a single tweet: "Beaten arrested in interior ministry". This prompted a campaign to free her.
"If I had been an anonymous woman I might have been gang-raped and killed," she says, adding that "it is very chilling" to feel that she was targeted for her views. After she recovered she celebrated by dyeing her hair red and getting tattoos on both arms.
It is for the same anonymous, voiceless women that Eltahawy, who moved back to Cairo in 2013, feels compelled to fight. As a member of Musawah, an international group campaigning for equality and justice for women in the Muslim world, she is vocal in condemning the appalling levels of sexual violence against women.
"Slowly and surely we are beginning to talk about something that has never been talked about before, which is sexual violence on the street against women in Egypt, either from the state or from civilians. It has reached a terrible height of horror over the past few years since the revolution began. This revolution wasn't about women's rights."
But it is just as important, she says, to talk about women's sexual desire – a taboo subject in much of the world – as it is to talk about violence. "We must continue the conversation and not end it at sexual violence but take it to pleasure and desire. We need a double revolution – against the state and against the misogyny of the street and the home."
Reuse content