Nigel Farage put Frankie Boyle down long enough to make a trip to the Tower of London today – but not, it seems, to hold back the tears.
The Ukip leader put on an emotional display as he gazed upon the landmark's moving tribute to the fallen soldiers of WW1 – an art project called "Blood Swept Lands and Seas of Red" which sees the Tower festooned with thousands of ceramic poppies in a moat around it.
Welling up as he gazed upon the memorial – branded by one Guardian critic as a "trite, fake, and inward-looking… Ukip-style memorial" recently – he cried as he witnessed it.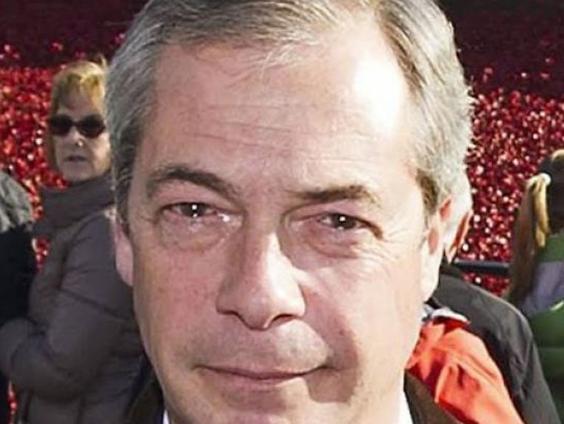 Much to the amazement of a few observers on Twitter, who were quick to point out his rather moist, but fitting (well… To how the Guardian described a Ukip-style memorial) display:
@davidbridleboyz thankfully our paths didn't as I was also there today. sham tears from #Farage. no-one else was crying. #towerpoppies @UKIP

norman goldner (@nlygo) November 4, 2014
Nigel Farage crying at the Tower of London, does no one know when they're being played?#InvasionOfTheNationalismSnatchers

Aunty Academy (@moogie1818) November 4, 2014
And a few comments from Farage, too, who tore himself away from trolling comedian's timelines to post the following:
Poppy memorial at the Tower is humbling and awe-inspiring. A fitting tribute to those who died protecting our freedoms. pic.twitter.com/g2FHP4DikH

Nigel Farage (@Nigel_Farage) November 4, 2014
Of course no country has copyright on courage but Poppy monument is for people of this country and our allies to remember and thank our dead.

Nigel Farage (@Nigel_Farage) November 4, 2014
His display follows a deluge of criticism from eagle-eyed social media users last week – including Sarah Vine, David Baddiel and Grace Dent – who noted he was not wearing a red poppy to mark Remembrance Day when he appeared on ITV show The Agenda.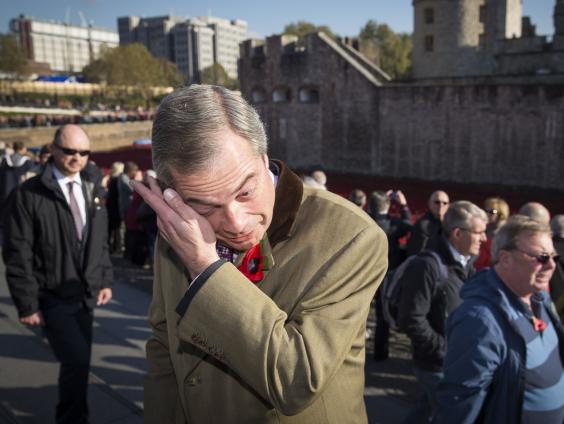 His reason? To wear a poppy too early is showy.
"Like many people Nigel won't wear a poppy before November 1," a Ukip spokesperson told The Sun.
His scheduled TV appearance also saw the Ukip leader declare that there was "nothing wrong with white people blacking up" and defend the markedly racist undertones of Mike Read's pro-Ukip anthem, "Ukip Calypso".
Ukip gaffes and controversies
Ukip gaffes and controversies
1/18 European elections poster

Party's latest EU election posters branded 'racist' and compared to BNP campaigns

Rex

2/18 Farage 'car-crash' interview

Ukip spin doctor forced to intervene as Farage falters in disastrous radio interview

3/18 Neil Hamilton

Picture Exclusive: The year is 1998. The venue is a Springbok Club meeting. The flag is a symbol for white supremacists in South Africa. And the speaker is Ukip's deputy chairman, Neil Hamilton

4/18 Kerry Smith

Kerry Smith resigned as would-be MP for South Basildon and East Thurrock after it emerged he had mocked gay party members as "disgusting poofters", joked about shooting people from Chigwell in a "peasant hunt" and referred to someone with a Chinese name as a "Chinky bird"

PA

5/18 Natasha Bolter

Former Ukip member Natasha Bolter was suspected of not having the teaching qualifications she professed to, only days after it was revealed that claims of her having attended Oxford University were also false

PA

6/18 Ukip Calypso song

Mike Reid released a single in praise of UKIP trying to control the UK's borders, only to withdraw the single after being accused of racism for singing in a Jamaican accent

7/18 Janice Atkinson

Janice Atkinson, Ukip's South East chair, pictured by protesters while campaigning in Ashford, Kent with local party chair Norman Taylor

Facebook/Maria Pizzey

8/18 Ukip cancels Freephone

Ukip cancels Freephone number after protesters repeatedly called to push up costs

Getty Images

9/18 Farage 'car-crash' interview

Mr Farage appeared to be caught out on a number of issues, from Romanian neighbours to people speaking foreign languages on the train

10/18 Ukip employs illegal immigrants

Ukip criticised after European election candidate found employing illegal immigrants

AP

11/18 Magnus Nielsen

Ukip candidate: 'Take away the right to vote to improve election turnout'

Getty Images

12/18 Poster model

A "British builder" portrayed in a Ukip poster accusing EU workers of taking UK jobs turns out to be an Irish actor - aka a migrant worker

13/18 'Arrest protesters'

Ukip called for police to arrest protesters 'who call us fascists' ahead of showdown with anti-fascist groups in Brighton

14/18 London Live make-up

Ukip's Nigel Farage reportedly refused to go on London Live 'without professional make up-artist'

Reuters

15/18 Andre Lampitt

Ukip forced to suspend the "poster boy" of its European election broadcast, after it was revealed he had posted a series of vile racist comments on Twitter

16/18 Expenses

Nigel Farage says he is taking taking legal advice over "outrageous" allegations that he is responsible for more than £50,000 of "missing" EU funding that was paid directly into his personal bank account

17/18 Have I Got News For You

Nigel Farage appears in Have I Got News For You, spends the entire episode being ridiculed over expenses and party 'fruitcakes'

BBC

18/18 Anti-gay comments

Local branch chairman for Ukip defends a party's councillor candidate Douglas Denny who called gay people "abnormal" and said he wished "they stop trying to ram it down my throat", all while discussing whether the word "sodomite" should be used
"We have really gone too far with all of this," he said.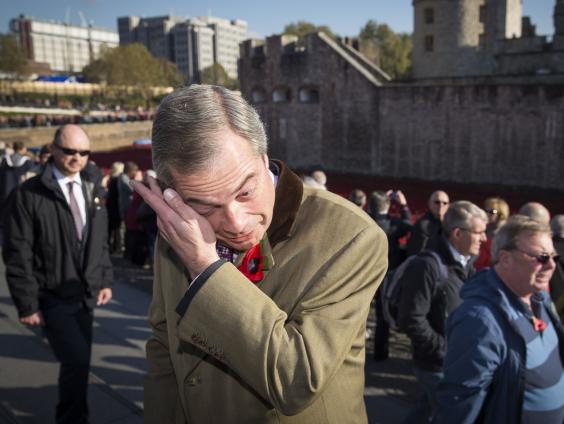 "There's a huge difference between people causing offence and people doing what Mike Read did and having a bit of fun.
 "Or the other day when David Cameron was photographed with some people who were blacked up."
Reuse content