Oscar Pistorius has been sentenced to five years in prison for killing his girlfriend, Reeva Steenkamp.
The disgraced runner, who was the first double amputee to compete in both the Olympics and Paralympics, had been found guilty of culpable homicide, the South African equivalent of manslaughter, at the end of a seven-month trial in September.
The 27-year-old's journey from being the celebrated "Blade Runner" to standing trial for shooting his girlfriend dead has captivated the world.
Today's outcome at Pretoria High Court is likely to be controversial.
Pistorius' lawyers had argued he would not be safe in any prison, which may have insufficient facilities for his disability, while prosecutors said anything less than a jail sentence would be "shockingly inappropriate".
How the biggest murder trial in the world unfolded
How the biggest murder trial in the world unfolded
1/19 Oscar Pistorius

On Valentine's Day, Pistorius was arrested and charged with murder after shooting girlfriend Reeva Steenkamp in what he claims was a case of mistaken identity on 14 January, 2013

AP

2/19 Oscar Pistorius

The couple had been dating for three months before the tragic shooting in the early hours of Valentine's Day

EPA

3/19 Oscar Pistorius

As the news of her death spread, world media descended on South Africa, where Pistorius enjoyed a national hero status after competing in the Olympics

GETTY IMAGES

4/19 Oscar Pistorius

Scene of the tragedy: the house where Oscar Pistorius lived in Silver Woods gated community

AP

5/19 Oscar Pistorius

Pistorius was released on bail of one million rand (£73,000) after pleading not guilty of murder

6/19 Oscar Pistorius

In his bail application, Pistorius argued he shot his girlfriend thinking she was an intruder coming out to attack him. The state insisted the shooting was "premeditated"

7/19 Oscar Pistorius

Pistorius is facing three separated charges in connection with two gun-related incidents, including possession of illegal ammunition and two counts of discharging a firearm in public. He denies all charges

EPA

8/19 Oscar Pistorius

Described as the "trial of the century" in South Africa, the Oscar Pistorius case has dominated world headlines

9/19 Oscar Pistorius

Pistorius arrives to the North Gauteng High Court in Pretoria ahead of his murder trial

10/19 Oscar Pistorius

An overcome Oscar Pistorius vomited in court as he listened to harrowing expert testimony about the autopsy of his girlfriend Reeva Steenkamp, whom he is accused of murdering

GETTY IMAGES

11/19 Oscar Pistorius

His court appearances have been dramatic with the athlete often breaking down in tears and vomiting

GETTY IMAGES

12/19 Oscar Pistorius

If found guilty of premeditated murder, Pistorius could spend the next 25 years in prison

13/19 Oscar Pistorius

Pistorius pictured arriving at the Weskoppies Psychiatric Hospital where he was ordered to undergo a 30-day psychiatric evaluation after an expert witness claimed he suffered from a generalised anxiety disorder. This was dismissed by a panel of independent experts.

GETTY IMAGES

14/19 Oscar Pistorius

Members of a Facebook supporters' group of Oscar Pistorius wait for him to arrive at court

15/19 Oscar Pistorius

Prosecutor Gerrie Nel has portrayed Pistorius as a reckless, young man with an inflated ego and a short temper

AFP

16/19 Oscar Pistorius

Defence counsel Barry Roux and his now famous "I put it to you" phrase have become an internet sensation

17/19 Oscar Pistorius

The fate of Oscar Pistorius now rests in the hands of judge Thokozile Masipa

AP

18/19 Oscar Pistorius

Judge Thokozile Masipa ruled out premeditated murder charge

POOLKIM LUDBROOK/AFP/Getty Images

19/19 Oscar Pistorius

Oscar Pistorius guilty of culpable homicide - and now faces up to 15 years in prison

Siphiwe Sibeko/AFP/Getty Images
Timeline: The Oscar Pistorius trial
February 14 2013 - Oscar Pistorius is arrested for questioning over the shooting of his girlfriend Reeva Steenkamp. She was found dead after being shot three times at the Paralympian's home in Pretoria, South Africa.
February 15 - Pistorius appears in court where he is formally charged with murder and told to return for a bail hearing within the next few days. He breaks down in tears. His father Henke, brother Carl and sister Aimee attend to support him.
February 16 - Reality television show Tropika Island of Treasure, which features an interview with Reeva Steenkamp, is aired in South Africa three days after she was shot dead. The South African Broadcasting Corporation dedicate the show to the former model.
February 18 - A South African newspaper reports that a bloody cricket bat was recovered from Pistorius's home.
February 19 - On the first day of the trial, Pistorius denies murdering his girlfriend, claiming he shot her thinking she was an intruder. He breaks down in tears on several occasions as prosecutors charge him with premeditated murder. On the same day, Reeva Steenkamp's funeral takes place in her home town of Port Elizabeth.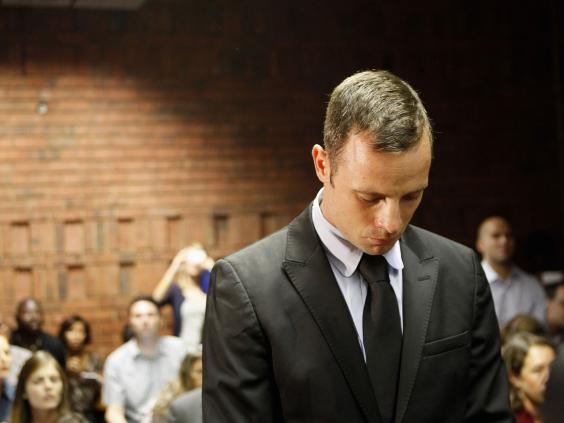 February 21 - The lead investigator in the case, Hilton Botha, is replaced after he is charged with seven counts of attempted murder.
February 22 - The magistrate grants the athlete bail at 1m rand (£72, 000) and he is ordered to hand over his passport and give up his firearms.
March 3 - Oscar pleads not guilty to murder and three unrelated firearms charges. Pistorius's neighbour Michelle Berger, the first witness on the stand, tells the jury she heard 'petrified and blood-curdling screams' before the noise of gunshots at around 3am on the night Reeva was killed.
March 10 - Pistorius vomits repeatedly in court after hearing graphic details describing Reeva's fatal injuries.
March 11- The athlete's former girlfriend, Samantha Taylor, stands as a witness and tells the court how a 'furious' Pistorius fired a gun out of a car sun-roof after being pulled over by police in September 2012.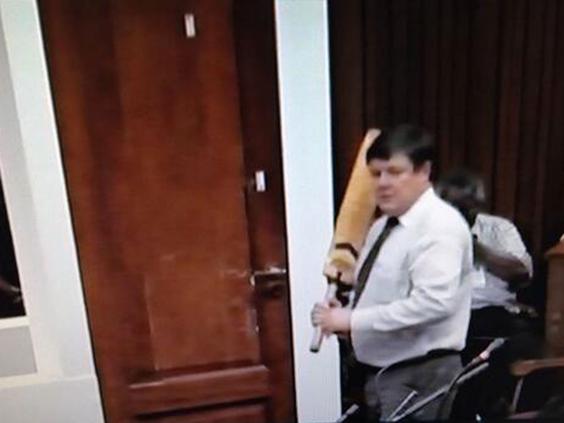 March 24 - Text messages between Miss Steenkamp and Pistorius are read to the court. The model describes how she was scared of him - "I'm scared of you sometimes and how you snap at me" - and in the weeks before her death his jealousy and short temper escalated.
April 8 - Pistorius howls and retches in court whilst describing how he shot Reeva.
April 14 - Fans stand outside of the court with banners and messages of support. Others held a circle of prayer for the Paralympian.  Fans, known as 'Pistorians', set up social media pages expressing further support.
April 15 - A South African newspaper reports that Pistorius was seen partying and flirting with women in Johannesburg during his bail period. Pistorius strongly denied that this was the case.
May 12 - It is suggested that the athlete be put under psychiatric observation after an expert says he has an anxiety disorder. The trial is set back once more.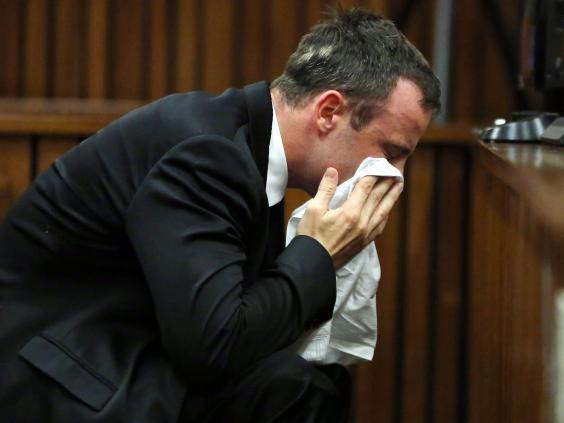 June 30 - After a six-week interruption a panel of psychiatrists and a psychologist conclude he is not suffering from a mental illness.
July 2 - A report is read out in court concluding that Pistorius is severely depressed and will have an increased suicide risk unless he gets mental health care.
August 8 - The trial concludes and a verdict is scheduled for September 11 2014.
September 11 - Judge Thokozile Masipa clears Pistorius of two different murder charges. In comments before lunch recess, Masipa says: "The state has not proved beyond reasonable doubt that the accused is guilty of premeditated murder. There are just not enough facts to support such a finding." At lunch, the proceedings are adjourned until the next day.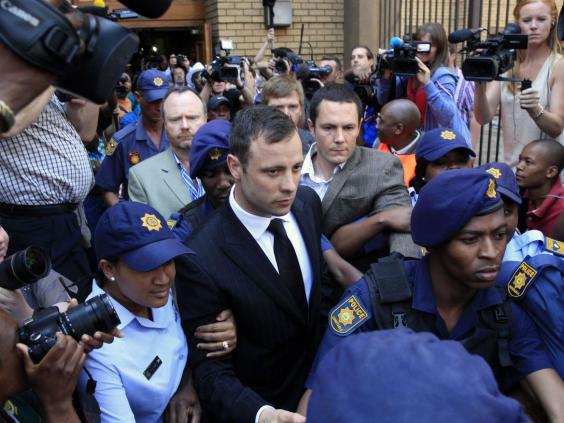 September 12 - Within an hour of the start of court proceedings, a guilty verdict is delivered for the offence of 'culpable homicide', the equivalent of manslaughter in English law. The judge adds that there was a reasonable possibility that Pistorius thought he was attacking an intruder rather than intending to kill Steenkamp, though acted with recklessness and negligence.
Reuse content