There are few moments in life as sweet as quitting a job you've come to loathe. But as resignation letters go, Chris Holmes' farewell note was sweeter than most. In April 2013, Mr Holmes, an immigration officer working for the Border Force at Stansted Airport, handed in his notice in a memorable fashion - by presenting his bosses with a resignation cake.
"Having recently become a father I now realise how precious life is and how important it is to spend my time doing something that makes me, and other people, happy," the then 31-year-old Mr Holmes explained in carefully piped black script on a sheet of white icing.
He added that he intended to dedicate his time and effort to his family and to Mr Cake, the cake-making business he had recently set up. Armed with a mixing bowl and a set of scales, the pastry maestro, from Sawston, Cambridgeshire, embraced his new alias and threw himself into the venture. And it seems Mr Holmes, aka Mr Cake, has alighted upon a way to have his cake and eat it – he's spending more time than ever with his son Ben, now two, and is enjoying a steady flow of orders from eager clients.
"Things are immeasurably better than before," Mr Holmes says. "I'm a full-time dad from Monday to Wednesday, then, during the second half of the week, I do my work and my wife Emma is in charge of childcare duties.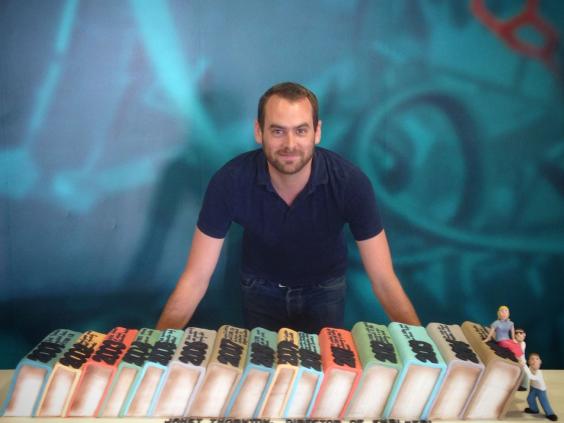 "I'm possibly regarded as the kind of cake maker that would take on the unconventional. I've got a bit of a reputation for doing cartoon animals. People have spotted those on my website and are immediately drawn to them," continues the baker, who specialises in wedding cakes.
"Some of the cakes I've got planned are very far out," the 33-year-old adds.  He's determined to keep the details of these projects under wraps but says one of his greatest accomplishments was catering for a pair of self-declared "chocaholics" who wanted something spectacular for their wedding day.
"They said: 'We are chocaholics so interpret that as you want and come up with a design for us.' I thought: 'What would be the most extreme chocolatey scenario?'"
The UK's favourite cakes
The UK's favourite cakes
1/8 Eccles Cake

Britain's most popular regional bake originates from the small town of Eccles, near Manchester. These 'dead fly pies' – so called due to the appearance of the currants – were first sold commercially by James Birch in 1793.

2/8 Bakewell Tart

Legend says that the first Bakewell Tart was made by accident. Apparently, the cook at the Rutland Arms pub in Bakewell messed up a strawberry tart she was making by adding the egg mixture on top of the jam.

3/8 Bakewell Pudding

In joint second place, the history of the Bakewell Pudding is disputed, but it is generally thought that the original version dates back to Tudor times. Packed with eggs, butter, milk, pounded almonds, sugar and breadcrumbs, it is luxurious enough to suit any nobleman's banquet.

4/8 Chelsea Bun

It is obvious why this came in the top three - sticky and sweet, and fresh out of the oven with a sprinkling of sugar, the Chelsea Bun is hard to beat. These currant buns were first created in the eighteenth century in the south London borough it is named after.

5/8 Yorkshire Curd Tart

Probably the closest Britain gets to a native cheesecake; curd tarts were traditionally made around Whitsuntide – the seventh Sunday after Easter – from left-over curds from the cheese making process.

6/8 Dundee Cake

A marmalade company, Keiller's, were the first people to mass-produce this rich fruit cake, which is typically decorated with almonds. According to legend, Mary Queen of Scots asked for this cake to be invented because she did not like glace cherries, which topped traditional fruit cakes.

7/8 Yorkshire Tea Cake

This fruit cake should be enjoyed with a good cuppa – Yorkshire Tea of course. It should not be confused with the teacake, a round bun which is usually cooked in a toaster.

Rex

8/8 Lardy Cake

These rich raisin and sultana bakes are native to the South West. As they are very fatty, the Lardy Cake is traditionally reserved for special occasions, such as holidays and harvest festivals.
The answer was a chocolate "volcano" constructed out of Flake bars and featuring a basin of molten milk chocolate "lava" which bubbled away thanks to an air pump Mr Holmes had fitted underneath. Despite the creativity and satisfaction his new occupation affords him, there are some downsides, Mr Holmes says. "There are huge amounts of washing up during busy periods which makes me grumble. I'm on my hands and knees scrubbing the kitchen floor as well as doing the more glamorous stuff."
However, he insists, the positives far outweigh the negatives. "I might roll my eyes for a second but I'm not commuting 45 minutes to the airport or sitting in front of a row of furious passengers who've been waiting for two hours," the cake maker says. "I'm doing what I want to be doing now."
While clients have been quick to praise Mr Holmes' prowess with a piping bag, the businessman says he has yet to win over his young son.
"Ben is not my most flattering critic," Mr Holmes admits.
"He's still getting to grips with language and unfortunately his pronunciation of cake comes out as 'cack'. Invariably he will walk in as I'm putting finishing touches on a cake, say 'cack' and walk out again."
'Postscript' will run in i every Saturday. If you would like us to return to someone who was in the news, please write to  i@independent.co.uk
Reuse content