Prince Harry looked quite relaxed while wrestling a 10ft-long crocodile in Australia.
The reptile's mouth had been bound shut by a more experienced crocodile catcher so presumably the life of the man fifth-in-line to the British throne was not in danger.
Photos released by the Northern Territory's Parks and Wildlife Commission showed one of the prince's previously unseen adventures during his tour of Australasia, which ended today.
He helped remove a saltwater crocodile from a trap during a trip to Darwin Harbour last month.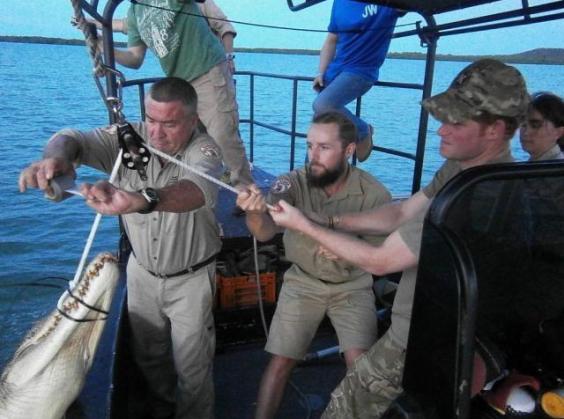 Senior ranger Tommy Nichols told News.com.au: "He seemed to have a great time and was relaxed and obviously has a great sense of humour."
Erin Britton, the wildlife ranger who had to tie the crocodile's snout, said she was "a little nervous" of the royal guest.
"But he was so easy-going that I relaxed pretty quickly," she added.
"There's no doubt he enjoyed the experience, taking plenty of photos with a huge smile."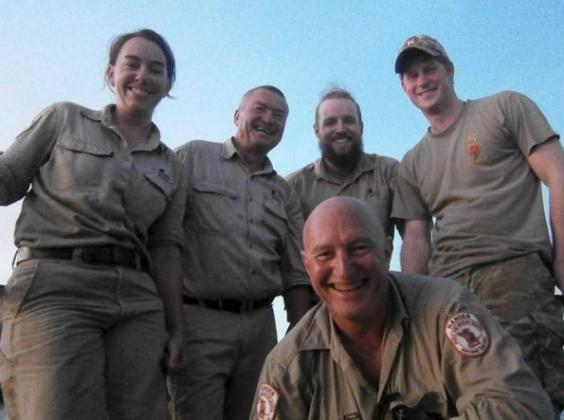 Crocodiles are common in parts of the Northern Territory and are removed from waterways used for boating and fishing to minimise the risk of attacks.
More than 200 are taken out of Darwin Harbour every year and taken to farms or killed, according to Parks and Wildlife Commission figures.
Prince Harry, who is leaving military service next month, was in Australia for a secondment with the army, where he learnt bush survival skills, flew a helicopter and worked with SAS commandos.
He went on to visit New Zealand, where he has performed the haka, learned Maori, commemorated Gallipoli and met the Prime Minister.
The royal took part in a five-a-side football match as his tour ended today to promote the Fifa Under-20 World Cup, scoring a last-minute goal.
"I think it's unfair to put a highlight on such an amazing trip," the prince said when asked to name one. "It has been fantastic."
He is returning to the UK today, laden with gifts for his baby niece, Princess Charlotte.
Additional reporting by PA