It took less than 24 hours and fewer than 140 characters for Comedy Central's newest superstar to become its latest hot-button controversy. On Monday, the channel named a little-known South African comedian, 31-year-old Trevor Noah, as the next host of The Daily Show.
Under Jon Stewart, its frontman since 1999, Comedy Central's flagship programme has become known as a beacon of sensible comedic commentary in the untamed landscape of 21st-century news. "I'm thrilled for the show and for Trevor," said Stewart, who recently announced he would step out from behind The Daily Show's desk later this year. "He's a tremendous comic and talent."
To judge by the initial response on social media, its largely liberal viewership was as thrilled as Stewart to learn that The Daily Show would soon be presented by a polyglot, biracial South African – even one who has appeared on the programme only three times.
But this is the internet in 2015, where no news cycle is complete without a burst of online outrage, however minor the incitement. And so, within hours, enterprising web users, mining Noah's Twitter feed for micro-stories, had unearthed a selection of bad jokes about Jewish people and women that he posted several years ago. "South Africans know how to recycle like Israel knows how to be peaceful" was one. "Manchester United is like a white girl. Heavy up front but lacking in the back" was another.
That was the tip of a small iceberg of ill-advised gags among Noah's 8,000-plus tweets since 2009, on an account that now boasts more than two million followers. They provoked anger from those who found them offensive, and disappointment from those who found them less than funny. The criticism of Noah spanned the political spectrum, from feminist bloggers to Fox News, where one commentator suggested he was "a lousy fit for an American audience" – as if the audience for Fox News shared a point of view with that of The Daily Show.
On Tuesday, Comedy Central responded by backing its man. "Like many comedians, Trevor Noah pushes boundaries; he is provocative and spares no one, himself included," the channel said in a statement. "To judge him or his comedy based on a handful of jokes is unfair. Trevor is a talented comedian with a bright future at Comedy Central." Noah addressed the issue personally with a tweet – this one carefully worded. "To reduce my views to a handful of jokes that didn't land is not a true reflection of my character, nor my evolution as a comedian," he said.
Fellow comics rushed to his defence. Seth MacFarlane, no stranger to controversy, wrote: "Corporate pollution. Mass incarceration. Animal abuse. These are things to be offended by. Not Trevor Noah's Twitter feed." Patton Oswalt posted a satirical, 53-tweet tour de force, attacking the knee-jerk offence-takers and climaxing: "Welcome to comedy in 2015, @Trevornoah!"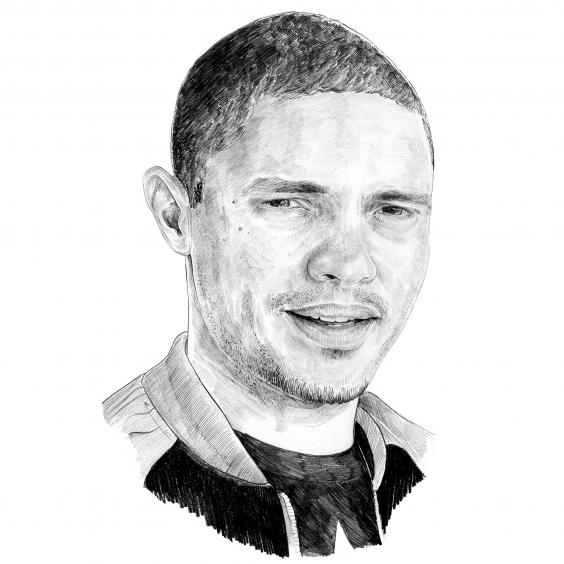 Daily Show correspondent Aasif Mandvi described the uproar as "Much ado about nothing". In an appearance at a LinkedIn event in New York, Mandvi said: "The guy made some off-colour, irresponsible tweets, but he was trying to be funny... There's going to be a presidential candidate 25 years from now; are we going to go back and look at his Twitter feed from when he was 14 years old? Because it's going to have a lot of really stupid things in there."
Until those "off-colour" tweets began to circulate, Noah's progressive credentials seemed unimpeachable. His father Robert is white and Swiss-German, his mother Patricia black, Xhosa and half-Jewish. In apartheid South Africa in 1984, as Noah has joked in his stand-up routines, his very birth was "a crime". His childhood was spent in segregated Johannesburg, between Patricia's home in the Soweto township and Robert's apartment in an all-white neighbourhood, where his mother was forced to pose as the housemaid.
His mixed upbringing gave the young Noah an outsider's attitude, even in his home country. He speaks six languages, including German, Xhosa and Afrikaans. In a 2011 documentary, You Laugh But It's True, he said of himself: "You've lived everywhere and nowhere. You've been everyone and no one. So you can say everything and nothing." (Not quite everything, as it turns out.)
Noah first came to public notice in South Africa as a cast member in a television soap opera. In 2008, he was the runner-up in the country's version of Strictly Come Dancing. But during his twenties he pivoted from acting to stand-up comedy, a medium that until recently was unfamiliar to most non-white South Africans. Noah has joked that his father, being a German speaker, was also baffled by the concept of stand-up, and thought his son had taken up a career in clowning.
Without many local role models, Noah was influenced by American comics such as Eddie Murphy and Chris Rock. In 2009, his first full-length comedy show, The Daywalker, became a national hit. Audiences loved the funny stories about his offbeat upbringing and his astute observations about Unicef fundraising commercials, not to mention his mean impression of a drunk Nelson Mandela. Before long, he was touring the US, where he became the first South African comedian to appear on The Tonight Show with Jay Leno, and on Late Show with David Letterman.
Leno left The Tonight Show last year and Letterman, like Stewart, is on his way out. For US audiences, Noah's elevation is the newest development in the ongoing upheaval of the late-night TV schedule. John Oliver, the British former Daily Show correspondent, has enjoyed success as the host of his own weekly HBO variant, Last Week Tonight. James Corden, another British expat, has flourished in his first fortnight as the host of The Late Late Show on CBS.
Like Oliver and Corden, Noah is young, foreign and all but unknown to most American viewers. In fact, he's the youngest of all, at 31 – and the most foreign, as was made clear in his debut Daily Show appearance, when Stewart played along with a series of comic misapprehensions about Africa. "To a lot of Americans, Africa is just one giant village full of Aids huts and starving children who you can save for just five cents a day," Noah responded. It is that sort of edge which has probably endeared him to his new employers, who are well aware that to be a success he will have to do more than just tell jokes. The Daily Show requires heavyweight presence almost as much as one-liners.
The precise moment at which Stewart will pass the baton to his new protégé is still undecided, though the handover is expected sometime this summer. That will give Noah little time to prepare for the biggest story of this year and next: the 2016 US presidential election. Stewart's perspective on the race will be missed, but Noah's will be nothing if not fresh.
When President Obama was elected in 2008, joyful Kenyans filled the streets of Nairobi. And it seems that news of Noah's appointment transcended political boundaries back home in South Africa, where the Democratic Alliance opposition party felt obliged to issue a statement. A South African Daily Show host, they said, "is a big achievement, not only for South Africa but the continent".
If they were familiar with his Twitter history, then they chose not to mention it.
A life in brief
Born: 20 February 1984, Johannesburg, South Africa.
Family: His mother is black and half-Jewish, and his father is white. The composition of his family was illegal and hidden from the apartheid authorities.
Education: Attended Maryvale College secondary school in Johannesburg. Began acting from the age of 18.
Career: He has toured his comedy across South Africa. In 2013 he was the first South African comedian to perform on The Tonight Show with Jay Leno.
Reuse content