René Laennec, a French doctor and inventor was born 235 years ago today, and Google has marked his birthday with a Doodle.
Dr Laennec's importance to modern medicine was guaranteed by his invention of the very first stethoscope in 1816.
Here are five things you (probably) didn't know about him:
1. Dr Laennec's stethoscope bears little semblance to the modern stethoscope.
Unlike those used today, Dr Laennec's stethoscope was not a set of ear pieces connected by a plastic tube to a chest piece.
His stethoscopes were simple cylinders made from wood and metal.
The doctor using it would simply place it directly over the area in question and listen at the other end.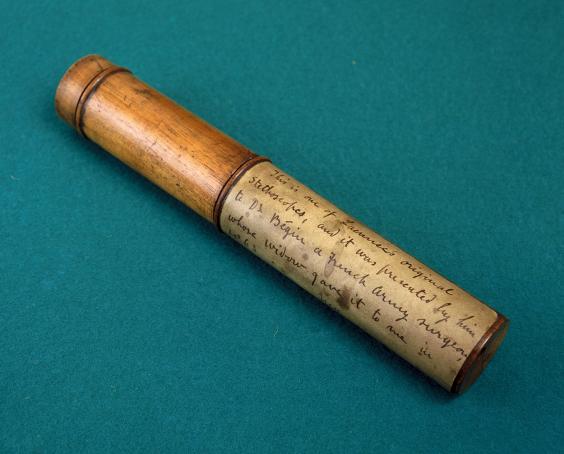 2. His first stethoscope was a rolled up piece of paper
Described in his 1819 treatise on this device, Dr Laennec invented the stethoscope while treating a young woman suffering from symptoms of heart disease.
Due her being overweight, he was unable to study the heartbeat using usual methods.
On listening through a rolled up piece of paper, however, he found the sound clearer and more distinct.
3. The stethoscope was not his only contribution to medical science
In addition to his study of chest diseases, Dr Laennec made significant strides in the understanding of peritonitis and cirrhosis.
He coined the term melanoma, a common type of skin cancer; and the mucus brought up by asthmatics is named "Laennec's pearls" in his honour.
Google Doodles
Google Doodles
1/40 Seven earth-sized exoplanets discovered

Google Doodle celebrates Nasa's discovery of seven earth-sized exoplanets in new solar system

Google

2/40 Bessie Coleman

Google Doodle honours the first African American woman to get an international pilot licence on her 125th birthday

Google

3/40 Caroling

Google Doodle celebrates Christmas caroling

Google

4/40

Today's Google Doodle features activist Steve Biko

Google

5/40 Walter Cronkite

Google celebrates Walter Cronkite's 100th birthday

6/40 Ladislao José Biro

Google celebrates Ladislao José Biro 117th birthday

7/40 Google

Google celebrates its 18th birthday

8/40 The history of tea in Britain

Google celebrates the 385th anniversary of tea in the UK

9/40 Autumnal equinox 2016

Google marks the start of fall

10/40 Paralympics 2016

Google marks the start of the Paralympic Games 2016

11/40 Nettie Stevens

Google celebrates Nettie Stevens 155th birthday

12/40 Father's Day 2016

Google celebrates Father's Day

13/40 Elizabeth Garrett Anderson

Google celebrates Elizabeth Garrett Anderson 180th birthday

14/40 Earth Day 2016

Google celebrates Earth Day

15/40 Ravi Shankar

Google marks Pandit Ravi Shankar's 96th birthday

16/40 Olympic Games in 1896

Google are celebrates the 120th anniversary of the modern Olympic Games in 1896

17/40 World Twenty20 final

Google celebrates the 2016 World Twenty20 cricket final between the West Indies and England with a doodle

Google

18/40 William Morris

Google celebrates William Morris' 182 birthday with a doodle showcasing his most famous designs

Google

19/40 St Patrick's Day 2016

Googlle celebrates St Patrick's Day on 17 March

20/40 Caroline Herschel

Google marks Caroline Herschel's 266th birthday

Google

21/40 Clara Rockmore

Google celebrates Clara Rockmore's 105th birthday

22/40 International Women's Day 2016

#OneDayIWill video marks International Woman's Day on 8 March

23/40 St David's Day 2016

Google marks St David's Day

Google

24/40 Leap Year 2016

Google celebrates Leap Day on 28 February 2

Google

25/40 Lantern Festival 2016

Google celebrates the last day of the Chinese New Year celebrations with a doodle of the Lantern Festival

Google

26/40 Stethoscope Inventor, René Laennec

Google celebrate's René Laennec's 235th birthday

27/40 Valentine's Day 2016

Google celebrates Valentine's Day with a romantic Doodle

28/40 Dmitri Mendeleev

Google celebrate Dmitri Mendeleev's 182nd birthday

29/40 "The televisor" demonstartion

Google Doodle celebrates 90 years since the first demonstration of television or "the televisor" to the public

30/40 Professor Scoville

Google marks Professor Scoville's 151st birthday

31/40 Sophie Taeuber-Arp

Google marks Sophie Taeuber-Arp's 127th birthday

32/40 Charles Perrault

Google celebrates author Charles Perrault's 388th birthday

33/40 Mountain of Butterflies discovery

Google celebrates the 41st anniversary of the discovery of the Mountain of Butterflies

34/40 Winter Solstice 2015

Google celebrate the Winter Solstice

35/40 St Andrew's Day 2015

Google marks St Andrew's Day with doodle featuring Scotland's flag and Loch Ness monster

36/40 41st anniversary of the discovery of 'Lucy'

Google marks the 41st anniversary of the discovery of 'Lucy', the name given to a collection of fossilised bones that once made up the skeleton of a hominid from the Australopithecus afarensis species, who lived in Ethiopia 3.2 million years ago

37/40 George Boole

Google marks George Boole's 200th birthday

38/40 Halloween 2015

Google celebrates Halloween using an interactive doodle game "Global Candy Cup"

39/40 Prague Astronomical Clock

Google celebrates the 605th anniversary of the Prague Astronomical Clock, one of the oldest functioning timepieces in the world

40/40 Autumnal Equinox 2015

Google marks the autumnal equinox on 23 September
4. Dr Laennec's nephew used a stethoscope to diagnose Laennec himself with tuberculosis
Tuberculosis, a disease he had studied, was first diagnosed in his own body by his nephew Mériadec Laennec using the former Dr Laennec's stethoscope.
5. He has a flowery middle name
Dr Laennec's full name is as follows: René-Théophile-Hyacinthe Laennec.
Reuse content