Britain's most influential poker player – who grew up on a council estate and emerged from two spells in prison to reinvent himself as one of the highest-earning professional gamblers – has died aged 61.
Dave Ulliott – nicknamed "Devilfish" by fellow poker player Stephen Au-Yeung – was diagnosed with colon cancer this year. Born in Hull, he was known for his orange-tinted sunglasses, sharp suits and gold knuckleduster rings reading "Devil" and "Fish", which he made himself.
News of his death broke last night on social media after  his son David wrote: "Unfortunately Dad, Dave 'Devilfish' Ulliott, lost his battle with cancer today and died peacefully surrounded by his  loved ones."
During a professional career spanning more than four decades, the charismatic gambler accumulated more than  £4m in professional winnings. His credentials included a World Series of Poker bracelet in 1997 and a World Poker Tour title in 2003 in which he beat the American champion Phil Ivey.
"In his heyday, Mr Ulliott was in poker's premier league," said The Independent's poker correspondent, Nic Szeremeta. "On the table he cultivated an aggressive image and thrived at being the centre of attention. At a time when the winnings were not as large as they are now, the Devilfish remains certainly the most influential Briton in poker, if not the highest earning."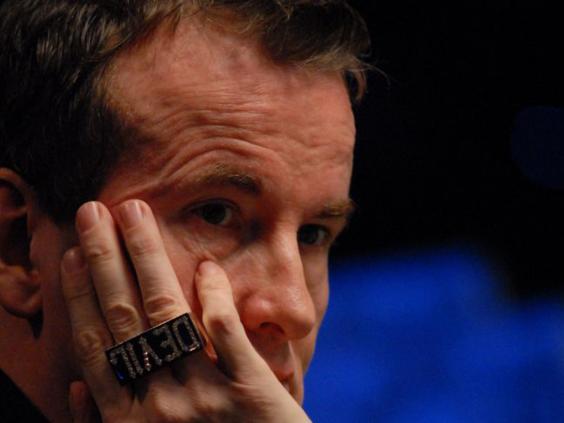 Ulliott's rise to fame was accelerated by the cult Channel 4 series Late Night Poker in 1999, in which his extraordinary skills were demonstrated to millions of viewers by "under the table" cameras that displayed the cards.
His rise to fame is all the more unusual given his beginnings. He grew up on a council estate in Hull and left school at 15, without any O-levels, to take his first job, making trophies. His playing career, which started in the hallowed halls and casinos of Hull, was nearly torpedoed  by two spells in prison thanks to unsavoury associates he kept in the gambling and criminal underworld.
Reflecting on his career in 2010, he said: "Now, I only play at live tournaments or at private games in Vegas. There's no danger: no seedy back rooms, no guns, no fire escapes. But the stakes are higher in Vegas than in Europe, and that's why I still get the buzz. And because of my tough life, I've realised that no matter what happens, nobody can break me inside. A good player can't have nerves. I lost mine a long time ago."
The former snooker champion Jimmy White wrote last night: "RIP Devilfish. Greatest character in poker and a good friend."
Ulliott is survived by his wife, Anpaktita, and eight children.
Reuse content