Kanye West is a polarising individual. Personally I've come full circle and think Yeezus is a great record and admire the rapper's anger and keen sense of disgust, but it's fair to say he has as many detractors as admirers.
One of them made loser.com redirect to his Wikipedia entry this week, presumably a Beck reference as Loser is his most famous song.
Jerk.com and Plum.com still show pretty dated websites though if anyone fancies a buy-out.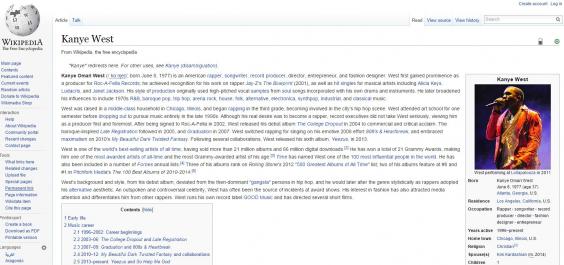 In the face of fresh criticism following his second award ceremony stage storm last month, Yeezy announced the name of his new album yesterday.
There is no release date for 'So Help Me God' yet, which he claims will feature "music that just feels good".
Kanye West's greatest self comparisons
Kanye West's greatest self comparisons
1/12 God: "I am God's vessel. But my greatest pain in life is that I will never be able to see myself perform live."

Getty

Getty

2/12 Steve Jobs: "I think what Kanye West is going to mean is something similar to what Steve Jobs means. I am undoubtedly, you know, Steve of Internet, downtown, fashion, culture. Period. By a long jump."

Getty

David Paul Morris/Getty Images

3/12 Walt Disney: "I'm more of a Walt Disney or something. Rap is just a chamber of my thoughts. [They're] something that I really wanted to express as a modern day poet."

Getty

Getty

4/12 Braveheart: "I feel like a little bit, like, I'm the Braveheart of creativity."

Getty

5/12 Willy Wonka: "I want to be as unrealistic as possible. The worst thing about me comparing myself to Steve Jobs in that it's too realistic of an idea. What I need to stay is I'm more like Willy Wonka."

Getty

Getty

6/12 Picasso: "No matter how they try to control you, or the motherfucker next to you tries to peer pressure you, you can do what you motherf**king want. I am Picasso."

Getty

Getty

7/12 Hermés: "Visiting my mind is like visiting the Hermès factory. S**t is real."

Getty

Getty

8/12 Michelangelo: "When I think of competition it's like I try to create against the past. I think about Michelangelo and Picasso, you know..."

Getty

Getty

9/12 The Pyramids: "... the pyramids."

Getty

Getty

10/12 Thomas Edison: "I am Thomas Edison."

Getty

Getty

11/12 Soldiers: "You're literally going out to do your job every day knowing that something could happen to you."

Getty

Getty

12/12 The Police: "This is like being a police officer or something."

Getty

Getty Images
"My last album was a protest of music," he said. "This album's just embracing the music, embracing joy, and just being of service to the people."
The album is part of a new positivity kick he seems to be on, having recently made a public apology to Beck.
Reuse content