Stephen Fry has confessed he deliberately leaked false information about his wedding to Elliott Spencer to the press in bid to throw reporters off the scent.
In his first TV interview since tying the knot in a private ceremony in Dereham last month, the QI host told The Jonathan Ross Show : "We chose it because it's a small market town, they call it 'the Heart of Norfolk' that's it's little slogan and a wonderful, wonderful registrar had taken it upon herself with a great deal of pride.
"They decided that our wedding should be private and the wonderful [registrar] Linda put a false date into the computer in case it was being hacked or in case there was a mole within the borough.
"It meant that Elliot and I were able to be conjoined without any photographers or journalists which was really nice."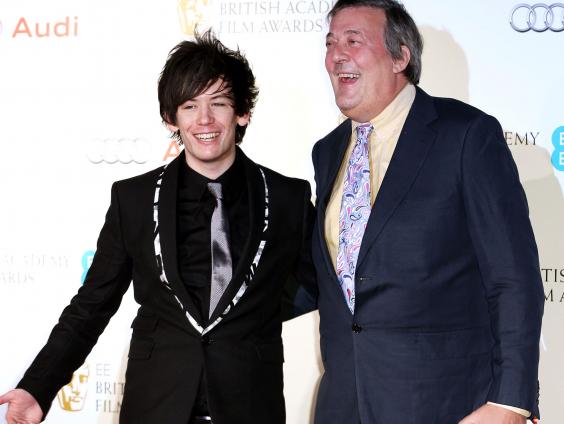 Speaking of the romantic moment he first clapped eyes on the comedy writer, Fry said: "We met at a friend's house and I knew pretty much straight away that this was someone I wanted to spend, what I considered, the rest of my life with.
"Whether he thought the same because he's got rather a lot more to go than me."
"I kind of knew that he'd say yes," he added of the proposal. "We'd kind of danced around the subject.
Stephen Fry's Finest Quotes
Stephen Fry's Finest Quotes
1/19 On Being Bipolar

"There's a moment in the film where I recognised that this was the last moment we filmed before this wave of depression came over me, and I was idiotic or victim enough, or whatever one wants to call it, of this mad compulsion."

Getty Images

2/19 On Taking Cocaine At Buckingham Palace

"I take this opportunity to apologise unreservedly, to the owners, managers or representatives of the noble and ignoble premises and to the hundreds of private homes, offices, car dashboards, tables, mantelpieces and available polished surfaces that could so easily have been added to this list of shame."

3/19 On His Age

"I don't need you to remind me of my age. I have a bladder to do that for me."

4/19 On Swearing

"It would be impossible to imagine going through life without swearing and without enjoying swearing."

Getty Images

5/19 On TV

"I don't watch television. It destroys the art of talking about oneself."

PA

6/19 On Happiness

"Having a great intellect is no path to being happy."

7/19 On Technology

"One technology doesn't replace another, it complements. Books are no more threatened by Kindle than stairs by elevators."

PA

8/19 On Being On Stage

"You are who you are when nobody's watching."

Geraint Lewis

9/19 On Education

"Education is the sum of what students teach each other between lectures and seminars."

Getty Images

10/19 On Creativity

"An original idea. That can't be too hard. The library must be full of them."

Getty

11/19 On Journalism

"Many people would no more think of entering journalism than the sewage business - which at least does us all some good."

PA WIRE

12/19 On Love

"Love in all eight tones and all five semitones of the word's full octave."

PA

13/19 On The English Accent

"A cut glass English accent can fool unsuspecting Americans into detecting a brilliance that isn't there."

REX

14/19 On Being An Author

"I get an urge, like a pregnant elephant, to go away and give birth to a book."

15/19 On Homosexuality

"I've never wanted one extra gay person in the world, there are plenty of us around."

Susannah Ireland / The Independent

16/19 On Christmas

"Christmas to a child is the first terrible proof that to travel hopefully is better to arrive."

17/19 On Clichés

"It is a cliché that most clichés are true, but then like most clichés, that cliché is untrue. Sticks and stones may break my bones, but words will always hurt me."

BBC

18/19 On Smoking

"I think I have always linked smoking and sex. Maybe this is where I have been going wrong all my life."

Getty Images

19/19 On Homophobia

"Homosexuals are not interested in making other people homosexuals. Homophobes are interested in making other people homophobic."
 "I bought a ring and waited for him to pop off to the loo and put the ring on the prongs of a fork so that he would see it as he started to eat. I thought it would be charming.
"Of course he came back and he started chatting and he started playing with the fork and I thought, 'For God's sake look at the fork' – you don't really ever look at forks do you?
"I thought, 'He's going to pick it up and the ring is going to fly off into that lady's soup…' But fortunately he just in time caught sight of it and it was a very teary and splendid moment."
He remained coy, however, over any further post-wedding plans.
"We are going off to a secret location, as honeymoons must be," he said.
Spencer and Fry pair made their first official appearance as a married couple at a BAFTA nominees party at Kensington Palace on Saturday.
Reuse content