The nation has come together to give a "Thumbs Up" in memory of teenager Stephen Sutton, who helped to raise £4 million in the fight against cancer.
Hundreds of people gathered outside the West Door of Lichfield Cathedral on Friday to celebrate the work of the 19-year-old, who died from the disease on 14 May.
At the strike of the 11th bell at 11am, everyone present put their thumbs up, followed by a minute of applause.
And as the clapping died away, a lone voice from the crowd cried "Go Steve", and a huge cheer went up.
The Staffordshire cathedral is host to a two-day vigil for the teenager, whose white coffin was Thursday witnessed by 7,000 mourners in what the Dean of Lichfield, the Very Revered Adrian Dorber, called a "phenomenal" display of human unity, for the man he said "has become everybody's favourite son around here".
Stephen Sutton Funeral and Vigil - In Pictures
Stephen Sutton Funeral and Vigil - In Pictures
1/10 Stephen Sutton Funeral

Members of the public look in from outside the vigil of Sutton.

2/10 Stephen Sutton Funeral

Sutton's coffin is taken into the cathedral.

3/10 Stephen Sutton Funeral

Sutton's coffin arrives ahead of the opening ceremony of his vigil at Lichfield Cathedral.

4/10

A colourful crowd of mourners wear costumes to ensure that the occasion is a "sunshine celebration" as Sutton wanted.

5/10 Stephen Sutton Funeral

The public clap as Sutton's procession is transported to Lichfield Cathedral.

6/10 Stephen Sutton Funeral

Abigail Smith, aged four, waits for the funeral cortege of Stephen Sutton to pass by on its way to Lichfield Cathedral for a vigil.

7/10 Stephen Sutton Funeral

A member of the public holds a yellow rose outside Lichfield Cathedral.

8/10 Stephen Sutton Funeral

Crowds gather outside Lichfield Cathedral before Sutton's coffin arrives.

9/10 Stephen Sutton Funeral

10/10 Stephen Sutton Funeral

Candles are lit in memory of Sutton at Lichfield Cathedral.
And elsewhere, individuals throughout the UK took to social media to express their support and celebrate the life of Stephen.
Under the hashtag #ThumbsUpForStephen, groups from all walks of life posted their own "Thumbs Up" pictures on Facebook and Twitter.
Stephen's mother, Jane Sutton, had earlier asked the public to join in the social media "thunderclap".
"Or you could give the thumbs up to a stranger, have a cup of tea and a slice of cake, think a positive thought, clap, cheer, or even perform a random act a kindness," she wrote on the Stephen's Story Facebook page.
"Do something that makes you and others happy in Stephen's memory."
Staff at Tesco in #Lichfield giving a #ThumbsUpForStephen pic.twitter.com/j7QHYPQJ8X

; Lichfield Live (@LichfieldLive) May 30, 2014
Here's the @skynews crew & our #thumbsupforstephen pic.twitter.com/9VHUQXzTr2

; Lisa Dowd Sky News (@LisaSkyNews) May 30, 2014
We're all thinking of #stephensstory's family today. What an inspiration! #ThumbsUpForStephen pic.twitter.com/xgQgxl5zuo

; MacmillanCancerInfo (@mac_cancerinfo) May 30, 2014
Here's our #ThumbsUpForStephen to celebrate Stephen Sutton's incredible achievements and positivity! pic.twitter.com/P0eqQTEGXi

; Dogs Trust (@DogsTrust) May 30, 2014
Our crews have their #ThumbsUpForStephen –celebrating the inspirational life of Stephen Sutton http://t.co/ULY1cBOxh4 pic.twitter.com/GGt2apIxCj

; RNLI (@RNLI) May 30, 2014
Before his death, Stephen, who was diagnosed aged just 15, said: "I don't see the point in measuring life in terms of time any more.
"I'd rather measure life in terms of making a difference."
Teenage Cancer Trust chief executive Siobhan Dunn said Stephen's name would "never be forgotten" because it would live on through the charity's work.
She added: "I think it's really important there's a public celebration of Stephen's life and I think that's exactly what he would have wanted."
Paying tribute at Thursday's service, the Dean of Lichfield told gathered mourners that Stephen "in his all too brief life" had taught "how to make the unacceptable beautiful".
"He chose to share his exuberance with us, not his pain," he added.
"Stephen's been an inspiration and we all want to share in the sense of grateful, hopeful possibility."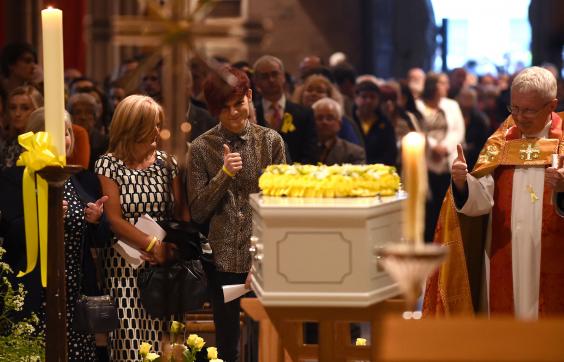 Turning to the purpose of the vigil, he said: "Rituals and gestures don't change the world by themselves.
"But they can change us, and we can change the world."
Additional reporting by Press Association
Reuse content