Another high-profile split is now gracing the front page of tabloids now that Taylor Swift and Tom Hiddleston have brought their very public love story to an abrupt end. 
Tabloids welcomed the couple with open arms after Notebook-worthy kisses on a beach, a front-page Kodak moment if there ever was one, before the pair embarked on a European grand tour together. 
The spectacle quickly descended into parody, Hiddleston debuted his infamous 'I love TS' vest, conspiracy theories the blossoming romance was merely an elaborate music video went into overdrive and Hiddleswift were mocked mercilessly by the public and their peers alike. 
In an interview after being nominated for an Emmy, Hiddleston defended their union, insisting it was authentic. "How best to put this? That notion is — look, the truth is that Taylor Swift and I are together, and we're very happy," he told the Hollywood Reporter. "Thanks for asking. That's the truth. It's not a publicity stunt."
Swift's A-list status is already cemented in stone and this is not her first public break-up. But what lies in store for Hiddleston, lesser well-known but with a profile boosted by his time with Swift, after three months of ridicule and over-exposure? The Washington Post argues Hiddleston will have to work hard to restore his credibility. "While his profile is arguably higher than ever after their romance," writes Emily Yahr, "he'll still have to regain some of the credibility and box office draw he had as a serious British actor and Marvel supervillain." 
Celebrity couples who met on film sets
Celebrity couples who met on film sets
1/7 Alicia Vikander and Michael Fassbender

The couple met on the set of The Light Between Oceans

Getty

2/7 Eva Mendes and Ryan Gosling

The couple met on the set of The Place Beyond The Pines

Getty

3/7 Penelope Cruz and Javier Bardem

The couple starred in Jamon Jamon in 1992 and began dating in 2007

AFP/Getty Images

4/7 Jenna Dewan and Channing Tatum

The couple met on the set of the 2006 film Step Up

Getty

5/7 Blake Lively and Ryan Reynolds

The couple met on set of the 2011 movie Green Lantern

Getty

6/7 Miley Cyrus and Liam Hemsworth

The teen couple met filming the 2010 film The Last Song

Getty

7/7 Claire Danes and Hugh Dancy

The couple met on the set of Evening in 2006

Getty
Mark Borkowski, a British PR expert and publicist for more than 30 years, says the split will have little effect on Swift, but Hiddleston's team will need to assist him in stepping out of the Hiddleswift shadow. Mr Borkowski told the Independent: "In an age where you are an A-lister and you don't break news of your relationship by doing something so high-profile as being snapped by paparazzi, because A-listers value privacy above all else, they were obviously playing with it for a good deal of time. Then the whole thing unraveled a week before the Emmys. 
"Hiddleston is an incredible actor who could be a major player but doing it the Kardashian way, if it is to be viewed as that, where all publicity is good publicity, means he has to start lying low now. His people will be trying to get him an amazing script next so acting can do the talking again rather than headlines. He is a credible actor, but this wasn't very credible. But those saying this damages his brand is rubbish. Nothing destroys you, it's what you do next that matters." 
Swift's splits also provide an interesting insight into the tabloid spin machine and the way 'sources' for each camp jump into action in attempts to shape the narrative, as four of her most high-profile relationships demonstrate. 
When Swit split with DJ Calvin Harris, a "friend" of Swift's told People: "[Harris] said on multiple occasions that he was intimidated by Taylor, which is why he would not attend any events where she was being honoured, or any award shows unless he was nominated."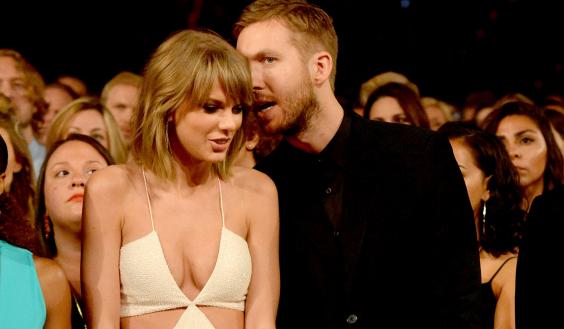 A "source close to" Harris told the same magazine: "It wasn't an equal relationship. Their age difference might not be significant for many couples, but for them it was part of the problem too. Taylor somewhat lacks real-life experience. They will not be getting back together." 
Similarly, the sources quoted over Hiddleswift also diverge in their accounts of the break-up. 
A "source close to the couple" told Us Weekly: "She was the one to put the brakes on the relationship. Tom wanted the relationship to be more public than she was comfortable with. Taylor knew the backlash that comes with public displays of affection but Tom didn't listen to her concerns when she brought them up." 
Meanwhile, a "source close to the couple" told People: "It was an amicable split."
A spokesperson for Hiddleston declined to comment. Swift's representative did not respond. 
Reuse content