Philanthropist. Military strategist. The reason why British people have lost faith in the benefits system.
Tony Blair has been called many things of late. But 'top gay icon' is a label few were perhaps expecting.
The former British Prime Minister has found himself named among a list of the most influential figures to the LGBT community in the last 30 years, in which he stands shoulder-to-shoulder with the likes of Boy George, Sir Ian McKellen, Barbra Streisand and the late Joan Rivers, who was interviewed just a week before she underwent her fateful operation.
He was awarded the prestigious honour by the Gay Times, which compiled its spear-heading chart to mark the publication's 30th anniversary.
Gay Times Top 30 gay icons of the last 30 years
Gay Times Top 30 gay icons of the last 30 years
1/28 Stephen Fry

2/28 Barbra Streisand

3/28 Ian McKellen

4/28 Joan Rivers

5/28 Tony Blair

Getty

6/28 Conchita Wurst

7/28 Elizabeth Taylor

8/28 Bette Midler

GETTY IMAGES

9/28 Holly Johnson

10/28 Madonna

11/28 Bea Arthur

12/28 Boy George

13/28 Mark Gatiss

14/28 Julian Clary

15/28 James Dreyfus

16/28 Annie Lennox

17/28 RuPaul

18/28 Divine

19/28 Lord Michael Cashman

20/28 Leslie Jordan

21/28 James Sutton

22/28 Nelson Sullivan

23/28 Eric McCormack

24/28 Neil Patrick Harris

25/28 Justin Fashanu

26/28 Andy Bell

27/28 Cher

28/28 Jennifer Saunders
He even features as a cover star for an electronic version of the magazine, available to download today (26 September).
But it's not the first time he's appeared on the cover. In March 1997, when he was still the leader of the opposition, the Gay Times launched their issue featuring a stylised shot of the politician.
He is an ex-alumni, too, having penned a piece for the magazine in the run up to the General Election in 2005.
While he was in office, Blair oversaw the legal lowering of the age of homosexual consent to bring it in line with straight couples, and the repeal of Section 28 - the Local Government Act that prohibited authorities in England and Wales from "promoting" homosexuality and labelled gay family relationships "pretend".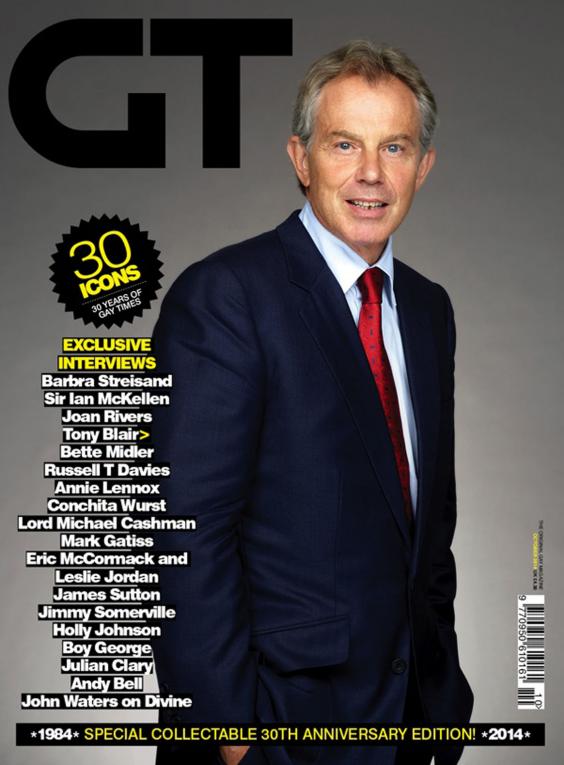 He also introduced the idea of civil partnerships.
"It's something I'm very proud of," Blair said of the accolade. "I consider it a significant part of my legacy. I remember Section 28, that was pretty nasty.
"It created a very ugly atmosphere in society - as I was growing up in politics, I disliked the hypocrisy where people had to conceal their own identity. And I saw the pain that they had in their own lives, because they couldn't be who they were."
"Wherever you stand politically, you'd be hard pushed to deny what Tony Blair and his government did for the LGBT community," editor Darren Scott added.
"He definitely helped paved the way, and for that I'm grateful."
Perhaps pre-empting a similar backlash to that received by British GQ, after they named Blair their Philanthropist of the Year at the GQ Awards earlier this month, the magazine also issued the following statement:
"Whatever the realities of his philanthropy and the backlash to his GQ award, his status as an ambassador of gay rights is undeniable.
"An equal age of consent, the abolition of Section 28, legal recognition for trans people, civil partnerships, banning employers from sacking you because of who you love and making homophobia a hate crime - they were all on Blair's watch."
The 30th anniversary addition of the magazine stars James Sutton on the cover and goes on sale on 1 October.
The electronic version of the magazine is available to download today at www.gtdigi.co.uk.