Twisted Sister members have paid emotional tributes to the late drummer AJ Pero, who died of a suspected heart attack aged 55.
Anthony Jude Pero was found unconscious on a tour bus on Friday morning by band members in Adrenaline Mob, who he was touring with at the time.
An ambulance was called and he was taken to a hospital in New York, where he was declared dead shortly after 11am, according to the Associated Press.
The band said it was "profoundly saddened" by Pero's death. He was a member of Twisted Sister for almost 32 years and played on two of their biggest hits; "We're Not Gonna Take It" and "I Wanna Rock".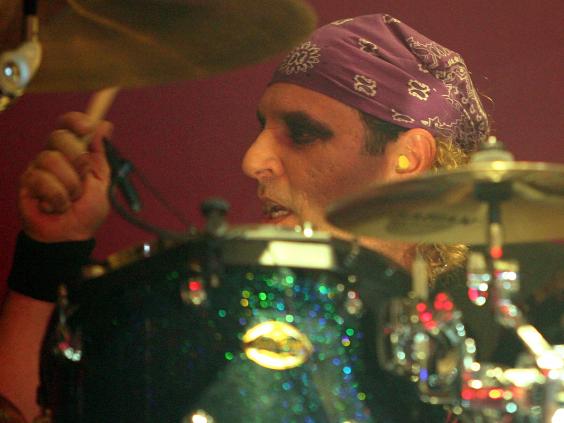 Guitarist Jay Jay French paid tribute to "a force, the likes of which I doubt I will ever have the chance to play in front of again".
"His drumming was legendary but his heart, as a human being, was even greater," he said in a statement.
"In our hearts he will always be the engine that drove the train. I loved him and today my heart has been ripped out."
Frontman Dee Snider praised Pero's contribution to the band's global success, saying: "His sledgehammer assault on the drums helped drive Twisted Sister and I to greatness and inspired me to rock every single show."
My friend, my brother, my band mate passed away today. My heart is broken. RIP A.J. Pero.

; Dee Snider (@deesnider) March 20, 2015
Fellow guitarist Eddie Ojeda and his family remembered his "amazing sense of humour" and the "great laughs" they shared together.
"It's very difficult for me to talk about this right now. However, I feel that out of respect for his legacy, it's important for us to let the world know how we all felt and will always feel about him.
"At this time, my sincerest sympathies go out to his family. Heaven just got a great drummer, one that will live forever in our hearts."
Bassist Mark Mendoz, who described himself as the tough guy in the band, said he "broke down and cried" at the news of his friend's death. "One statement says it all, 'AJ was my band mate, my friend and my brother and I will miss him forever'."
Reuse content