Waris Ahluwalia stopped resisting rigorous airport security checks a long time ago.
The well-known Sikh American designer and actor says he's grown accustomed to multiple bag searches, invasive pat-downs and incessant swabbing.
He'll even let you massage his feet for foreign objects without protest.
After passing through two comprehensive screenings before his Aeromexico flight from Mexico City to New York City on Monday morning, he thought he was ready to board his plane. But security personnel thought otherwise.
"The security person said, 'Now, will you take off your turban?'" Ahluwalia told The Washington Post, noting that he's unsure of whether the man was employed by the airport, the airline, or both. "I said, 'I won't be taking off my turban here.'
People news in pictures
People news in pictures
1/30 19 July 2016

Turkey's Prime Minister Binali Yildrim addresses members of parliament from his ruling AK Party (AKP) during a meeting at the Turkish parliament in Ankara

REUTERS

2/30 18 July 2016

Melania Trump, wife of Republican U.S. presidential candidate Donald Trump, waves as she arrives to speak at the Republican National Convention in Cleveland

Reuters

3/30 18 July 2016

Britain's Foreign Secretary Boris Johnson listens to Spain's Foreign Minister Jose Manuel Garcia-Margallo (L) during an European Union foreign ministers meeting in Brussels

REUTERS

4/30 17 July 2016

Turkey's President Recep Tayyip Erdogan reacts after attending the funeral of a victim of the coup attempt in Istanbul

Getty Images

5/30 16 July 2016

Republican presidential candidate Donald Trump, introduces Gov. Mike Pence, during a campaign event to announce Pence as the vice presidential running mate, in New York. Trump called Pence "my partner in this campaign" and his first and best choice to join him on a winning Republican presidential ticket

AP

6/30 15 July 2016

French President Francois Hollande looks on as he speaks to journalists at the Prefectoral Palace the day after a gunman smashed a truck into a crowd of revellers celebrating Bastille Day in Nice, killing at least 84 people

AFP/Getty Images

7/30 14 July 2016

Newly appointed British Foreign Secretary Boris Johnson leaves his home in north London

AP

8/30 13 July 2016

Queen Elizabeth II welcomes Theresa May at the start of an audience, where she invited the former Home Secretary to become Prime Minister and form a new government, at Buckingham Palace. Former Home Secretary Theresa May becomes the UK's second female Prime Minister after she was selected unopposed by Conservative MPs to be their new party leader

Getty Images Europe

9/30 13 July 2016

Outgoing British Prime Minister David Cameron is accompanied by his wife Samantha and their children as they hug on the doorsteps upon their departure from No. 10 Downing Street for the last time

EPA

10/30 12 July 2016

Pakistani Nobel Peace Prize laureate Malala Yousafzai arrives to celebrate her 19th birthday at the Dadaab refugee camp near the Kenya-Somalia border

REUTERS

11/30 11 July 2016

Britain's new Conservative Party leader Theresa May receives a kiss from her husband Philip John May, after speaking to members of the media at The St Stephen's entrance to the Palace of Westminster in London. Theresa May will become the prime minister who leads Britain's into Brexit talks after her only rival in the race to succeed David Cameron pulled out unexpectedly. May was left as the only contender standing after the withdrawal from the leadership race of Andrea Leadsom, who faced criticism for suggesting she was more qualified to be premier because she had children

AFP/Getty Images

12/30 11 July 2016

Prime Minister David Cameron gestures as he addresses the media outside 10 Downing Street, where he announced that Theresa May would be Britain's new leader

AFP/Getty Images

13/30 11 July 2016

Andrea Leadsom, a candidate to become the next Conservative Party leader and British prime minister, rules herself out of the leadership battle during a news conference in central London

REUTERS

14/30 10 July 2016

Portugal's forward Cristiano Ronaldo reacts as he is carried on a stretcher off the pitch by team medics after an injury following a clash with France's forward Dimitri Payet (not pictured) during the Euro 2016 final football match between Portugal and France at the Stade de France in Saint-Denis, north of Paris

AFP/Getty Images

15/30 10 July 2016

Britain's Andy Murray kisses the winner's trophy after his men's singles final victory over Canada's Milos Raonic on the last day of the 2016 Wimbledon Championships at The All England Lawn Tennis Club in Wimbledon

AFP/Getty Images

16/30 10 July 2016

British driver Lewis Hamilton celebrates with fans after climbing the paddock fence after winning the British Formula One Grand Prix at Silverstone motor racing circuit in Silverstone

AFP/Getty Images

17/30 9 July 2016

Serena Williams celebrates beating Germany's Angelique Kerber in the women's singles final on the thirteenth day of the 2016 Wimbledon Championships in London

AFP/Getty Images

18/30 8 July 2016

Catherine, Duchess of Cambridge and Prince George during a visit to the Royal International Air Tattoo at RAF Fairford

Getty Images

19/30 8 July 2016

U.S. President Barack Obama delivers remarks on the police shootings in Dallas

Reuters

20/30 7 July 2016

Justice Secretary Michael Gove makes a statement outside the Palace of Westminster, after he was eliminated in the second round of MPs' voting for the Conservative leadership

PA

21/30 6 July 2016

Olympic and Paralympic track star Oscar Pistorius reacts with his sister Aimee Pistorius at his sentence hearing at the North Gauteng High Court in Pretoria. Pistorius has been sentenced to six years in prison for the murder of his girlfriend Reeva Steenkamp

REUTERS

22/30 6 July 2016

Former Prime Minister Tony Blair responds to the Chilcot report

Getty Images

23/30 6 July 2016

David Beckham and his sons Romeo Beckham (R), and Cruz Beckham watch the action on centre court on day ten of the Wimbledon Tennis Championships in London

AP

24/30 5 July 2016

Will Smith and his daughter Willow Smith pose before Chanel 2016-2017 fall/winter Haute Couture collection fashion show in Paris

AFP/Getty Images

25/30 4 July 2016

Nigel Farage steps down as a leader of Ukip

Rex

26/30 3 July 2016

Andrea Leadsom and Britain's Justice Secretary Michael Gove, both candidates to succeed David Cameron as British prime minister, are seen appearing on the BBC's Andrew Marr Show

REUTERS

27/30 2 July 2016

Queen Elizabeth II leaves with Ken Macintosh, Presiding Officer of the Scottish Parliament, following the opening of the fifth session of the Scottish Parliament in Edinburgh, Scotland

AFP/Getty Images

28/30 1 July 2016

French President Francois Hollande, Prince William Duke of Cambridge, British Prime Minister David Cameron, Prince Harry and Britain's Prince Charles the Prince of Wales during the ceremony to mark the centenary of the Battle of the Somme at the Thiepval monument, in Thiepval, near Amiens, northern France. The Battle of the Somme remains as one of the most deadly battles of the First World War

EPA

29/30 30 June 2016

Boris Johnson speaks during a press conference at St Ermin's Hotel in London, where he formally announced that he will not enter the race to succeed David Cameron in Downing Street

PA

30/30 29 June 2016

Stephen Crabb (L) has officially announced his campaign for the Conservative party leadership, pledging to implement border controls with the EU whilst maintaining economic relations. The Work and Pensions Secretary said he wanted a set of economic arrangements "that approximate as closely as possible to the arrangements we have now"

REUTERS
"A group of Aeromexico employees spoke among themselves in Spanish and then one guy came back to me wearing an orange vest over a suit and said, 'You will not be flying Aeromexico and you will need to book a flight on another airline."
Instead of getting angry, the 41-year-old — who several years ago become the first-ever Sikh American model in a national Gap ad campaign — turned to social media, where he used his predicament to raise awareness about discriminatory airport screenings.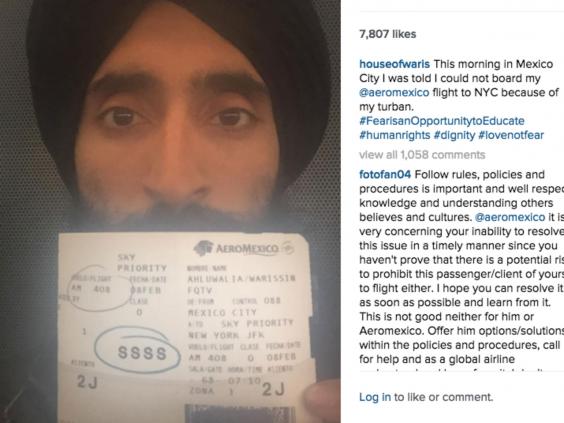 On Instagram, he wrote: "I was told I could not board my @aeromexico flight to NYC because of my turban."
A second photo showed a somber-faced Ahluwalia standing in front of the airline's customer service desk in Mexico City.
"My turban and beard represent my commitment to equality and justice," Ahluwalia said in a statement distributed by the Sikh Coalition, a nonprofit advocacy group that works on behalf of followers of the monotheistic faith, which originated in South Asia in the 15th century. "If security personnel would like to respond with bigotry and fear then I will take another flight that's more inclusive."
In the United States, according to the Sikh Coalition, security agents are allowed to pat down or swab a passenger's turban with permission. Failing that, they can ask a passenger to step into a private area for a secondary screening.
Ahluwalia said airports all over the world follow similar rules, but he suspects that employees working at Aeromexico's gate hadn't been trained to screen Sikh passengers.
Phone calls and emails requesting comment from Aeromexico were not immediately returned.
Hours after he was barred from boarding the plane, Ahluwalia remains inside the Mexico City airport. After his story made headlines in the United States, Aeromexico offered him another ticket and told him he wouldn't have to remove his turban, but Ahluwalia refused to accept it.
He's now refusing to fly another, "more inclusive" airline, too.
"At this point," he said, "I realise that this isn't about my convenience or getting home for lunch today. I realise that if I walk away, somebody else was going to go through this experience again."
He added: "It doesn't feel like a choice I can make. I don't think I can just get on that plane."
He's refusing to leave, he told The Post, until the three demands — noted in a Sikh Coalition tweet — are met. 
Sikh American actor & designer Waris Ahluwalia was denied entry to @AeroMexico flight this morning. #StandWithWaris pic.twitter.com/O4mOEqnd97

— Sikh Coalition (@sikh_coalition) February 8, 2016
Ahluwalia, who is Indian American, has been featured in multiple best-dressed lists, including a Vanity Fair slideshow from 2010 touting his fashionable taste. He has also had roles in several Wes Anderson films alongside Hollywood stars such as Owen Wilson, Adrien Brody and Jason Schwartzman.
Even so, this is not the artist's first brush with intolerance. In 2013, a Gap subway advertisement using his photo was defaced with anti-Muslim graffiti in New York, according to the Huffington Post.
The caption on the ad was changed from "Make Love" to "Make Bombs," Huffington Post reported. The defacer also wrote "Please stop driving TAXIS" on the image.
In recent months, Sikh advocates say, there has been a growing number of violent and discriminatory incident targeting members of the religious group.
"For Sikh Americans, the unique markers of religious identity — the turban, the beard — these markers are associated with the markers of terrorism," Simran Jeet Singh, a senior religion fellow at the Sikh Coalition, told The Post's Sarah Kaplan in September,
In other words: "People see a Sikh and construe them as the enemy."
Harsimran Kaur, the Sikh Coalition's legal director, told The Post in December that the backlash against people who are perceived as being non-American has been exacerbated by anti-Islamic statements made by Republican presidential candidates such as Ben Carson and Donald Trump. Carson has said that the United States should not elect a Muslim president, citing concerns about "different loyalties." Trump has called for a "total and complete" ban on Muslims entering the United States.
"Trump's statements legitimize nativist impulses," Kaur told The Post. "It's why we're seeing more profiling and vandalism and intimidating incidents. We've been speaking to the family of an elderly man who was hit in the head with an apple a few days ago. These are the kind of things that you start to see as the political rhetoric escalates.
© Washington Post 
The Independent has contacted Aeromexico for comment. 
Reuse content