Waris Ahluwalia stopped resisting rigorous airport security checks a long time ago.
The well-known Sikh American designer and actor says he's grown accustomed to multiple bag searches, invasive pat-downs and incessant swabbing.
He'll even let you massage his feet for foreign objects without protest.
After passing through two comprehensive screenings before his Aeromexico flight from Mexico City to New York City on Monday morning, he thought he was ready to board his plane. But security personnel thought otherwise.
"The security person said, 'Now, will you take off your turban?'" Ahluwalia told The Washington Post, noting that he's unsure of whether the man was employed by the airport, the airline, or both. "I said, 'I won't be taking off my turban here.'
People news in pictures
People news in pictures
1/30 26 September 2016

French President Francois Hollande meets with officers of the French Gendarmerie during a visit to the Gendarmerie of Calais. Hollande said on a visit to the port of Calais that the sprawling "Jungle" migrant camp there would be "completely dismantled"

AFP/Getty Images

2/30 26 September 2016

Azerbaijan's President Ilham Aliyev casts his vote during a referendum on extending presidential terms in Baku, Azerbaijan

REUTERS

3/30 25 September 2016

Prince Charles, Prince of Wales meets mounted police officers and their horses after the the National Police Memorial Service at St Paul's Cathedral in London

Getty Images

4/30 24 September 2016

Canadian Prime Minister Justin Trudeau, center, kneels to talk to Prince George as his father, Prince William, The Duke of Cambridge, speaks with Governor General David Johnston, right, and Kate, The Duchess of Cambridge, holds their daughter Princess Charlotte upon arrival in Victoria, British Columbia

AP

5/30 24 September 2016

US actor Richard Gere and his girlfriend Spanish publicist Alejandra Silva, pose during a photocall after the screening the film "Time out of mind" at the 64th San Sebastian Film Festival, in the northern Spanish Basque city of San Sebastian

AFP/Getty Images

6/30 24 September 2016

(L-R) Former US First Lady Laura Bush, former US President George W. Bush, First Lady Michelle Obama, and President Barack Obama attend the opening ceremony for the Smithsonian National Museum of African American History and Culture in Washington

AFP/Getty Images

7/30 24 September 2016

British opposition Labour Party leader Jeremy Corbyn (C) waves following his speech after being announced as the winner of the party's leadership contest at the Labour Party Leadership Conference in Liverpool

AFP/Getty Images

8/30 23 September 2016

A statue of the movie boxer Rocky stands near the stage entrance as Republican presidential nominee Donald Trump holds a rally with supporters in Aston, Pennsylvania

REUTERS

9/30 22 September 2016

Priscilla Chan embraces her husband Mark Zuckerberg while announcing the Chan Zuckerberg Initiative to "cure, prevent or manage all disease" by the end of the century during a news conference at UCSF Mission Bay in San Francisco

REUTERS

10/30 21 September 2016

British Foreign Secretary Boris Johnson reads before a meeting of the United Nations Security Council during the 71st session of the U.N. General Assembly at U.N. headquarters in New York

REUTERS

11/30 20 September 2016

Britain's Prince William sits in the cockpit of his East Anglian Air Ambulance (EAAA) H145 helicopter, in London

REUTERS

12/30 19 September 2016

Model Cara Delevingne poses for photographers upon arrival at the Burberry Spring/Summer 2017 fashion show at London Fashion Week

AP

13/30 19 September 2016

Cuba's former leader Fidel Castro, right, shakes hands with Iranian President Hassan Rouhani, center, in Havana. Rouhani is on a one-day official visit to Cuba

AP

14/30 18 September 2016

French far-right Front National (FN) party's President, Marine Le Pen, gestures as she delivers a speech on stage during the FN's summer congress in Frejus, southern France. Marine Le Pen's slogan reading "In the name of the [French] people" is seen on the rostrum

AFP/Getty Images

15/30 17 September 2016

Pope Francis holding an infant during his visit to the neonatology ward of San Giovanni Hospital in Rome

AFP/Getty Images

16/30 16 September 2016

Outgoinng leader Nigel Farage embraces new leader of the anti-EU UK Independence Party (UKIP) Diane James as she is introduced at the UKIP Autumn Conference in Bournemouth Diane James was announced as UKIP's new leader on September 16 to replace charismatic figurehead Nigel Farage. Farage made the shock decision to quit as leader of the UK Independence Party following victory in the referendum on Britain's membership of the European Union. / AFP PHOTO / DANIEL LEAL-OLIVASDANIEL LEAL-OLIVAS/AFP/Getty Images

AFP/Getty Images

17/30 15 September 2016

Musicians and members of the Beatles, Paul McCartney, right, and Ringo Starr pose for photographers upon arrival at the World premiere of the Beatles movie, Ron Howard's 'Eight days a week-the touring years' in London

AP

18/30 15 September 2016

Hillary Clinton boards her plane to return to campaigning after her bout with pneumonia at Westchester County Airport in White Plains, New York

AFP/Getty Images

19/30 15 September 2016

Japan's main opposition Democratic Party's new leader Renho (C) raises her fists with her party lawmakers after she was elected party leader at the party plenary meeting in Tokyo

REUTERS

20/30 15 September 2016

Secretary of State John Kerry listens as actor and activist Leonardo DiCaprio speaks at the Our Ocean, One Future conference at the State Department in Washington. The conferences focus on marine protected areas, sustainable fisheries, marine pollution, and climate-related impacts on the ocean

AP

21/30 14 September 2016

North Korean leader Kim Jong Un provides field guidance to Farm No. 1116 under KPA Unit 810, in North Korea

REUTERS

22/30 13 September 2016

Britain's Prime Minister Theresa May greets Myanmar's State Counsellor, Aung San Suu Kyi in N10 Downing Street. Aung San Suu Kyi is on an official visit to London

EPA

23/30 12 September 2016

Lindsay Lohan making a trade at BGC Annual Global Charity Day at Canary Wharf in London

Getty Images

24/30 11 September 2016

Hillary Clinton waves to the press as she leaves her daughter's apartment building after resting in New York. Clinton departed from a remembrance ceremony on the 15th anniversary of the 9/11 attacks after feeling "overheated," but was later doing "much better," her campaign saidImages

AFP/Getty Images

25/30 11 September 2016

Tibet's exiled spiritual leader the Dalai Lama greets Belgian Flemish Parliament President Jan Peumans during a public debate in Brussels

REUTERS

26/30 11 September 2016

Producer Colin Firth arrives on the red carpet for the film "Loving" during the 41st Toronto International Film Festival (TIFF), in Toronto, Canada

REUTERS

27/30 10 September 2016

Russian President Vladimir Putin poses for a photo during the celebrations for the City Day at Red Square in Moscow, Russia

REUTERS

28/30 9 September 2016

Prince Carl Philip and Princess Sofia with Prince Alexander during his christening at the Palace Chapel of the Drottningholm Palace, Stockholm, Sweden

REUTERS

29/30 8 September 2016

Actress Lily-Rose depp and actress Natalie Portman (R) attend the Premiere of the movie "Planetarium" presented out of competition at the 73rd Venice Film Festival

AFP/Getty Images

30/30 8 September 2016

UN Special Envoy, Angelina Jolie is greeted by UK Vice Chief of the Defence Staff General Sir Gordon Messenger at the UN Peacekeeping Defence Ministerial at Lancaster House in London

Getty Images
"A group of Aeromexico employees spoke among themselves in Spanish and then one guy came back to me wearing an orange vest over a suit and said, 'You will not be flying Aeromexico and you will need to book a flight on another airline."
Instead of getting angry, the 41-year-old — who several years ago become the first-ever Sikh American model in a national Gap ad campaign — turned to social media, where he used his predicament to raise awareness about discriminatory airport screenings.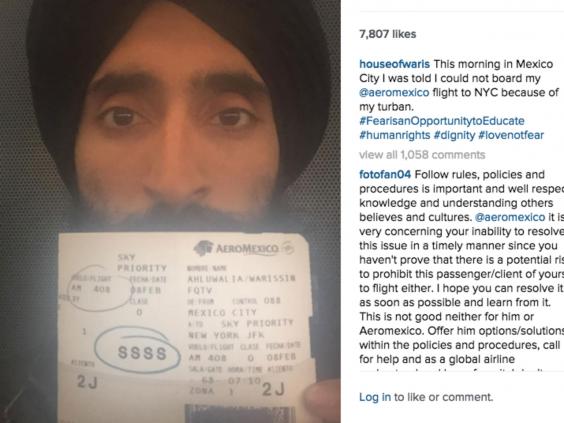 On Instagram, he wrote: "I was told I could not board my @aeromexico flight to NYC because of my turban."
A second photo showed a somber-faced Ahluwalia standing in front of the airline's customer service desk in Mexico City.
"My turban and beard represent my commitment to equality and justice," Ahluwalia said in a statement distributed by the Sikh Coalition, a nonprofit advocacy group that works on behalf of followers of the monotheistic faith, which originated in South Asia in the 15th century. "If security personnel would like to respond with bigotry and fear then I will take another flight that's more inclusive."
In the United States, according to the Sikh Coalition, security agents are allowed to pat down or swab a passenger's turban with permission. Failing that, they can ask a passenger to step into a private area for a secondary screening.
Ahluwalia said airports all over the world follow similar rules, but he suspects that employees working at Aeromexico's gate hadn't been trained to screen Sikh passengers.
Phone calls and emails requesting comment from Aeromexico were not immediately returned.
Hours after he was barred from boarding the plane, Ahluwalia remains inside the Mexico City airport. After his story made headlines in the United States, Aeromexico offered him another ticket and told him he wouldn't have to remove his turban, but Ahluwalia refused to accept it.
He's now refusing to fly another, "more inclusive" airline, too.
"At this point," he said, "I realise that this isn't about my convenience or getting home for lunch today. I realise that if I walk away, somebody else was going to go through this experience again."
He added: "It doesn't feel like a choice I can make. I don't think I can just get on that plane."
He's refusing to leave, he told The Post, until the three demands — noted in a Sikh Coalition tweet — are met. 
Sikh American actor & designer Waris Ahluwalia was denied entry to @AeroMexico flight this morning. #StandWithWaris pic.twitter.com/O4mOEqnd97

— Sikh Coalition (@sikh_coalition) February 8, 2016
Ahluwalia, who is Indian American, has been featured in multiple best-dressed lists, including a Vanity Fair slideshow from 2010 touting his fashionable taste. He has also had roles in several Wes Anderson films alongside Hollywood stars such as Owen Wilson, Adrien Brody and Jason Schwartzman.
Even so, this is not the artist's first brush with intolerance. In 2013, a Gap subway advertisement using his photo was defaced with anti-Muslim graffiti in New York, according to the Huffington Post.
The caption on the ad was changed from "Make Love" to "Make Bombs," Huffington Post reported. The defacer also wrote "Please stop driving TAXIS" on the image.
In recent months, Sikh advocates say, there has been a growing number of violent and discriminatory incident targeting members of the religious group.
"For Sikh Americans, the unique markers of religious identity — the turban, the beard — these markers are associated with the markers of terrorism," Simran Jeet Singh, a senior religion fellow at the Sikh Coalition, told The Post's Sarah Kaplan in September,
In other words: "People see a Sikh and construe them as the enemy."
Harsimran Kaur, the Sikh Coalition's legal director, told The Post in December that the backlash against people who are perceived as being non-American has been exacerbated by anti-Islamic statements made by Republican presidential candidates such as Ben Carson and Donald Trump. Carson has said that the United States should not elect a Muslim president, citing concerns about "different loyalties." Trump has called for a "total and complete" ban on Muslims entering the United States.
"Trump's statements legitimize nativist impulses," Kaur told The Post. "It's why we're seeing more profiling and vandalism and intimidating incidents. We've been speaking to the family of an elderly man who was hit in the head with an apple a few days ago. These are the kind of things that you start to see as the political rhetoric escalates.
© Washington Post 
The Independent has contacted Aeromexico for comment. 
Reuse content