Waris Ahluwalia stopped resisting rigorous airport security checks a long time ago.
The well-known Sikh American designer and actor says he's grown accustomed to multiple bag searches, invasive pat-downs and incessant swabbing.
He'll even let you massage his feet for foreign objects without protest.
After passing through two comprehensive screenings before his Aeromexico flight from Mexico City to New York City on Monday morning, he thought he was ready to board his plane. But security personnel thought otherwise.
"The security person said, 'Now, will you take off your turban?'" Ahluwalia told The Washington Post, noting that he's unsure of whether the man was employed by the airport, the airline, or both. "I said, 'I won't be taking off my turban here.'
People news in pictures
People news in pictures
1/9

US President-elect Donald Trump and musician Kanye West pose for media at Trump Tower in Manhattan, New York City

Reuters

2/9

Anna Wintour apologises for criticising Donald Trump on a train. Fashionista was reportedly heard saying the President-elect would use the Presidency 'to sell himself and his brand'

Getty

3/9

Ivanka Trump and her husband might be joining the next administration. The couple is plotting a move to the nation's capital

Getty

4/9

Samuel L Jackson calls Muslims 'the new black kids in America' 'People perceive them as a threat before even saying hello,' actor says of Muslims in the US

Getty

5/9

Former JLS star Oritse Williams denies rape allegation The singer has not been charged

Getty

6/9

Bill Gates announces $1bn investment fund for clean energy technology Team-up with Richard Branson, Jeff Bezos and others aims to fight climate change - and reap 'super' rewards

Getty

7/9

Donald Trump's aide worked for anti-immigation extremists Poll was used by President-elect during campaign to justify banning Muslims from the US

Reuters

8/9

Henry Kissinger tells Nobel Peace Prize forum to give Donald Trump a chance More than 7,000 people called for the 'mastermind of war' to be arrested while visiting Norway

EPA

9/9

John Travolta dismisses new Scientology documentary by former member Leah Remini The actor defends the church and says it was a source of support for him when he lost his girlfriend, mother and son

Getty
"A group of Aeromexico employees spoke among themselves in Spanish and then one guy came back to me wearing an orange vest over a suit and said, 'You will not be flying Aeromexico and you will need to book a flight on another airline."
Instead of getting angry, the 41-year-old — who several years ago become the first-ever Sikh American model in a national Gap ad campaign — turned to social media, where he used his predicament to raise awareness about discriminatory airport screenings.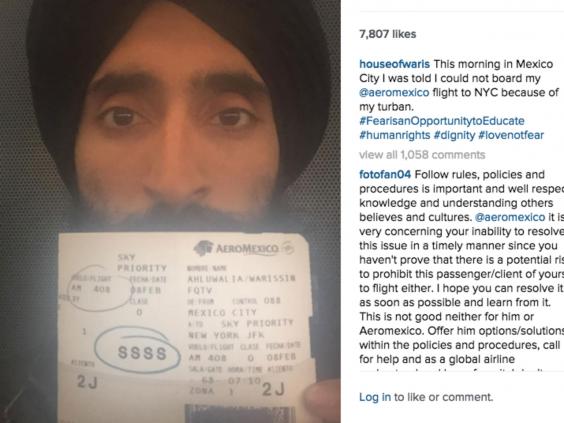 On Instagram, he wrote: "I was told I could not board my @aeromexico flight to NYC because of my turban."
A second photo showed a somber-faced Ahluwalia standing in front of the airline's customer service desk in Mexico City.
"My turban and beard represent my commitment to equality and justice," Ahluwalia said in a statement distributed by the Sikh Coalition, a nonprofit advocacy group that works on behalf of followers of the monotheistic faith, which originated in South Asia in the 15th century. "If security personnel would like to respond with bigotry and fear then I will take another flight that's more inclusive."
In the United States, according to the Sikh Coalition, security agents are allowed to pat down or swab a passenger's turban with permission. Failing that, they can ask a passenger to step into a private area for a secondary screening.
Ahluwalia said airports all over the world follow similar rules, but he suspects that employees working at Aeromexico's gate hadn't been trained to screen Sikh passengers.
Phone calls and emails requesting comment from Aeromexico were not immediately returned.
Hours after he was barred from boarding the plane, Ahluwalia remains inside the Mexico City airport. After his story made headlines in the United States, Aeromexico offered him another ticket and told him he wouldn't have to remove his turban, but Ahluwalia refused to accept it.
He's now refusing to fly another, "more inclusive" airline, too.
"At this point," he said, "I realise that this isn't about my convenience or getting home for lunch today. I realise that if I walk away, somebody else was going to go through this experience again."
He added: "It doesn't feel like a choice I can make. I don't think I can just get on that plane."
He's refusing to leave, he told The Post, until the three demands — noted in a Sikh Coalition tweet — are met. 
Sikh American actor & designer Waris Ahluwalia was denied entry to @AeroMexico flight this morning. #StandWithWaris pic.twitter.com/O4mOEqnd97

— Sikh Coalition (@sikh_coalition) February 8, 2016
Ahluwalia, who is Indian American, has been featured in multiple best-dressed lists, including a Vanity Fair slideshow from 2010 touting his fashionable taste. He has also had roles in several Wes Anderson films alongside Hollywood stars such as Owen Wilson, Adrien Brody and Jason Schwartzman.
Even so, this is not the artist's first brush with intolerance. In 2013, a Gap subway advertisement using his photo was defaced with anti-Muslim graffiti in New York, according to the Huffington Post.
The caption on the ad was changed from "Make Love" to "Make Bombs," Huffington Post reported. The defacer also wrote "Please stop driving TAXIS" on the image.
In recent months, Sikh advocates say, there has been a growing number of violent and discriminatory incident targeting members of the religious group.
"For Sikh Americans, the unique markers of religious identity — the turban, the beard — these markers are associated with the markers of terrorism," Simran Jeet Singh, a senior religion fellow at the Sikh Coalition, told The Post's Sarah Kaplan in September,
In other words: "People see a Sikh and construe them as the enemy."
Harsimran Kaur, the Sikh Coalition's legal director, told The Post in December that the backlash against people who are perceived as being non-American has been exacerbated by anti-Islamic statements made by Republican presidential candidates such as Ben Carson and Donald Trump. Carson has said that the United States should not elect a Muslim president, citing concerns about "different loyalties." Trump has called for a "total and complete" ban on Muslims entering the United States.
"Trump's statements legitimize nativist impulses," Kaur told The Post. "It's why we're seeing more profiling and vandalism and intimidating incidents. We've been speaking to the family of an elderly man who was hit in the head with an apple a few days ago. These are the kind of things that you start to see as the political rhetoric escalates.
© Washington Post 
The Independent has contacted Aeromexico for comment. 
Reuse content