The Victorian artist William Morris was born 182 years ago, and Google has marked his birthday with a Doodle.
Most well known for his revolution of textile art, Morris was also a painter, poet and a socialist reformer.
His most famous prints, still seen in wallpapers, cushions and curtains across the UK include the Strawberry Thief (pictured below), Golden Lily Green and Willow.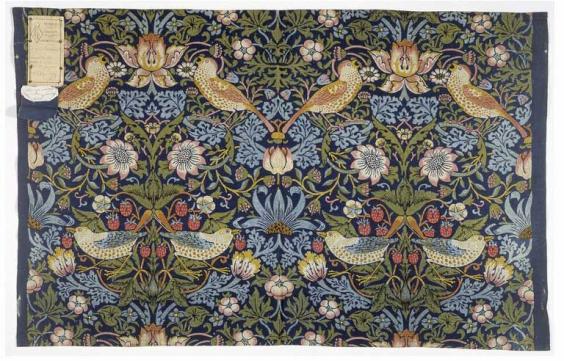 Here are five things to know about William Morris:
1. His schoolboy nickname was 'Crab'
Born to an upper-middle class family in Walthamstow, London, Morris' eccentricity was apparent very early on, earning him the nickname of 'crab' while studying at boarding school.
As in later life, the young Morris was inspired by visiting pre-historic sites and admiring the architecture and artwork of medieval churches.
2. He was a devoted Socialist
Morris was a prominent figure in the burgeoning socialist movement, founding the Socialist League in 1884.
He travelled round the country making speeches at working mens' clubs, editing political journals and even writing a utopian Marxist novel.
3. Morris led the preservation of historic architecture
He founded the Society for the Protection of Ancient Buildings (SPAG) IN 1877 in response to the destruction of original features of historical buildings in the name of 'restoration'. 
SPAG still operates today, teaching the public and professional restorers how to correctly repair historic buildings.
Google Doodles
Google Doodles
1/33 The history of tea in Britain

Google celebrates the 385th anniversary of tea in the UK

2/33 Autumnal equinox 2016

Google marks the start of fall

3/33 Paralympics 2016

Google marks the start of the Paralympic Games 2016

4/33 Nettie Stevens

Google celebrates Nettie Stevens 155th birthday

5/33 Father's Day 2016

Google celebrates Father's Day

6/33 Elizabeth Garrett Anderson

Google celebrates Elizabeth Garrett Anderson 180th birthday

7/33 Earth Day 2016

Google celebrates Earth Day

8/33 Ravi Shankar

Google marks Pandit Ravi Shankar's 96th birthday

9/33 Olympic Games in 1896

Google are celebrates the 120th anniversary of the modern Olympic Games in 1896

10/33 World Twenty20 final

Google celebrates the 2016 World Twenty20 cricket final between the West Indies and England with a doodle

Google

11/33 William Morris

Google celebrates William Morris' 182 birthday with a doodle showcasing his most famous designs

Google

12/33 St Patrick's Day 2016

Googlle celebrates St Patrick's Day on 17 March

13/33 Caroline Herschel

Google marks Caroline Herschel's 266th birthday

Google

14/33 Clara Rockmore

Google celebrates Clara Rockmore's 105th birthday

15/33 International Women's Day 2016

#OneDayIWill video marks International Woman's Day on 8 March

16/33 St David's Day 2016

Google marks St David's Day

Google

17/33 Leap Year 2016

Google celebrates Leap Day on 28 February 2

Google

18/33 Lantern Festival 2016

Google celebrates the last day of the Chinese New Year celebrations with a doodle of the Lantern Festival

Google

19/33 Stethoscope Inventor, René Laennec

Google celebrate's René Laennec's 235th birthday

20/33 Valentine's Day 2016

Google celebrates Valentine's Day with a romantic Doodle

21/33 Dmitri Mendeleev

Google celebrate Dmitri Mendeleev's 182nd birthday

22/33 "The televisor" demonstartion

Google Doodle celebrates 90 years since the first demonstration of television or "the televisor" to the public

23/33 Professor Scoville

Google marks Professor Scoville's 151st birthday

24/33 Sophie Taeuber-Arp

Google marks Sophie Taeuber-Arp's 127th birthday

25/33 Charles Perrault

Google celebrates author Charles Perrault's 388th birthday

26/33 Mountain of Butterflies discovery

Google celebrates the 41st anniversary of the discovery of the Mountain of Butterflies

27/33 Winter Solstice 2015

Google celebrate the Winter Solstice

28/33 St Andrew's Day 2015

Google marks St Andrew's Day with doodle featuring Scotland's flag and Loch Ness monster

29/33 41st anniversary of the discovery of 'Lucy'

Google marks the 41st anniversary of the discovery of 'Lucy', the name given to a collection of fossilised bones that once made up the skeleton of a hominid from the Australopithecus afarensis species, who lived in Ethiopia 3.2 million years ago

30/33 George Boole

Google marks George Boole's 200th birthday

31/33 Halloween 2015

Google celebrates Halloween using an interactive doodle game "Global Candy Cup"

32/33 Prague Astronomical Clock

Google celebrates the 605th anniversary of the Prague Astronomical Clock, one of the oldest functioning timepieces in the world

33/33 Autumnal Equinox 2015

Google marks the autumnal equinox on 23 September
4. He revitalised the traditional arts of dyeing and textile production
Setting up the decorative arts company Morris, Marshall, Faulkner & Co in 1861, Morris studied and re-introduced traditional methods of dyeing and hand printing textiles while also selling tiles, stained glass, furniture and home furnishing to the growing middle classes.
The contradiction became apparent as some of his most devoted patrons were rich industrialists who stood for everything his love of the romantic medieval past and socialist beliefs stood against.
5. He was closely linked to the Pre-Raphaelite brotherhood
Not only did he set up Morris & Co with leading Pre-Raphaelites Dante Gabriel Rosetti, Ford Madox Brown and Edward Burn-Jones, his wife, Jane, was a muse and reputed lover of Rosetti.
Reuse content