It is the eyes that you notice first, not the trademark braids. They are wild and hypnotising, hinting at an energy and ambition that has fuelled Yulia Tymoshenko's tempestuous political career.
Many discounted Ms Tymoshenko after an uninspiring presidential run last June suggested Ukrainians had grown tired of her. Yet in the space of just a few months, Ms Tymoshenko's singular vision has secured her an improbable return to the centre stage of Ukrainian politics.  A new opinion poll put her Fatherland Party on course to be the largest party in this month's local elections, with 19.5 per cent of the vote. Ms Tymoshenko was also a close second for the presidency.
"Today, my connection with the people has been re-established," she declared in an interview with The Independent. "For two and a half years, I was isolated in a fortified prison cell, with my opponents able to throw all kinds of mud at me." She had regained her popularity once Ukrainian society had been given the chance to judge things "soberly", she said.
In truth, a large part of the Ukrainian population remains hostile to her. Her critics point to involvement in the old Ukrainian regime, and to her attempt to push presidential interests at EuroMaidan (a wave of demonstrations calling for the ousting of the then President Viktor Yanukovych in 2013) at a time when others were mourning those killed by riot police. It was, many considered, an attempt to gatecrash a funeral.
Was her speech then poor judgement? Ms Tymoshenko paused. "Perhaps," she said, "after my time in prison I might have lost the sense of what the nation was thinking." Humility has never been Ms Tymoshenko's best card.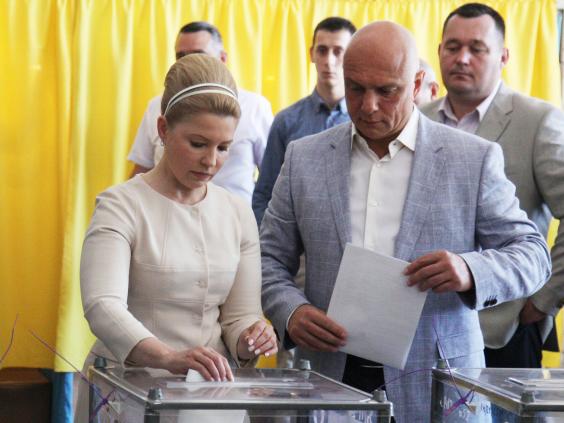 A source close to government suggested Ms Tymoshenko continues to harbour bitterness about the defeat in last year's ill-fated presidential bid when she was defeated by Petro Poroshenko. "She has always considered Mr Poroshenko's presidency an act of outrageous injustice – snapped from under her nose after years in prison," the source said. 
Success in Ukrainian politics is traditionally a factor of spending huge amounts on advertising and media airtime, as it is in many other countries. Ms Tymoshenko was at a major disadvantage on both counts during last year's election. Mr Poroshenko's own Channel 5 lobbied in his interests, while other oligarch-owned channels, having decided her star was fading, limited her air time.
This year, however, the same channels have given Ms Tymoshenko a clear run to turn her populist fire on the largely detested government of the Prime Minister Arseniy Yatsenyuk, She talks about the subjects Ukrainians want addressed – corruption, living standards, Russian aggression and new gas tariffs – while skirting over her past record. And her ratings have improved accordingly. 
Poroshenko is creating more social tension, and aggression that will bring Putin closer into the heart of Kiev
Several sources in government suggested that the increased airtime was initially encouraged by President Poroshenko, who was then locked in battle with Mr Yatsenyuk. But things seemingly went too far. Now, Mr Yatsenyuk has been reduced to a lame duck, and Ms Tymoshenko is an arguably more dangerous rival for the President. 
Ms Tymoshenko does not waste a moment in criticising Ukraine's government. Their socio-economic policies, forced on the country in conjunction with the West, have caused "great suffering", and are a "recipe for revolution", she argued.
"They are creating more social tension, and aggression that will bring Putin closer into the heart of Kiev," she said. "It won't just be a revolution this time, but an uncontrolled uprising that could sweep Ukraine away as a country". Ms Tymoshenko says she is best placed to understand the hardship ordinary Ukrainians are facing, "having been brought up by a single mother," and "having lived in poverty" most of her life. 
Ukraine crisis: A timeline of the conflict
Ukraine crisis: A timeline of the conflict
1/22 30 November 2013

Public support grows for the "Euromaidan" anti-government protesters in Kiev demonstrating against Yanukovych's refusal to sign the EU Association Agreement as images of them injured by police crackdown spread.

EPA

2/22 20 February 2014

Kiev sees its worst day of violence for almost 70 years as at least 88 people are killed in 48 hours, with uniformed snipers shooting at protesters from rooftops.

AFP/Getty Images

3/22 22 February 2014

Yanukovych flees the country after protest leaders and politicians agree to form a new government and hold elections. The imprisoned former Prime Minister, Yulia Tymoshenko, is freed from prison and protesters take control of Presidential administration buildings, including Mr Yanukovych's residence.

Genya Savilov/AFP/Getty Imageses

4/22 27 February 2014

Pro-Russian militias seize government buildings in Crimea and the new Ukrainian government vows to prevent the country breaking up as the Crimean Parliament sets a referendum on secession from Ukraine in May.

Sean Gallup/Getty Images

5/22 16 March 2014

Crimea votes overwhelmingly to secede from Ukraine and join Russia in a ballot condemned by the US and Europe as illegal. Russian troops had moved into the peninsula weeks before after pro-Russian separatists occupied buildings.

EPA

6/22 6 April 2014

Pro-Russian rebels seize government buildings in the eastern cities of Donetsk, Luhansk and Kharkiv, calling for a referendum on independence and claiming independent republic. Ukraine authorities regain control of Kharkiv buildings on 8 April after launching an "anti-terror operation" but the rest remain out of their control.

EPA/PHOTOMIG

7/22 7 June 2014

Petro Poroshenko is sworn in as Ukraine's president, calling on separatists to lay down their arms and end the fighting and later orders the creation of humanitarian corridors, since violated, to allow civilians to flee war zones.

Getty Images

8/22 27 June 2014

The EU signs an association agreement with Ukraine, along with Georgia and Moldova, eight months after protests over the abandonment of the deal sparked the crisis.

LOUISA GOULIAMAKI/AFP/Getty Images

9/22 17 July 2014

Malaysian Airlines flight MH17 is shot down over eastern Ukraine, killing all 298 people on board. Ukrainian intelligence officials claim it was hit by rebels using a Buk surface-to-air launcher in an apparent accident.

10/22 22 August 2014

A Russian aid convoy of more than 100 lorries enters eastern Ukraine and makes drop in rebel-controlled Luhansk without Government permission, sparking allegations of a "direct violation of international law".

Reuters/Alexander Demianchuk

11/22 29 August 2014

Nato releases satellite images appearing to show Russian soldiers, artillery and armoured vehicles engaged in military operations in eastern Ukraine.

Nato

12/22 8 September 2014

Russia warns that it could block flights through its airspace if the EU goes ahead with new sanctions over the ongoing crisis and conflict

EPA

13/22 17 September 2014

Despite the cease-fire and a law passed by the Ukrainian parliament on Tuesday granting greater autonomy to rebel-held parts of the east, civilian casualties continued to rise, adding to the estimated 3,000 people killed

Reuters

14/22 16 November 2014

The fragile ceasefire gives way to an increased wave of military activity as artillery fire continues to rock the eastern Ukraine's pro-Russian rebel bastion of Donetsk

Getty

15/22 26 December 2014

A new round of ceasefire talks, scheduled on neutral ground in the Belariusian capital Minsk, are called off

AFP/Getty

16/22 12 January 2015

Soldiers in Debaltseve were forced to prepare heavy defences around the city; despite a brief respite to the fighting in eastern Ukraine, hostilities in Donetsk resumed at a level not seen since September 2014

AFP/Getty

17/22 21 January 2015

13 people are killed during shelling of bus in the rebel-held city of Donetsk

Reuters

18/22 24 January 2015

Ten people were killed after pro-Russian separatists bombarded the east Ukrainian port city of Mariupol

AP

19/22 2 February 2015

There was a dangerous shift in tempo as rebels bolstered troop numbers against government forces

AFP/Getty

20/22 11 February 2015

European leaders meet in Minsk and agree on a ceasefire in eastern Ukraine beginning on February 14. From left to right: Belarus President Alexander Lukashenko, Russian President Vladimir Putin, German Chancellor Angela Merkel, France's President Francois Hollande and Ukrainian President Petro Poroshenko.

MAXIM MALINOVSKY | AFP | Getty Images

21/22 13 February 2015

Pro-Russian rebels in the city of Gorlivka, in the Donetsk region, fire missiles at Ukrainian forces in Debaltseve. Fighting continued in Debaltseve for a number of days after the Minsk ceasefire began.

ANDREY BORODULIN | AFP | Getty Images

22/22 18 February 2015

Ukrainian soldiers repair the bullet-shattered windshield of their truck as their withdraw from the strategic town of Debaltseve. Following intense shelling from pro-Russian rebels, Ukrainian forces began to leave the town in the early hours of February 18.

Brendan Hoffman | Getty Images
Ms Tymoshenko has been criticised for her finances and claimed links to oligarchic interests. Indeed, sources suggested she had recently met the controversial oligarch Ihor Kolomoisky in Europe. "I have worked 15 years battling such clan interests," Ms Tymoshenko said. If her "more realistic" analysis of governmental policies fell now in line with the interests of some oligarchs, that was pure coincidence, she added.  
Ms Tymoshenko once again finds herself in a key position – with the fate of coalition government largely in her hands. If she were to take her party out of the coalition now, she could bring down the government. Several governmental sources have suggested she has recently been using this leverage to lobby to return as prime minister – "the least of her ambitions". 
Ms Tymoshenko told The Independent her party would not leave the coalition "while the country was at war" since "to do so would be the same as opening the borders to the Russians". 
Others are less sure. "No one is as hungry for power or for victory as she is," said a source in Kiev. "She will do anything for power."