An asteroid as big as five football fields is set to narrowly pass by Earth tonight — and should be visible as it scraped by.
The rock, which has been named 2004 BL86, will be the nearest any asteroid will get to us until 2027.
It will come closest to us at 4.19pm GMT, but should be visible into the evening.
Are we in danger?
No. While the flypast is relatively close — and will be near enough to see and to allow sicentists to study the asteroid — it's not close enough to do any damage or cause any problems.
Asteroid passes close to earth in 2013
"And while it poses no threat to Earth for the foreseeable future, it's a relatively close approach by a relatively large asteroid, so it provides us a unique opportunity to observe and learn more," a Nasa scientist said.
How can I watch the flyby?
The asteroid should be visible this evening — and because it's flying so close, it should be visible through binoculars. It will be identifiable because it will look like it's travelling very slowly, in the opposite direction from everything else in the sky.
Nasa's charts show the route it will take — moving across and down the night sky as it flies past Earth.
"I may grab my favorite binoculars and give it a shot myself," Don Yeomans, who is retiring as the manager of Nasa's Near Earth Object Program Office said. "Asteroids are something special."
What will scientists learn?
Researchers will be watching the asteroid using microwaves. Nasa's Deep Space Network antenna in California and the Arecibo Observatory in Puerto Rico will get data and images of the asteroid as it flies past.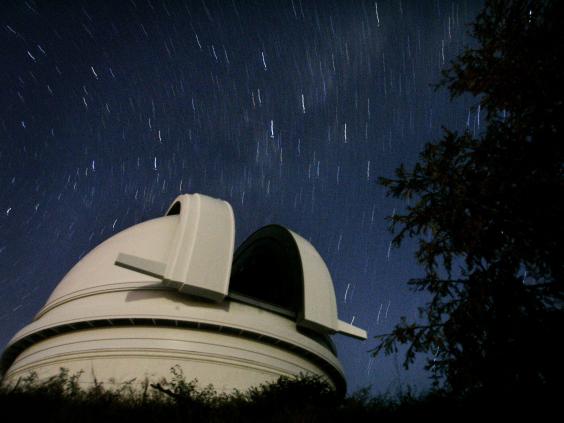 Asteroids provided Earth with the building blocks of life, and gave it much of its water – and in the future scientists hope to use them to find mineral ores and other natural resources. They're also likely to become fuelling stops as we explore the universe, so learning as much as we can about  them is important.
Scientists have said that they know almost nothing about the asteroid, and so could be surprised by what they find.
What path will it take?
Nasa has released a small animation of the journey the asteroid will take as it hurtles through our solar system. After flying past Earth, it will head off towards Mercury and into space — mostly steering clear of us for 200 years, when it will pass close by to us again.

Where did it get its name from?
Asteroids are given names based on where they were first spotted. The 2004 in its name refers to the year it was seen, and BL86 tells you when in the year that was. (B refers to the second half o f January, L is 11, and the 86 is a reference to how many asteroids had been spotted on that date before.) 2004 BL86 was found on January 30, 2004 — by a telescope of the Lincoln Near-Earth Asteroid Research facility in New Mexico.
As asteroids grow up, they get more exciting names. When their orbit becomes known precisely, they will be given an official sequential number. That is a string of six numbers that show how many asteroids had been found before it.
The person who discovered the asteroid can then propose to name it, and the International Astronomical Union decides whether it should be renamed.
Where to explore in the solar system
Where to explore in the solar system
1/10 Mars - Olympus Mons

Olympus Mons is the largest volcano in the Solar System. At 22km high Olympus Mons is nearly three times as high as Mt Everest

2/10 Mars - Mount Sharp

Mount Sharp is the current focus point of the Mars Science Laboratory's Curiosity rover. Sitting at the forefront of Martian research this location will hopefully unlock the secrets of Mars's past.

3/10 Ida and Dactyl

Nestled deep within the asteroid belt is the asteroid 243 Ida. During a fly by of the Galileo space probe it was discovered that Ida had a companion. Orbiting around Ida was a tiny moon that was named Dactyl.

4/10 Jupiter - The Red Spot

Getting tired of leisurely cruises through the Caribbean? Why not float a dirigible through one of the oldest known storms in the Solar System. Jupiter's Great Red Spot is large enough to contain three Earths and has been present for over 300 years.

5/10 Moon - Sea of Tranquility

As the landing site of the first ever humans to set foot on the Moon who wouldn't want to walk in the footsteps on Neil Armstrong on the Sea of Tranquility?

6/10 Europa - Underwater seas

Europa's underwater seas are one of the strongest candidates for potential life outside Earth. Scientists are waiting the day we can probe their icy depths.

7/10 Titan - Methane Lakes

Saturn's Moon Titan is home to a nice thick atmosphere. Similar to the Earth it supports a full weather cycle. Unlike the Earth, rather than using water, Titan's cycle is based on methane, often found in gas cookers here on Earth.

8/10 Mimas, the Death Moon

What better location for a holiday snap. The large Herschel crater on Mimas gives this moon an appearance of a certain dark lords ultimate weapon. When viewed from the right angle it appears that the Death Star is in orbit around Saturn.

9/10 Venus

The thick clouds of Venus make it an extremely mysterious place. It also has some of the most extreme weather we can find. Runaway greenhouse gases have shrouded the planet in a thick layer of cloud, heating it to nearly 600°C. It is also home to sulphuric acid rain and crushing atmospheric pressure. Make sure you pack a sturdy umbrella!

10/10 Oceans of Earth

One of the most unexplored places in the Solar System is our own oceans. 70% of the Earth is covered in ocean and as of yet we have only explored around 10% of them. With so much water to explore who knows what we may find lurking in the depths.

NASA
Names must be no more than 16 characters long, preferably be one word, be pronounceable, written in Latin characters, and not be offensive or too similar to an existing asteroid name, according to the Planetary Society.
If asteroids are near-Earth objects, they should take their name from mythology — though not from things associated with creation or the underworld, because those names are kept for other types of bodies in space.
When will the next closest asteroid come past?
2027, when asteroid 1999 AN10 will fly past Earth.
Reuse content