Attractive and educated women may be more likely to say they are "100 per cent heterosexual", a new study has claimed.
According to new research presented to the American Sociological Association this week, female sexuality is more likely to be influenced by a woman's surroundings and romantic opportunities than is the case with men.
The study's author, Elizabeth Aura McClintock, assistant professor of sociology at the University of Notre Dame in Indiana, said "This indicates that women's sexuality may be more flexible and adaptive than men's".
But the research prompted anger on social media, with many questioning its purpose.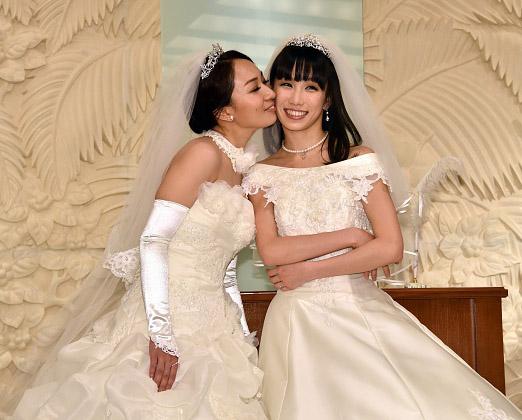 Facebook user David Dempster wrote: "Isn't that the same as saying lesbians are ugly?"
Marilyn June Melville commented: "Statistically speaking, unattractive and unsuccessful woman are more likely to be straight."
Meanwhile, Mon Tom wrote: "The world obsessed with others sexuality. Who cares, just be yourself & allow others to be them!"
The study tracked 5,018 women and 4,191 men as they progressed from adolescence to young adulthood and asked them to identify as 100 per cent heterosexual, mostly heterosexual, bisexual, mostly homosexual, or 100 percent homosexual at four different stages of their life.
Dr McClintock said certain factors such as greater education, physical attractiveness and delaying childbirth until later in life made women more likely to report being completely heterosexual because they received more romantic attention from men.
It builds on previous research that suggested women are more likely to report being bisexual and were more likely to change their sexual identity in later life.
Inspirational quotes about LGBT rights
Inspirational quotes about LGBT rights
1/27 Caitlyn Jenner

"Why do people think it's OK to ask deeply personal questions when you're transgender?"

Reuters / Vanity Fair

2/27 Kanye West

"Look, I can be married to the most beautiful woman in the world, and I am. I can have the most beautiful little daughter in the world, and I have that. But I'm nothing if I can't be me. If I can't be true to myself, they don't mean anything," the rapper said about Jenner.

Getty Images

3/27 Stephen Fry

"Homosexuals are not interested in making other people homosexuals. Homophobes are interested in making other people homophobic."

Rex

4/27 Hillary Clinton

"Gay rights are human rights."

Getty Images

5/27 Anderson Cooper - Journalist and TV host

"The fact is, I'm gay, always have been, always will be, and I couldn't be any more happy, comfortable with myself, and proud."

Getty Images

6/27 Laverne Cox - Actress

'"We are not what other people say we are. We are who we know ourselves to be, and we are what we love."

7/27 PM David Cameron

"I am proud that we have made same-sex marriage happen. I am delighted that the love two people have for each other — and the commitment they want to make — can now be recognised as equal."

AFP/Getty Images

8/27 Kellie Maloney

"We don't have a choice. People think we wake up one morning, put a dress on and be a woman. I knew about it when I was very young but I was brought up in a male world and had responsibilities, I was frightened and I wanted to beat it. I didn't want to lose my friends. In the end I was so depressed and so desperate, I tried to commit suicide about three times."

Getty

9/27 Ellen DeGeneres - comedian and TV host

"To me beauty is about being comfortable in your own skin. It's about knowing and accepting who you are."

10/27 President Barack Obama

"Just to prohibit somebody who cares about another person, it just seems to me that's not what America's about. Usually, our constitutions expand liberties, they don't contract them."

AFP/Getty Images

11/27 Zac Efron - Actor

"To me, being gay was just another way that you can be."

Getty Images

12/27 Lance Bass - former NSYNC member

"The thing is, I'm not ashamed - that's the one thing I want to say. I don't think it's wrong, I;m not devastated going through this. I'm more liberated and happy."

Larry Busacca/Getty Images

13/27 Ed Miliband - former Labour leader

"Whether you're gay or straight, you should be able to signify your commitment, your love, with the term marriage."

Reuters

14/27 Kate Bornstein - Author

"Gender is not sane. It's not sane to call a rainbow black and white."

Getty Images

15/27 Adam Levine - Maroon 5's singer

"Maybe we should make straight marriage illegal. It doesn't seem to have a very high success rate."

GETTY IMAGES

16/27 Tom Daley - Olympic diver

"I felt so alone and trapped in who I was... for people to be so supportive about it has been amazing."

17/27 Kurt Cobain - Former musician

"I'm not gay, although I wish I were just to piss off the homophobes."

Getty Images

18/27 Jay-Z - Rapper

"You choose to love whoever you love. It's no different than discriminating against blacks."

PA

19/27 Brittney Griner - Basketball player

"I am a strong, black, lesbian woman. Every single time I say it, I feel so much better."

Rex Features

20/27 Daniel Radcliffe - Actor

"You don't have to be gay to be a supporter, you just have to be human."

Getty Images

21/27 Elle Page - Actress

"I am tired of hiding and I am tired of lying by omission... I suffered for years because I was scared to be out... I'm gay."

Getty Images

22/27 Michael Sam - NFL player

"I want to own my truth... No one else should tell my story but me."

Getty Images

23/27 Pink - singer

"I think the best day will be when we no longer talk about being gay or straight... It's not a gay wedding, it's just a wedding. It's not a gay marriage, it's just a marriage."

24/27 Jason Collins - former NFL player

"When I acknowledged my sexuality, I felt whole for the first time."

GETTY IMAGES

25/27 Ricky Martin - singer

"Acceptance has to come from within and this kind of truth gives me the power to conquer emotions I didn't even know existed."

26/27 Frank Ocean - Musician

"I believe that marriage isn't between a man and a woman; but between love and love."

Getty Images

27/27 Elton John

"So I am deeply saddened and shocked over the current legislation that is now in place against the LGBT community here in Russia. In my opinion, it is inhumane and it is isolating."

Getty Images
Dr Qazi Rahman at King's College London, however, approached the findings with some caution.
Dr McClintock's study relies on data from the National Longitudinal Study of Adolescent to Adult Health dataset, which is known for having some problems in measurement.
The database is also based on self-reported answers from a number of test subjects, which can also be problematic - people can simply not tell the truth.
Other methods to attempt to 'measure' sexuality can be done in laboratories. Genital arousal response tests, for example, can be used to measure how aroused subjects get when presented with different stimuli.
Viewing time tests also record how long subjects look at their preferred stimuli. Ideally, a dataset on sexuality would include both self-reported answers and lab tests like these.
Landmark LGBT TV moments
Landmark LGBT TV moments
1/9 EastEnders gay kiss - 1989

EastEnders becomes the first British soap to screen a kiss between two gay men. The Sun branded the landmark kiss between Colin and Guido as a " love scene between yuppie poofs".

BBC

2/9 Orange is the New Black – 2013

The Netflix series features lesbian and bisexual women of different colours and sizes, but its greatest accomplishment is the honest portrayal of its transgender character, Sophia Burset (played by Laverne Cox).

3/9 Brookside lesbian kiss - 1994

Brookside followed suit as the first to screen a lesbian kiss when Beth and Margaret shared a passionate embrace.

Channel 4

4/9 Lesbian lead on US TV - 1997

US TV gets its first ever lesbian lead, as Ellen Morgan (played by Ellen DeGeneres) came out in a special two-part episode of ABC's Ellen.

Reuters

5/9 Primetime TV gets gay characters - 1998

Will & Grace debuts on NBC as one of the first primetime US series to feature lead gay characters. Actors Eric McCormack and Sean Hayes played Will and Jack on the successful show that ran for eight seasons.

Getty Images

6/9 First lesbian drama series - 2004

Television gets its first predominantly lesbian dramatic series in Showtime's The L Word.

7/9 Glee - 2009

Glee is the television show with the most number of regular and recurring homosexual characters, according to the Gay & Lesbian Alliance Against Defamation (GLAAD). Glee has won four Golden Globes, including a supporting actor nod for Chris Colfer—who played bullied open gay character Kurt Hummel.

Getty Images

8/9 Modern Family – 2009

The Emma-winning and progressive ABC series features an interracial and extended family along with leading gay characters Cam and Mitchell as the adored married couple.

9/9 E4's Cucumber, Banana and Tofu – 2015

Russell T Davies' recent trio of programmes bring a sensitive and serious yet funny portrayal of contemporary queer life with gay and lesbian lead characters—Henry and Scotty.

Channel 4
Dr McClintock said: "Women who are initially successful in partnering with men, as is more traditionally expected, may never explore their attraction to other women. However, women with the same sexual attractions, but less favorable heterosexual options might have greater opportunity to experiment with same-sex partners."
In contrast, men were more likely to say they were "100 per cent heterosexual" or "100 per cent homosexual" regardless of their perceived physical attractiveness.
Highly educated men were slightly more likely to report bisexuality reports Dr McClintock.
"Men are less often attracted to both sexes. Men's sexuality is, in this sense, less flexible. If a man is only attracted to one sex, romantic opportunity would little alter his sexual identity", she added.
Dr McClintock said this meant sexual identity was a social construct but stressed that she didn't believe this meant she "was suggesting that same-sex unions are a second-best option to heterosexual unions." 
She explained: "I do not think that women are strategically selecting an advantageous sexual identity or that they can 'choose' whether they find men, women, or both sexually attractive. Rather, social context and romantic experience might influence how they perceive and label their sexual identity."
Dr Rahman said Dr McClintock's findings, which await peer review, are likely to re-invigorate the debate in this area of study, which is a relatively new and popular field.
Reuse content