A worrying effect of climate change has been discovered by scientists studying the world's longest-living animal, the quahog clam.
Researchers examined growth rings on the shell of the edible mollusc, which can live for more than 500 years, to uncover details of a dramatic shift in the interaction between the North Atlantic Ocean and the atmosphere.
Before the industrial period began some 200 years ago, atmospheric fluctuations were caused by natural changes in the ocean, driven by volcanic eruptions and the sun's radiation.
But since humans started emitting large amounts of greenhouse gases through industrialisation, a switch has taken place and changes in the ocean are now led by the atmosphere, according to the international team of biologists.
Professor Ian Hall, the study's co-author, told The Independent the clams had allowed them to create a picture of the history of the planet's oceans over the last millennium.
"The clam is like a tree ring. It grows and lays down annual growth bands," he said. 
"Growth rings in trees get stitched together to give you absolutely dated chronologies and therefore you can use those to reconstruct temperature [on land]. In the oceans, we've not had that ability before."
10 photographs to show to anyone who doesn't believe in climate change
10 photographs to show to anyone who doesn't believe in climate change
1/11

A group of emperor penguins face a crack in the sea ice, near McMurdo Station, Antarctica

Kira Morris

2/11

Amid a flood in Islampur, Jamalpur, Bangladesh, a woman on a raft searches for somewhere dry to take shelter. Bangladesh is one of the most vulnerable places in the world to sea level rise, which is expected to make tens of millions of people homeless by 2050.

Probal Rashid

3/11

Hanna Petursdottir examines a cave inside the Svinafellsjokull glacier in Iceland, which she said had been growing rapidly. Since 2000, the size of glaciers on Iceland has reduced by 12 per cent.

Tom Schifanella

4/11

Floods destroyed eight bridges and ruined crops such as wheat, maize and peas in the Karimabad valley in northern Pakistan, a mountainous region with many glaciers. In many parts of the world, glaciers have been in retreat, creating dangerously large lakes that can cause devastating flooding when the banks break. Climate change can also increase rainfall in some areas, while bringing drought to others.

Hira Ali

5/11

Smoke – filled with the carbon that is driving climate change – drifts across a field in Colombia.

Sandra Rondon

6/11

A river once flowed along the depression in the dry earth of this part of Bangladesh, but it has disappeared amid rising temperatures.

Abrar Hossain

7/11

Sindh province in Pakistan has experienced a grim mix of two consequences of climate change. "Because of climate change either we have floods or not enough water to irrigate our crop and feed our animals," says the photographer. "Picture clearly indicates that the extreme drought makes wide cracks in clay. Crops are very difficult to grow."

Rizwan Dharejo

8/11

A shepherd moves his herd as he looks for green pasture near the village of Sirohi in Rajasthan, northern India. The region has been badly affected by heatwaves and drought, making local people nervous about further predicted increases in temperature.

Riddhima Singh Bhati

9/11

A factory in China is shrouded by a haze of air pollution. The World Health Organisation has warned such pollution, much of which is from the fossil fuels that cause climate change, is a "public health emergency".

Leung Ka Wa

10/11

Water levels in reservoirs, like this one in Gers, France, have been getting perilously low in areas across the world affected by drought, forcing authorities to introduce water restrictions.

Mahtuf Ikhsan

11/11

Not a symptom or a cause of climate change, but a cloud lit by the sunset to create the impression of a giant fireball over Tunisia.

Majed Noumi
Professor Hall, head of Cardiff University's School of Earth and Ocean Sciences, said the atmosphere and the oceans were "intimately coupled" because they both transport heat across the planet.
In the pre-industrial period, the world's oceans "played an active role in driving atmospheric climate variability," he said. "It seems there's been a shift in that relationship."
The clams' shells showed that from 1800, changes to the world's oceans no longer preceded changes to the atmosphere, but instead took place at the same time or lagged behind them.
"The atmosphere is warming much quicker and driving the ocean variability," said Professor Hall.
This was a cause for concern "in the sense that man-made climate variability is hugely worrying," he said, adding that the research could make it easier to accurately simulate and predict climate change in the future.
In the study, led by Cardiff University and Bangor University and published in Nature, biologists collected live and fossilised quahog clams from an area in the north of Iceland.
They studied the chemistry in the growth rings of 21 clam shells spanning a 1000 year interval to measure the chemical make-up of the oceans in a more precise timeframe than ever before.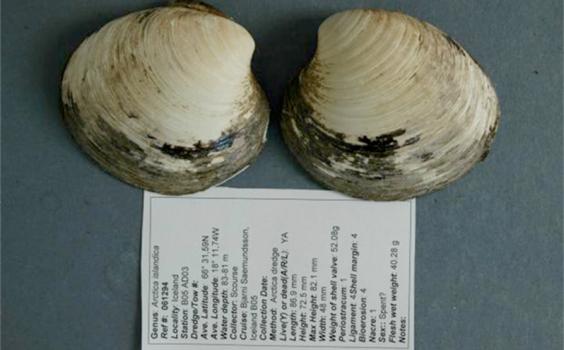 A separate study into climate change published last week found global warming to be beyond the "point of no return" and claimed its full impact has been underestimated because scientists haven't taken into account a major source of carbon in the environment.
The report, also published in Nature, said temperatures will increase by 1C by 2050 – findings which are already being adopted by the United Nations.
In 2013, a quahog clam known as Ming, believed to be the world's oldest animal at 507 years old, was killed by scientists trying to tell how old it was.
Reuse content